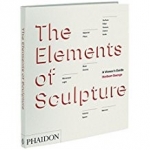 Herbert George: Understanding Sculpture
A workshop and sculpture walk with Sculptor, Professor and Author Herbert George
April 6th to April 8th, Orcas Island, Washington
Workshop Outline:
Friday evening April 6th: arrive on Orcas for a welcoming reception with drinks and appetizers at the Orcas home of sculptor Michael Yeaman
Saturday April 7th: all day audio visual workshop focusing on four topics:
• Constantine Brancusi and the difference between how things appear and how they are
• Understanding sculpture as revealed in George's book the "Elements of Sculpture"
• The invention of Modern Sculpture; beginning with the early 20th century Russian Constructionists
• Sculpture in our landscape. What does Brancusi's Targa Jui work in Romania tell us?
Sunday morning April 8th: travel to San Juan Islands Sculpture Park on San Juan island where George will lead a walking tour of this outstanding sculptural site utilizing his "Elements of Sculpture" insights.

Workshop Fee: $120:
which includes Friday reception, Saturday workshop with lunch, a copy of George's book "Elements of Sculpture" and guided Sunday walk
Attendees Need to Provide:
Own transportation to Orcas, Friday/Saturday night accommodation on Orcas, Saturday/Sunday meals (except Saturday lunch) and Sunday transportation to and back from San Juan Island.
Registration is limited to first 20 people.
For additional information please contact either Renee Roberts (
This email address is being protected from spambots. You need JavaScript enabled to view it.
, phone: 206 930 0060) or Michael Yeaman (
This email address is being protected from spambots. You need JavaScript enabled to view it.
, phone: 360 961 4240)