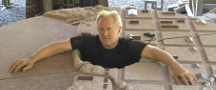 A Multi Pieced Work in Granite


for Portland's TriMet Milwaukie/Main Street Light Rail Station in Milwaukie, Oregon.
"Threshold" spans the length of the Milwaukie/Main Street Station, with three pieces that take their cues from the site's history. The north end of the platform is in downtown Milwaukie, while the south end faces Kellogg Lake. The lake began as a natural creek before becoming a millpond for a largeflourmill in the mid 1800s. Later, it was enjoyed for recreational use until around the mind-1950s when it began to decline. Now there are ongoing citizen efforts to restore its scenic integrity and healthy habitat.