Granite is a magnificent rock that has adorned cities for centuries. It is treasured for its beautiful texture as well as its multitude of utility. It not only flaunts itself in polished monuments, statues and intricate sculptures, but provides foundations for buildings, curbs for streets and steps for stairs. It is undoubtedly the world's dimension building stone and the stone of the world's bygone heroes and heroines. Brilliantine reds, pinks, blacks, grays, and whites continue to sparkle century after century as other stones turn to clay and dust. Hard granite is no stone for the weak hearted or the limp wristed; the b
eauty of the stone must be earned by hard work. Some of the most noted mountains in the United States are, by no mistake, granite massifs: Stone Mountain and Mount Rushmore, both with their carved historical figures; the Old Man in the Mountain, Mother Nature's carved face; Mount Monadnock; and, closer to home, Mount Index.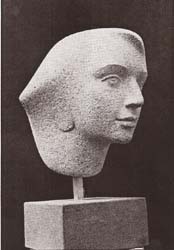 Geology
One of the most fascinating features of granite is that it is comprised of so many minerals. It is that combination of the different minerals and sizes of crystals that gives granite so many appearances. The major constituents of granite are quartz, plagioclase feldspar, potassium feldspar, b
We need to make a distinction between common usage of the term granite and the geologist's version of the word. The commercial use of the word is considerably broader than the geologic use. To geologists, true granite is a very limited occurrence of the rock that contains more than 10 percent quartz, greater than 2/3 potassium feldspar, along with biotite and hornblende, and is very light in color; generally with dark specks. All of the other versions are granitic rocks that have specific names that are defmed by the percentages of the major constituents. The common lighter colored granitic rocks are quartz monzonite, granodiorite and quartz diorite and diorite, in order from light to dark.
The very dark or black granites are diabase, gabbro, anorthosite and pyroxenite.iotite and hornblende. Quartz is
the glassy one; the feldspars are the opaque ones; biotite is black
mica and hornblende is the black, lathe-like mineral. Other minerals that commonly fmd their way into granitic rocks are magnetite, ihnenite, apatite, pyrite, zircon, allanite, tourmaline, olivine and muscovite.