Details

Created: Friday, 02 January 2004 06:27
Steel and Stone: strength, power, beauty, endurance. In my view, the two materials are a natural combination, at once complimentary and contrasting. To understand what I do with them, you need to know a little about my history.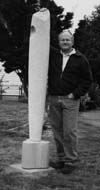 I grew up in Wyoming, the son of a geologist. My pockets, vehicles, apartments, and houses have always been filled with rocks. I can hardly step outside without picking up a rock. My father, and grandfather before him, were both artists in their off-work time. Dad paints contemporary landscapes (often with geologic themes). Grandpa carved wood reliefs. I absorbed the art along with the rocks. In my early twenties, after a directionless stint in college, I worked a variety of heavy construction, mining, and factory jobs. There are a lot of stories, but I won't bore you with them (13 highway bridges, running a jackhammer 700 ft underground with one hand while standing on a grate with 20-inch openings over a 200-foot drop, the "melter" pit). I returned to school in 1976 at Eastern Wyoming College and discovered stone sculpture. I transferred to Western Washington University in 1977 expecting to learn a lot more about stone. Instead, the message I received from instructors and fellow students was that stone was "over." Actively encouraged to go in another direction, I found the metal studio. Metal was the new medium; my stone tools went untouched for the next fifteen years. In the two years leading to my graduation, I created several "human-scale" metal sculptures. My main inspiration came from the Minimalist sculptors. WWU is a metal sculptor's dream. The campus sculpture collection, one of the best on the West Coast, includes major works by Mark Di Suvero, Richard Serra, Anthony Caro, Tony Smith, Nancy Holt, and even Noguchi. From those years came the seeds of what is still my "style" today—Minimalist influenced, industrial looking, and a scale near human-body size.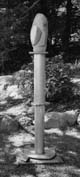 After graduation in 1979, I moved to Alaska for a couple of years, then to Arizona where I worked in a bronze foundry. We cast very expensive Cowboy art. Art Hell is how I remember it now. Forbidden to touch my own art, I worked for under $7.00 an hour welding together cowboys and horses and steers and wagons that sold for $20,000 each in editions of 50. After two and half years of that, I went back to construction work. In my spare time, I began making jewelry from silver and fossilized walrus ivory. That changed to silver and stone jewelry when I moved to Seattle in 1989. Then, through a good friend, I met Rich Hestekind, Meredith Earls, Vic Picou, and the NWSSA. Life and art changed.
In 1992 I bought a house and studio in Everett. My first tool purchase for the studio was a welder, the second, a compressor. Grinders, air hammers, and diamond blades bred and multiplied. For the first time since my student days, I could produce sculpture on the scale I liked. The first sculpture finished in the new studio was stone only, a brucite piece entitled "Through the Green Fuse" (after a line from a favorite Dylan Thomas poem). The next was a small brucite sculpture for which I made a steel display pedestal. The pedestal didn't really have much to do with sculpture. Indeed, its use was optional. In the next sculpture, "Twisted Persephone," I attempted a stone-and-steel composition, limestone on a steel tower. It and the next two pieces—"Organic Nike" and "Oolitic Apollo"—followed similar formulae. When describing these three pieces, I characterized them as "stone and steel." Many other people said "stone sculptures with steel bases." This wasn't meant as criticism—they just didn't see the pieces as integrated. There were also detractors, those who said that they should have stone bases. The challenge became making works that were viewed as "stone-and-steel."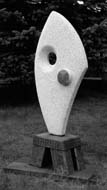 The work that followed this early series diverged down two lines—sculptures with steel bases and stone-and-steel sculptures. In several pieces the base was nothing but a steel base, not a stone or wood base. The first of these pieces, "Cascade
Monolith #1," sold to the U.S. Ninth Circuit Court of Appeals. The steel-based sculptures present well and because the bases are bolted to the work, are very stable and easy to move (as easy as any large stone sculpture is to move!). The second line integrated the two media at a much higher level. Granite boulders perch on animated steel towers. Sculpted granite forms 'dance' and 'sway' on bent legs of 4" x 6" steel tubing. Several of these—the "Boulder Buddies"—express movement, joy, and whimsy. They are among my favorite large works. My most recent works have a bolted, very industrial look.
Through the progression of sculptures, I have tried several different ways of treating the steel. Tread or 'diamond plate' steel has long been a common element in my work. I allowed many of the pieces to rust, some I painted, others I sprayed with clear lacquer to prevent rust (with dubious results), and then I discovered galvanizing. Talk about industrial! Once all the welding and fabrication work is done, I haul the steel portions to the galvanizing shop where they are dipped in an acid bath, then in an 800-degree vat of molten zinc. The steel won't rust but it doesn't have the look of stainless, which does not fit with what I am doing now. The hard look of galvanized steel compliments the stone I have used it with, primarily lighter salt and pepper granites. My latest major sculpture, "Arcs, Triangles, and Stone," is a granite river boulder mounted on a heavily-bolted galvanized-steel tower.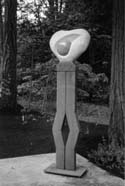 One thing I haven't mentioned yet is that my larger works consist of multiple modules. Modular design enables me, without assistance, to use my limited work space to construct pieces that may stand 7 feet tall. It also facilitates easy transport. Another technical feature of my stone-and-metal pieces is that they have designed-in leveling systems. This is very simple. I attach weldable (non-zinc-plated) nuts to the base into which I thread carriage bolts. They work like appliance levelers.
The bolts can be coated with plastic dip so the feet won't damage floors.
As time passes, I become more conscious of what I am creating and why. In my sculpture, I am telling my story. I have held many hard, heavy blue-collar jobs. My "day job" is still blue-collar. I don't mean to romanticize the "blue-collar life." I just enjoy doing uncommon things with the common materials I have been around so much of my life. I love boulders, basalt columns, and things industrial—big machines, massive sections of pipe, girders stacked in a shipping yard, stone slabs piled at Marenakos, heavily-bolted pipe flanges, and bridges and buildings under construction. I love industrial processes. I watch "Modern Marvels," "Monster Garage," Junkyard Wars," American Chopper," and just about anything else where people tear stuff up and weld and grind and build new stuff. My art is communication. I am telling about my life, what I love, and how I see the world. Isn't that what we all do?