21st Annual International Stone Carving Symposium,
Suttle Lake Camp "Camp Sisters" Oregon State
Monday, August 24th - Sunday August 30th
Being asked to be the Stone Carving Symposium Director again this year is an honor. Such a fantastic group of individuals sharing and synergizing with one another is an incredible experience. The level of learning not only from our presenters but also from one another is what makes our symposium so unique and real.

The symposium begins on Monday, August 24th and lasts until Sunday, August 30th. Our Presenters this year include Kazutaka Uchida from Japan and

Michael Binkley

from British Columbia, Canada following the theme of East to West: from Classical to High- Tech.


| | | |
| --- | --- | --- |
| Date | Morning-Afternoon | Evening Presentations |
| Monday, August 24th | guest arrival & set-up, Suttle Lake Camp boat orientation, Safety Talk | Kate Ali, Michael Binkley |
| Tuesday, August 25th | Rich Hestekind: Creating Space for Sculpture | Kazutaka Uchida, Marie Sivak |
| Wednesday, August 26th | Lee Imonen: Tool Making | Kentaro Kojima |
| Thursday, August 27th | Honoring Tom Urban | Scholarship Auction |
| Friday, August 28th | | Mark Andrew, Patrick Doratti |
| Saturday, August 29th | Outdoor Sculpture Show 11 am - 4pm | Party!! |
| Sunday, August 30th | Breakfast, camp break-down | |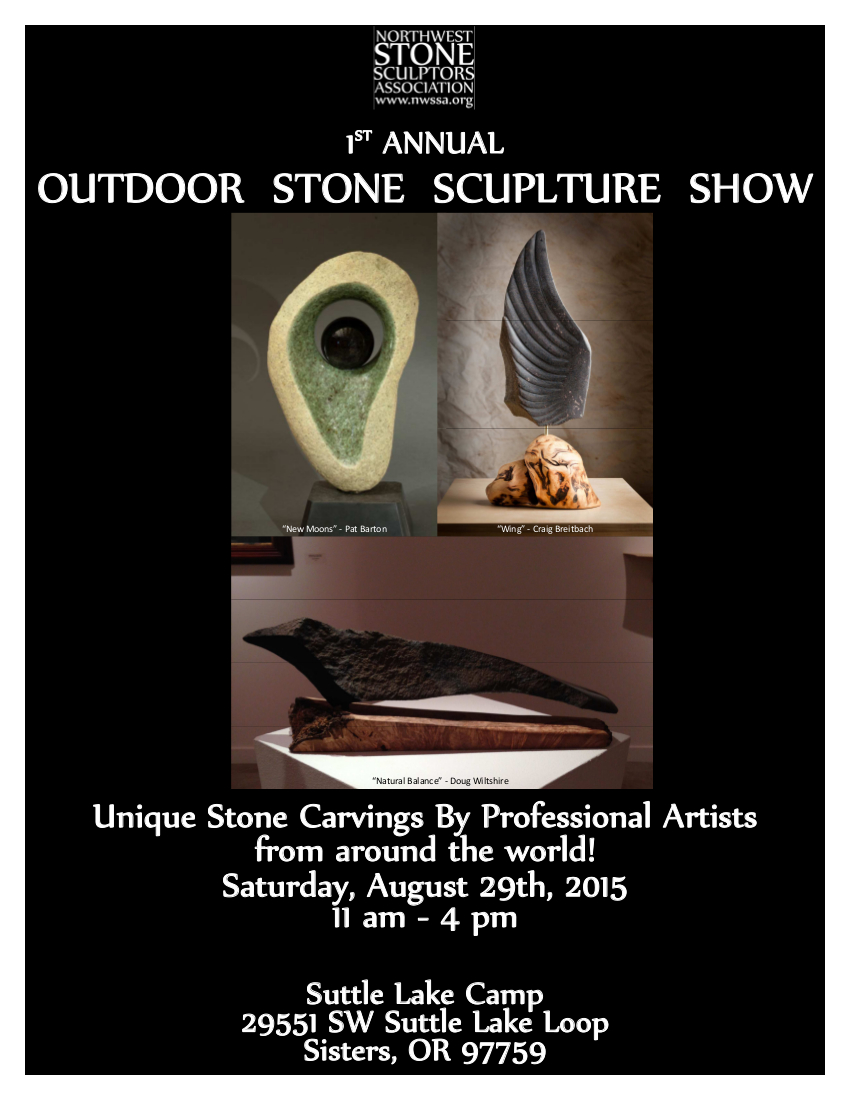 On Thursday afternoon, August 27th We are also honoring Tom Urban, whom has given so much to forming and maintaining this unique experience over the last 21 ye
ars. Tom has been a huge part in the synthesis of this Symposium. Without him, many of us would not be a part of this amazing experience.

We will have the beginners tent set up with multiple instructors there to help with first time carvers.

This year, we are having a "Outdoor Sculpture Show" that will be open to the public. Renee and I are expending time and resources along with press releases from the NWSSA office to market your talents. The Bend area should be a fantastic new resource to show your work and possibly even land a couple of commissions to private or corporate jobs, such as one of the 36 local golf courses in the area.

I hope to see many of your smiling faces there again this year so we can pick up where we left off. Do not forget bring your musical instruments and anything weird and/or exciting to auction off in support of our fantastic Work Study Program!

Looking forward to seeing you soon!

Doug Wiltshire
"Camp Sisters" Director 2015
503-890-0749


This email address is being protected from spambots. You need JavaScript enabled to view it.