Art And Philosophy At Silver Falls
by Seth David Friedman


To paraphrase Henry Moore, "art is not made out of despair, but a belief in the possibilities of life." There can be no truer embodiment of this sentiment than Silver Falls Symposium, now in its 20
th
year.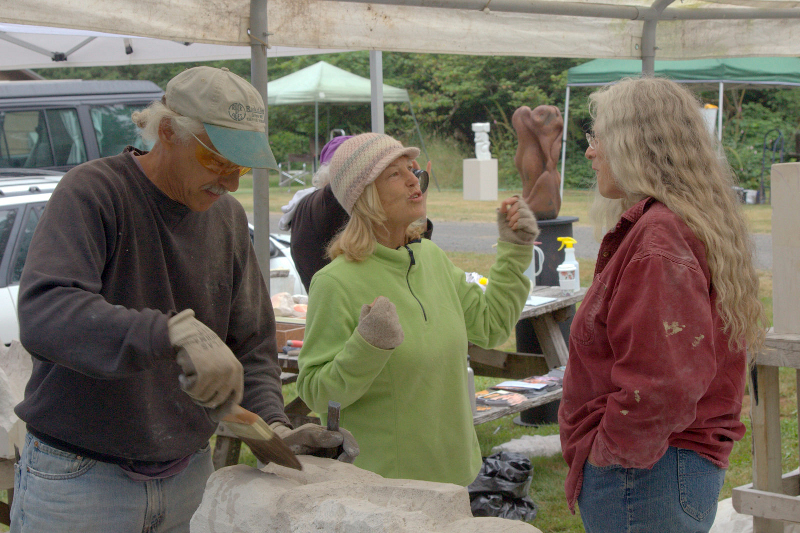 This was my second year attending, and to be honest, it started with my usual trepidation. Did I really want to leave the joyful solitude of my city-backyard-carving-space and go anywhere else? But Silver Falls is no ordinary place, as this example from 2010 hopes to illustrate.
Silver Falls Stone Sculptors Symposium
August 23rd - 28th, 2014 - Oregon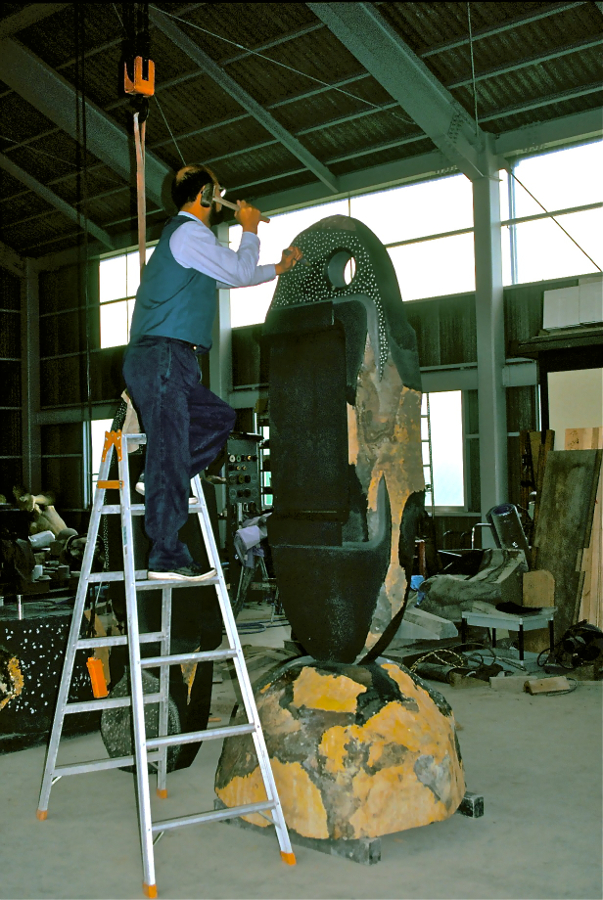 20th ANNIVERSARY!
If you would like to join us next year, please contact This email address is being protected from spambots. You need JavaScript enabled to view it. to be added to our mailing list so you will receive notice about our next Silver Falls Symposium event!
Stone carvers are invited to convene at the Silver Falls State Park Conference center for 5 days of sculpting fun. Under the lush canopy of Douglas fir trees, this inclusive community sets up a circle of tents to carve, share, learn and be invigorated. From the beginner's tent to the professional's tool chest, there are ample ways to advance one's ideas, talents and learning. Please join us to connect with other artists.
Extensive carving sessions are interspersed with informative classes and stimulating sculpting lessons. Field instructors are always available to help noodle through your challenges. Bring your gear (if you are a beginner, we have tools you can use), connect to our power, water and air sources and peruse the tools and variety of stones being carved and available for purchase.
We provide meals and comfortable lodge rooms to relax in between activities. Our evenings bring professionals to show their images and expertise in a broad range of sculpture. Revel under the stars at the campfire before turning in for a well-deserved rest.
Find out what we did in 2009 at Silver Falls!!
August 22-26, 2009
Special Guests: Brian Goldbloom and Collen Wilson
The Symposium is open to all levels, from beginners who have never carved stone to the experienced sculptor. This year the symposium will include individualized field instruction by Laura Alpert, Rich Hestikind, Lee Imonen, David P. Miller and Tom Urban. Bring projects you've started, or buy stone on site and get one-on-one attention from the instructor of your choice. On Tuesday Paul Buckner will be on site to give individualized instruction. Evening slide presentations will feature work by Brian Goldbloom, Coleen Wilson and Rich Hestikind. The Silver Falls Symposium is a great place to make new friends, renew old friendships and learn more about stone carving in a relaxed, supportive environment.
Yes, you can buy tools and stone at Silver Falls and Camp B. Here is an interview with one of our vendors: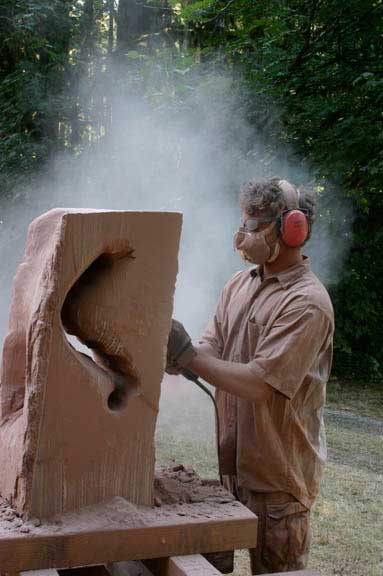 NWSSA's fall stone carving symposium happens every year in a special place. Oregon's Silver Falls State Park has preserved a lavish display of dense forest stitched with miles of trails leading us to no fewer than ten magnificent waterfalls. Right in the center of this wonder is a tree shrouded meadow where we set up work tables to hold the stones on which we will work. Our hands, our tools and our creativity will change the stone forever, and the stone, having its own form of creativity, changes us as well.
If you're am old hand at carving, you know what I'm talking about, but if you are new to stone and come anyway, it's still possible that you will leave with nothing more than a fabulous few days with a fun group of new friends. Or you may, like so many of us, find much more than that. You may discover that you have let out that small thing that you have long suspected was in you. You just may let loose that creative spark that will turn you into a stone sculptor. Wouldn't it be good to find out?