This ia a viewing and collecting trip to Corky Smith's quarry, one of the largest olivine deposits in the Northwest, at the base of the Twin Sister's peaks.
Similar to the field trip Karl Haufbauer held 3 years ago, this should provide you with an opportunity acquire some of the best olivine the northwest has to offer. Pat Barton will lead this field trip, which he proposed at Camp Brotherhood, and a gourmet lunch will be provided by Sharon Feeney. It will be a fun adventure.
(Note: to receive the $20 member discount you must login first. Not a member? "Become a Member").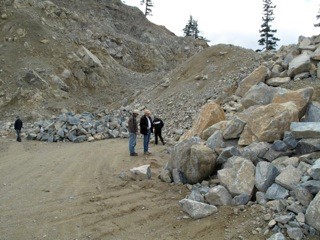 At 10:30am, we will be meeting at the olivine stockpile at Mosquito Lake road and Forest Service Road #38 (Highway 9 to Mosquito Lake Rd, see details for the location map). We are limited to 7 and as we get everyone registered we will coordinate carpooling for the 2.5 hr drive from downtown Seattle. Once at the stockpile we will caravan up to avoid truck traffic. The road is gravel and we suggest a high clearance vehicle.