One of the leading lights of the North West Sculptural scene has passed. Although many of you have never met him in person, you have felt his legacy. Everett DuPen was the first instructor invited to the first NWSSA symposium, and is responsible for the beginnings of many of the sculptors that are now the mentors and teachers of our organization. His art lingers throughout the area and the nation, giving us glimpses into his great gift. To Everett, the largest part of his art was in the guiding of emerging artists.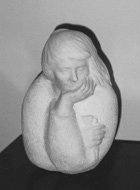 Everett DuPen was educated at USC, Yale, Harvard, and in Rome. He came to the University of Washington in 1947 and ended his career there in 1985, as head of the sculpture department. He was ever indignant that he was forced to retire due to age. That was one of the great disappointments in his life. He went on for many years giving open life model sculpting sessions at the UW in the evenings, using his emeritus status to get a room in the art department. Those of us who attended those sessions experienced the continuing power of Professor DuPen, receiving college level instruction.
Everett's house was filled with the most amazing collection of art. It was an experience to just visit. There were many of his own works, but also the work of his friends and fellow artists. He used his home as a teaching tool. Each time I visited, there was something else to see and learn. The best part was when we went into his studio, and there he would bloom. We would go on great searches for this or that tool or stone and it could be hours later when Charlott (his wife) would come out and ask if we wanted a drink and to remind us of the time.
Everett did not teach to eat. He taught for the love of teaching. As his student you never doubted his commitment to your growth. You may not have agreed with his analyses of your work, but he was eager to hear what you thought and was never dismissive of your ideas. He wanted to understand them and he wanted you to understand. He would not let you get away with sloppy work or sloppy thinking. If you could explain your reasoning and thought, he was there with direction and guidance. Carelessly done work and disorganized thinking brought his wrath down on you. He expected better of you and he got it. He brought out the best that you could do and more. He was eager to learn from his students, and he rejoiced in our accomplishments.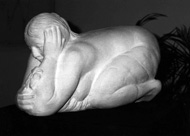 Everett was a good friend to me and I loved him for the twinkle in his eye and his great sense of the ridiculous. He put little stock in his dignity, and some of my fondest memories of him are when he was making a fool of himself. For instance, I have a vivid memory of him being pulled through the closing night party at Camp B on a stone-hauling cart with an oversized zucchini between his legs.
He did not take himself overly seriously but he did take art very seriously. For him, art is the conduit that allows us to better see, appreciate and work in the world around us. To look at one of his figurative sculptures was to see into the soul of man and find that there is good hidden in each of us. His sculptures are reminders that we are here to rejoice in our connection with nature and each other.
The NWSSA and I are fortunate to have been recipients of the teachings of Everett DuPen. We are better for having been exposed to a person of such integrity, grace and dedication.
Everett's sculptures can be found throughout the northwest: the Seattle Center, Edmonds Art Center, Richmond Beach library, the Seattle Municipal building, the UW library, several local churches and many more places. For more information, go to his website at www.everettdupen.com.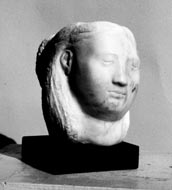 Everett helped to create the Lambdo Rho and art scholarship fund. Memorials can be sent to them and it is the wish of the family that some of those funds will be funneled to NWSSA. The address for Lambdo Rho is: Box 353440 Seattle, WA 98195.