KENTARO KOJIMA INTRODUCES KAMU AND KOICHIRO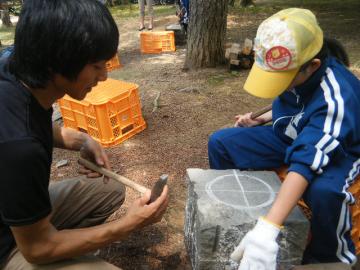 I visited my friend, Ida-sensei, at Zokei University (an art school in Tokyo) in November 2015, and while there he gave me an opportunity to do a seminar with his students. At the seminar, I found out that none of the seven or so students in their early twenties had even gone out of Japan. They wanted
to,
but had this idea that it was very difficult to do. That was when I got the idea of bringing them to
a NWSSA
event. After I came back, I asked Doug Wiltshire about the possibility of getting the Japanese carvers a financial assistance to Suttle Lake symposium and he told me, "two full scholarships, done." Elated, I told Ida-sensei about my idea. If the sculptors can come up with their airfare, I will do the driving and they can stay in my house while in Seattle, I told him. He was so happy, he almost didn't believe me.
Ida-sensei selected two of his students, Kamu Nagasawa, who studied under Ida-sensei and is now a professional sculptor and Koichiro Bambara, who has just finished his undergraduate studies with Ida-sensei.
This is how Kamu and Koichiro ended up attending the Suttle Lake symposium in 2016. They provided an incredible stimulus to the NWSSA community and, attending the symposium, they told me, changed their lives.
- Kentaro Kojima

---
KOICHIRO BAMBARA'S STORY FROM SUTTLE LAKE SYMPOSIUM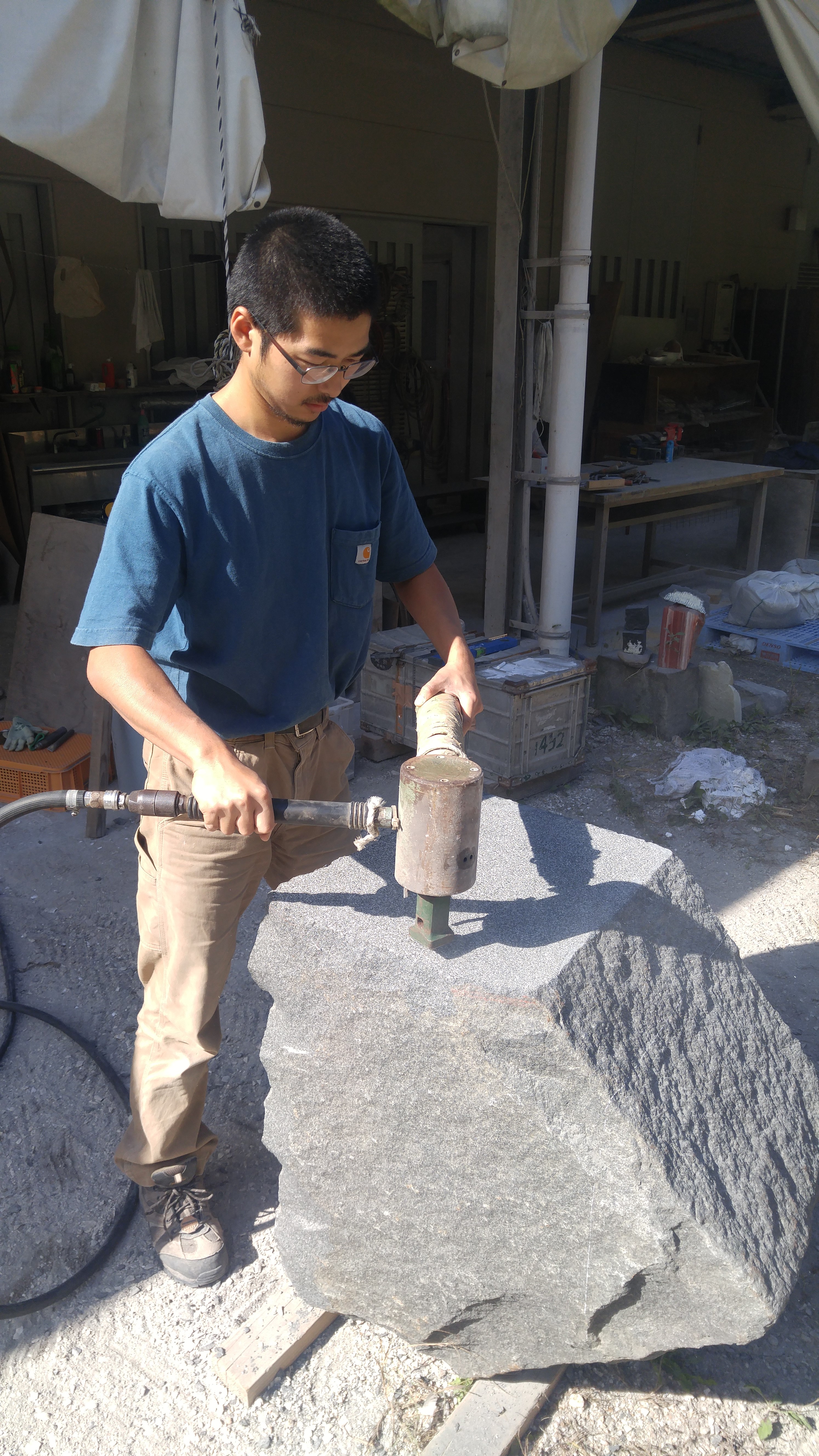 Sunday, August 21

We left Seattle and headed to Suttle Lake in Oregon. This gave me the chance to see the American west-coast landscape. Tall pine trees, freight trains and railway tracks, a huge military base, the Columbia River, vast farmland.

Around here, it didn't rain this time of the year. So, the air was dry and dust got kicked up as the wind blew. This was a great environment for carving.

Dinner was prepared by the staff of the camp. It tasted good and the quantity was right.

I was looking forward to the week ahead.

At night, we made a campfire. The night was dark at Suttle Lake. So, the stars were very beautiful. It had been a while since I saw so many stars.


Monday, August 22
I woke up early and walked about the trails of the camp. I saw many chipmunks all over the place and as I looked up, I saw an eagle flying. This place was quite different from Japan. Many of the trees had burnt marks. I heard that there was a forest fire a while back. To see tall white withered trees and burnt trees among low brushes was pretty surreal.


When I dropped my gaze to the ground, I saw basalt and some kind of volcanic rocks with many holes. I found it interesting and wanted to carve them, but I was told that it was prohibited to collect them, so I gave up that idea.

After breakfast, we started to carve. A chunk of columnar basalt was prepared for me.

The basalt had a beautiful skin (rind) so I decided to carve something that will utilize that aspect of the stone. First, I split the stone in three. I drilled the holes using a hammer drill and used feathers and wedges. I borrowed both of them from another carver nearby.

This was what was great about this symposium. We could loan each other tools and help each other out. I split the stone in half. Then split one of the halves in half.


Tuesday, August 23

Lots of different stone started arriving at the symposium. Pinkish alabaster, limestone, chlorite, etc. Some, I've seen at Japanese stone suppliers and others that I have never seen. I was enjoying just looking at them.

In the afternoon I joined in the jade carving workshop.

And after dinner, I made a presentation introducing my work. It seemed to have been received well. I was glad.


Wednesday, August 24

Because of my presentation the night before, many people came to talk to me. I can't say I communicated well in English, but because we are all dealing with carving stone, there were things that we communicated well without it.

A tool dealer came to the symposium. The prices were incredible, so I bought 5 blades for my grinder.

By the way, one of the highlights of the symposium was that I got to see many kinds of tools. I had never seen a chainsaw for stone in Japan. The idea of stuffing sand into a rubber tube (to make sandbags) was great.

Thursday, August 25

The biggest event of the day was, needless to say, the auction. With the help of alcohol and the participants' eagerness, combined with an excited, white-hot atmosphere, the auctioned items climbed to incredible prices.

I had my eyes on a book of collected works of a sculptor by the name of Fritz Wotruba.

He was mainly a figurative artist and I felt like his work will help me a lot in my studies, so, I had decided that will be mine in my heart. As it turns out, there was another person that wanted this book and we competed up to $60. But, that was my limit, so, as I was giving up and wondering if I would find that book on Amazon, an unthinkable thing happened. Several people chipped in to help me get the book. The result was that the book sold for $110 and all I paid was $60. This was one of my best memories of the symposium.

Saturday, August 27

Last day. I put my piece on an exhibit at 10:30. This exhibit was open to the public and if a work sold, NWSSA got a commission. One could exhibit even if the piece was still in progress.


---
KAMU NAGASAWA DESCRIBES HIS WEEK AT SUTTLE LAKE SYMPOSIUM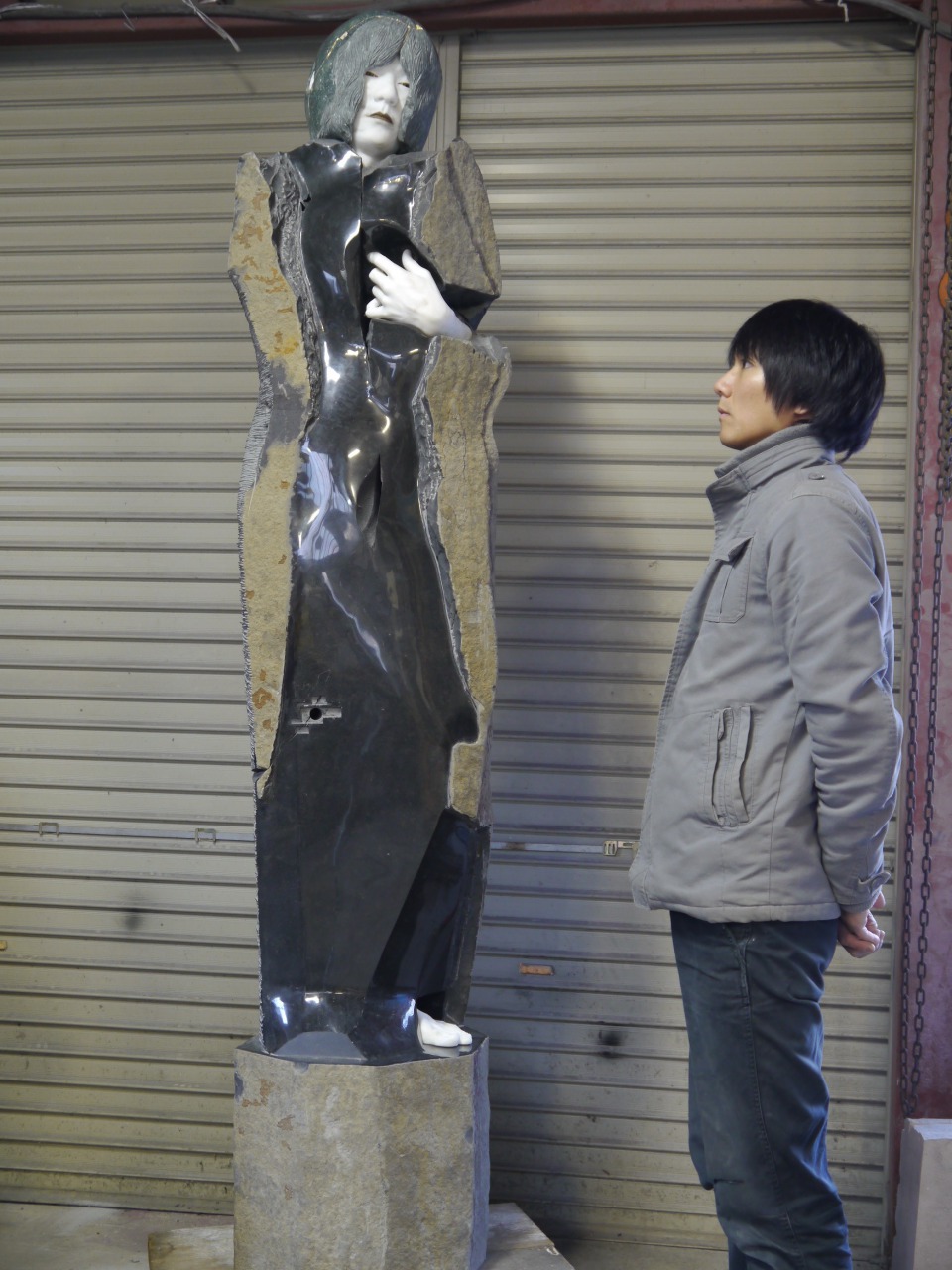 NWSSA puts on a stone carving symposium every August in Oregon. It lasts about a week and on the last day, there is an open-air exhibition in the woods. The participants gather to carve stone from all over the USA. The fee to attend is about $1000 which includes room and board, electricity and air to carve. The symposium is held at a summer camp site by Suttle Lake where chipmunks ran all over the place. This is in the middle of nature where moose roam. Of course, my smartphone was out of range, which made for a wonderful location.

Though it is August and very hot, the weather was dry and you didn't sweat which was pleasant. But, it was so dry that my lips got chapped and I had to put some olive oil from the kitchen on them until I found some lip balm. You may consider taking lip cream with you. Also, it actually gets cold at night, so do bring a sweatshirt or a fleece jacket with you. The basic accommodation is a cottage, but there are some brave souls that camp outside.

The meals are served on time and one can focus on carving. The Japanese electrical tools work just fine, but when using air tools, you should prepare a short hose with an American coupler (male) on one end and a Japanese coupler (female) on the other.

As many big vehicles loaded with stone carving tools started to arrive, we started to set up tents and wooden working stands. I began adjusting my body and started communicating with the other participants through this communal activity. This symposium seemed to be an important occasion where people that have attended in the past got to meet each other again after a year. One feature of this gathering was that the participants varied in age and experience. There were older participants and students, professional carvers and beginners.

What I expected was to work on something small that you can finish in a week, but as we got started, I suddenly heard the roar of huge gas saws and big pneumatic hammers. The sight of someone carving stone that filled a big trailer left me speechless. There were tool and stone vendors that visited the site and I saw tools I had never seen which were very interesting to me. So, even if you didn't bring a tool you needed, you shouldn't worry about not being to carve.

The stone I carved came from one of the stone vendors. He had many different types of stone. What I chose was chlorite. A type of stone that you could easily carve with woodworking knives. This was the first time that I had seen this type of stone, but apparently was popular carving stone in America, so I wanted to give it a try. Given the time constraints, and limited access to tools, this soft and fine stone worked well. Also, everybody showed me its characteristics and how to work it, so it made for a fun carving.

During the symposium, I participated in jade carving, clay sculpting, tool making, and many other lectures. And every night, there was a presentation by two or three sculptors. These presentations also functioned as a passing on of their techniques and experiences. Of course, us participants from Japan got to introduce ourselves on one of the nights. We must have come across as mysterious people barely speaking English, but after the presentation, we got even a warmer reception, which was thanks to Kentaro's wonderful interpretation of our presentation.

Play hard and carve hard was exactly what we got to do at the symposium. The experience of the exhibition and sale on the last day would provide an opportunity to widen the scope of activity to those who experienced it.

I was able to attend the symposium because NWSSA provided for my attendance fee and I got a lot of assistance in buying stone as well. Not to mention the assistance I got for my stay in America. I would like to use this experience to introduce this to a wider audience in Japan and to keep and better the relationship we have built.