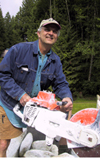 While attending the Camp Brotherhood symposium last year, I admired not only the work, but also noted the tools other sculptors were using. Like others, I became enthralled with Tom Small and his beautiful detail work in basalt using electric die grinders. One of his grinders was variable speed and did not have the screaming intensity that I associate with die grinders. Always willing to share information, Tom obligingly doffed his dust mask and answered my questions regarding the tool: variable speed die grinder by Metabo, 6.2 amps, 7000-27000 rpm, and electronic speed control. Tom was also using diamond, silicon carbide stones and tungsten carbide burrs to carve and smooth the facets in his basalt pieces.
Tool catalogs and the web disclosed two Metabo VS models: GE700, 7000 - 27000 rpm rated for 2" wheel at 6.2A, and the heavy duty GE900 Plus, 2500 – 6000 rpm rated for 3" wheel at 7.5A. I would suggest you carefully hide all credit cards and checkbooks before you plug one in for a test ride. I chose the model GE900 Plus: its lower rpm and smoothness delivered quiet power to the stone with very little dust thrown up. I have other grinders, single speed electric and air, but generally have to move away from everyone else due to the enormous amount of dust and noise. Goggles quickly cloud over even with antistatic, respirator elements clog, and the sun is in eclipse for several hours. Exhausted, half deaf, and numb, I had avoided die grinders whenever possible.
Now, however, grinding at slower rpm, neither tools nor stone seem to heat as quickly. I have noticed less fatigue from vibration, noise and dust. I frequently just grab this grinder and lose track of time and whatever else was going on. My smile has returned. This grinder comes with a torsional stabilizer handle that fits on the barrel, similar to those on beefy drills, keeping the grinder from twisting out of control. Using the stabilizer, I have chucked a 3" SA type sanding disc and reached deep to smooth and polish out cavities inaccessible with other sanders. The tool has a built in spindle lock on the ¼" collet, so only one wrench is needed to tighten or remove attachments. Needless to say, I am delighted with the grinder and seldom reach for another of the multitude of similar tools in my studio.
Bottom line, well, if those credit cards happen to surface after all, consider it $300 well spent!
Hold it! Late breaking news flash: I was about to disclaim putting a manufacturer's name in this column, because I considered Metabo a "single source" manufacturer for this particular tool. As luck would have it, I was at a wholesale house in Seattle (my first visit, honest) that is frequented by many members of this association, and between conversations with Kirk McLean, noticed a competing tool in the showcase. Yes, yes, a little web activity Googled out Makita's brand new GD0810C, variable speed ¼" die grinder. Most of the stats are similar, but without a collet lock, the Makita requires two wrenches to add or remove attachments. Power is slightly less on the Makita at 6.6A vs. 7.5A on the Metabo. The Makita runs 1800 – 7000 rpm, compared to 2500 – 6000 rpm. Both use similar electronic control to maintain constant speed under varying load. Metabo is a little bulkier and heavier at 2kg (4.4 lbs), compared to 3.7 lbs for the competition. As unreliable as the web is, current street price was about $40 less for the Makita. Choices, choices, what would we do without choices?
I'm sure that, by the time you read this, our esteemed Mr. Urban, the toolman of Brotherhood, will have had some enchanting dialogue to offer us this summer during the power tool segments of instruction.