Part of this material I used in the 20 hour granite course I taught at Pratt. Most of the info is from Tom Urban's workshop at Camp Brotherhod, some from a workshop by Don Ramey that Hank Nelson organized at my place years ago. If you find anything useful, please add it to the article - Kirk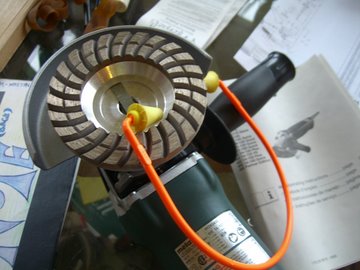 Diamond cup wheels: extra-coarse, coarse, medium and fine. Usually use coarse for shaping, jump to fine for beginning polishing. Extra-coarse available from Gran Quartz. For basins, wheels with curved edges available or use continuous instead of turbo to avoid digging in. Must use guard on grinder with diamond cup wheels.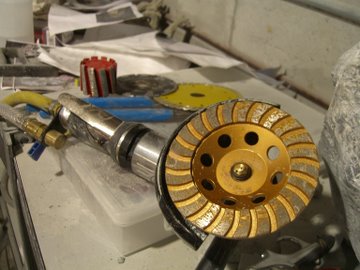 Silicon Carbide cup wheels: used for masonry (avoid aluminum oxide ones for metal). Grits range from 16 on up. 16-24 grit used for shaping, 80-120 grit in polishing process. Can bevel edge with dressing tool to shape for interior grinding (basins) or undulating surfaces. Will wear to match radius of surface. Use at lower speed (2-3000 RM) because larger mass creates more torque.