Welcome!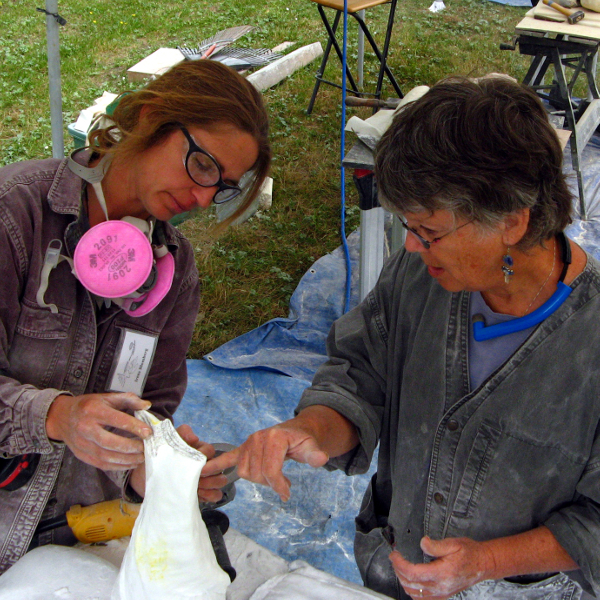 "Twenty years from now, you will be more disappointed by the things that you didn't do than by the ones you did do. So throw off the bowlines, Sail away from the safe harbor. Catch the trade winds in your sails. Explore, Dream, Discover." ~ Mark Twain

If you've never been to NWSSA's symposium at the Cascadian Center at Camp Brotherhood, it's about a transformation of a meadow into a group-wise pursuit of shared experience in one medium - STONE. The days start with a hearty breakfast. At 9am the power is turned on the field and those who wish to get right to carving do, and others attend classes. The choice is yours. At noon we break for a catered lunch in the pavilion on the field for an hour, then back to work. We end the work day with dinner at Warren Hall. After dinner there are various evening events, usually followed by conversations around the fire pits or on the deck of the lodge. Oh Yeah, there is ample opportunity for quiet walks in the many acres of woods at the camp, or early morning treks along the creek to find that special stone.
To download a PDF of the brochure- click here

Accommodations:
You choose; the amenities are different. The Cascadian Center at Camp Brotherhood has lodges, which provide motel style rooms accommodating 2-3 individuals; there is a bathroom in each room. If you prefer, private cottages are available at an additional cost, but only if our reserved lodges are full. Want to commune more closely with nature? Space is provided for pitching a tent. Some opt for lodges, if you do so, bring your earplugs, good ones! Everyone snores, just not at the same time. Please keep these personal proclivities in mind when registering.
Scholarship Auction: We will hold our auction on Thursday July 19th. It's a very, very fun event for a very, very good cause. The auction supports our education goals by funding work study and scholarship positions for new and emerging artists. Bring stuff, we'll buy anything and have a great time doing it.
Field Mentors: Most of our members have years of experience and work with various types of stone. If you desire individualized guidance or support, be sure to fill in the appropriate boxes on the registration form and we will connect you with an someone to help you during the symposium. And often, both will gain from the experience.
Sculpture Show on the Meadow: On Saturday, July 21st, we set up our out- door art gallery. It is an opportunity to show your work. We encourage everyone (experienced and beginners) to bring your finished piece of work to display. It is a chance to show your sculpture in a supportive and appreciative environment. Tell your friends and clients to come. Some pedestals are provided, but bring your own if you have them. A 30% sales commission supports NWSSA. All sales subject to Washington sales tax.
Workshop Schedule (subject to change)

Workshop

Instructor

Days

Time

Small Scale Jade Carving
Deborah Wilson
Sun, Fri
10 am - 4 pm

Acclaimed contemporary jade and granite sculptor Deborah Wilson is one of the few remaining veteran jade artists in Canada. Her work reflects her love for organic forms and her ongoing interest in utilizing the characteristics that define this "stone of heaven." She has recently been participating in an international effort to revive the art of carving jade, and continues to hold workshops from her home-based studio in Vernon B.C. Deborah will be sharing techniques for small scale jade carving. Tooling and equipment ideas (ie: how to make your own point carver) will be discussed and demonstrated and a good selection of precut Canadian & US jades will be for sale. While the focus will be primarily small-scale carving, Deborah will have an unfinished larger freeform sculpture in jade on site for interactive participation.

Figurative Sculpture
MJ Anderson
Sun - Fri
9-10 am

Figurative abstractionist, M.J. Anderson lives a double life, selecting her stone from quarries and stone yards of Carrara, Italy and bringing her sculptures to fruition in her studio in Carrara as well as at her home/studio on the Oregon Coast. In addition to her personal figurative work for gallery exhibition, M.J. works with designers and architects on public art commissions as well as liturgical commissions. She has participated in symposium in Japan and Australia, has taught design and sculpture at Marylhurst University and Sitka Center for Art & Ecology. M.J. has recently received awards from the Oregon Arts Commission and The Ford Family Foundation. She has been active with NWSSA since 1990.

Large Scale Granite Sculpture
George Pratt
Sun - Fri
9-10 am

Monumental sculptor George Pratt is a professional stone sculptor from Vancouver, Canada. Since 1970 he has produced a steady flow of work from small 'coffee-table' carvings to large public art installations in both Canada and United States. Latter years find him carving extensively in granite. As George puts it, granite is the ultimate choice for outdoor public art and he is surrounded by it. He is excited to once again be immersed in a coterie of old friends and novices at Camp Brotherhood, 2012.

Beginning Carving

Ruth Mueseler

Sun - Fri
9-10 pm

One of our valued staff instructors. Self taught, her art runs the gamut from the tiny to monumental, from humor to eulogy. As an instructor she is thoughtful in her manner and respectful of those yearning to learn stone. She will teach you about the stone and the tools and how to use them. She comes highly recommended by her former students..

Beginning Carving

Tamara Buchanan

Sun-Fri
1-2 pm

Tamara has been sculpting stone for 25 years. Featured in many shows throughout the West, her work has won several awards. She loves sharing the process of carving stone and has been teaching at her studio on Lopez Island for 10 years.

Designing Structure
Richard Hestekind
Mon, Tues
1-2 pm

Richard has been an active member of NWSSA for over 20 years. He will lead a delightful excursion focusing on recognition, selection, and building a visual vocabulary for the purpose of designing structure.

Tool Talks
Tom Urban
Wed, Thurs
1-2 pm

Tom is a retired Associate Professor from the University of Oregon and the founding director of the EMU Craft Center. He is a long-standing member of the NWSSA and has been the Director of Silver Falls Symposium for a number of years. He has a massively extensive selection of tools and knows how to use them.
To download a schedule of workshops and activities, click here. (Tentative, subject to change.)
Evening Schedule
Sunday (15th) 7pm
Guest Artist Slide Show
Monday (16th) 7pm
Guest Artist Slide Ahow
Wednesday (18th) 7pm
General Meeting, Election, BOD meeting to follow
Thursday (19th) 7pm
Scholarship Auction. FUN for a CAUSE! Bring anything that might sell - Anything!
Friday (20th) 7pm
DANCE PARTY!!! Yippee!
Our Vendors:
Stone & Tools
Neolithic Stone: carries a wide range of sculptural quality stones and tools from around the world. He will be on site at Camp. If you desire a particular type of stone, contact Randy Zieber in advance. www.neolithicstone.com or 604-736-5201
Marenakos: For your granite, basalt, sandstone, and limestone needs. Also supplying Trow & Holden stone cutting tools. www.marenakos.com or 425-392-3313
Art City Stone Supply: (Represented by Marenakos) Travertine, onyx, alabaster, soapstone, pipestone, limestone, sandstone, marble, basalt, and more. Inquire. www.artcitystudios.com email

This email address is being protected from spambots. You need JavaScript enabled to view it.

or 805-648-1690

Bronze Stone:

Black granite bases in a variety of sizes and shapes. To preorder contact Mark Joachime 530-224-9381 or www.bronzestone.com

Arliss Newcomb

will have all sizes of pins and sleeves available plus Star Bond Glue. Arliss will be available to help with pinning projects on the field.

This email address is being protected from spambots. You need JavaScript enabled to view it.
Massage Therapy
Carolyn Anderson's "Magic Fingers" restore alignment and health to those stressed muscles. Phone 360-698-2198
To become a member of NWSSA - [Click Here]

To Renew your membership
"Login" and click on "My Subscription" from the Member Menu on the right side or -
[Click Here to Login]