Dear Stone Carvers,

Due to the hazardous air quality at the camp and surrounding areas we have made the very difficult decision to cancel the 2023 Suttle Lake Symposium. This has been one of the hardest decisions we have had to make at NWSSA, but the health and safety of our participants is our first priority. We feel your pain. Some of us live 51 weeks of the year looking forward to this one week... I know, because I am one of them. However, we must put the safety of our members first.

We are now looking into other locations and dates to host an alternative symposium in late September. We look forward to informing you of opportunities on the horizon.

Thank you for your support and understanding,

NWSSA Suttle Lake Team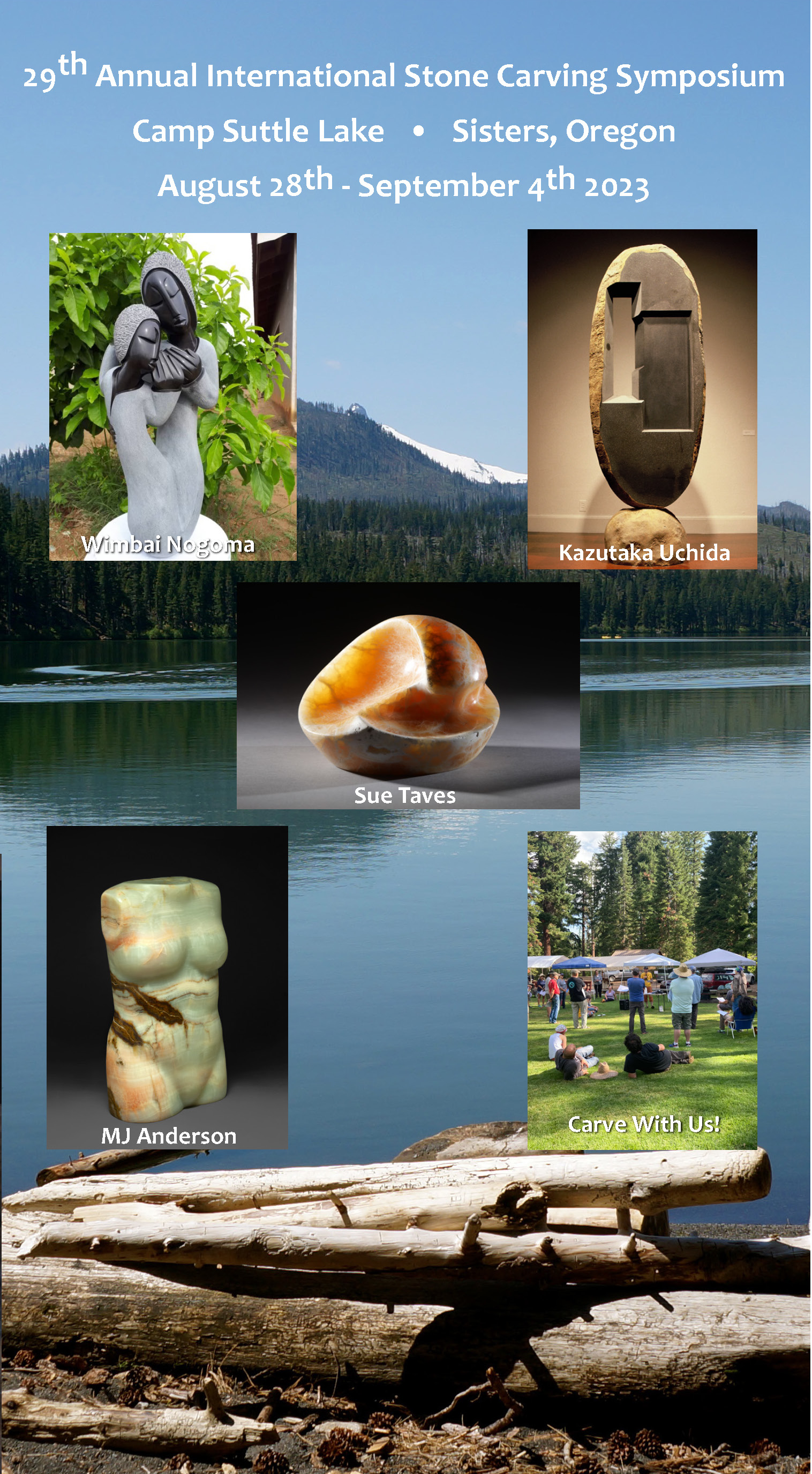 29th Annual International Stone Carving Symposium • Camp Suttle Lake • Sisters, Oregon
August 28th - September 4th 2023

What To Bring To Suttle Lake Camp & Conference Center
FOR YOUR WORKSPACE BRING:
Please remember to clearly label your items! We want to make sure borrowed, lent or mislaid items get back to their proper owners!

A canopy for shade or rain.

Tools, if you have them.

Respirator, safety glasses, earplugs or ear muffs, gloves,

sun screen

, bug repellent.

Ground tarp to protect the grass and ease pick-up of stone chips.

Stool, chair, work table, sandbags.

Bucket, dustpan & broom to sweep up dust & chips.
IF YOU USE AIR, POWER OR WATER, PLEASE BRING:
Power: 50 ft. Electric cord, a 10-25' cord, all 12/3, and an electrical splitter.
Air: 3/8" 50 ft air hose, a shorter air hose, and an air hose splitter. Bring a pressure regulator to camp if you plan on using air tools. Ideally with 1/4 industrial (I/M) connections ready to connect between your air hose and tools. (Otherwise you'll be dealing with about 130 psi directly!)
Water: 50 ft hose, a shorter hose and a water hose splitter preferably with a Y connector and a shut off.

Having these items will make it easier for the people running the field and will also be useful in your own studio.

Note: We cannot accommodate tools from Europe that are not adapted to US

current
PERSONAL STUFF:
Please leave your dog at home. We love them, but they are not allowed at camp.
Camp style bunk bed and mattresses are provided in Lodges and Cabins. Please bring sleeping bags, blankets and pillows for your comfort.
Please bring your own towels and washcloths.
Bring your own toiletries, toothbrush/paste, soap, shampoo, etc.
Sunscreen & bug spray.
Bring your swim suit and towel—Suttle Lake has a dock and canoes are available.
Appropriate footwear and clothing for rain or shine as the NW weather is very variable.
You are at Camp - bring a flashlight or teddy bear if need be.
MORE FUN STUFF:
Suttle Lake is just a short hike away! Bring your swimsuit!
A camera - we may ask you for pictures for next years' brochures.
Bring your memories and photos of the past years at "Stone Camp"
Bring drums, guitars or anything fun and musical for around the campfire.
Bring GOOD dance music or a disco ball for the party.
BYOB - to enjoy after the power is off, during dinner or around the campfire.
Bring items to donate to the auction.
Bring items for a tool swap meet.
SCULPTURE RELATED:
Bring up to 3 pieces of sculpture to show at the Art Walk on Saturday, as well as pedestals if you have them. (There are a limited few for use). There will be a 20% donation asked of you if you sell a sculpture.
DIET:
If you have special dietary considerations, you need to be responsible for them yourself. The Camp will do their best, however, they are cooking for large numbers and cannot fill all special needs. There is a kitchenette in Wesley Meadow Lodge to store & prepare meals.


ANOTHER NOTE:
Internet connectivity at this remote locale is iffy at best. Our understanding is that Verizon gets the best service on site. Prepare your family & friends that you may be "off the grid" while at stone carving camp.
Please bring your checkbook or cash for fast & easy checkout with NWSSA at the end of camp and if you are purchasing from our vendors who may also have limited connectivity.
ESSENTIAL:

Have FUN!!!




Click here to download the list
Camp Sisters at Suttle Lake Camp

29551 Suttle Lake Rd.
Sisters, OR 97759
Directions:

Southbound on I-5:
Take exit 253 at Salem east onto Highway 22. Proceed eighty-three miles through Detroit to the junction with Highway 126/20. Merge left. Continue thirteen miles east to the Suttle Lake Campgrounds turnoff. At Suttle Lake, proceed south onto Suttle Lake Loop Road 2070. The Suttle Lake United Methodist Camp parking lot will be on your left 0.3 miles from the highway.
Northbound on 1-5:
Take exit 194A, Highway 126 East, the McKenzie River Highway and proceed eighty-nine miles, passing the McKenzie Bridge and the junction of Highway 20 and Highway 22. Travel north on Highway 126/20. Keep to the right at the junction of Highway 20 and proceed east to the Suttle Lake Campgrounds turnoff. At Suttle Lake, proceed south onto Suttle Lake Loop Road 2070. The Suttle Lake United Methodist Camp parking lot will be on your left 0.3 miles from the highway.

From Albany:
Take Interstate 5 exit 233 and drive east through Lebanon on Highway 20 to Suttle Lake. At Suttle Lake, proceed south onto Suttle Lake Loop Road 2070. The Suttle Lake United Methodist Camp parking lot will be on your left 0.3 miles from the highway.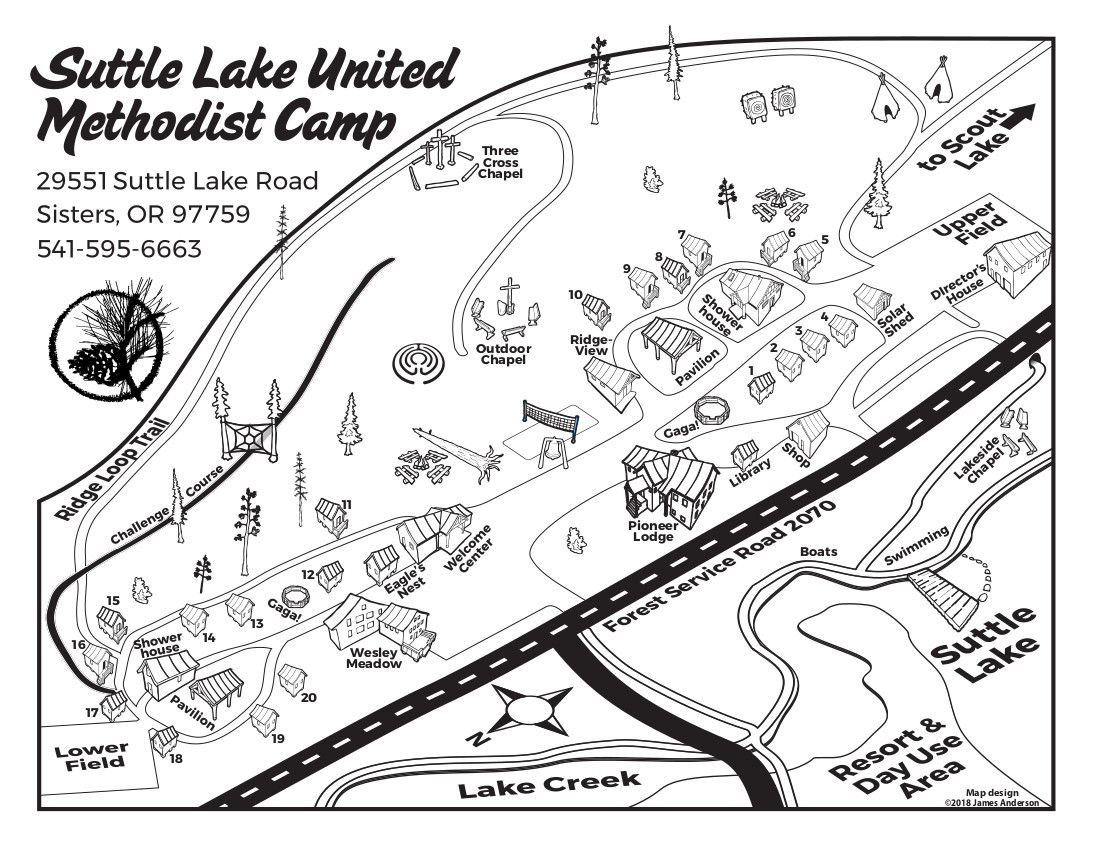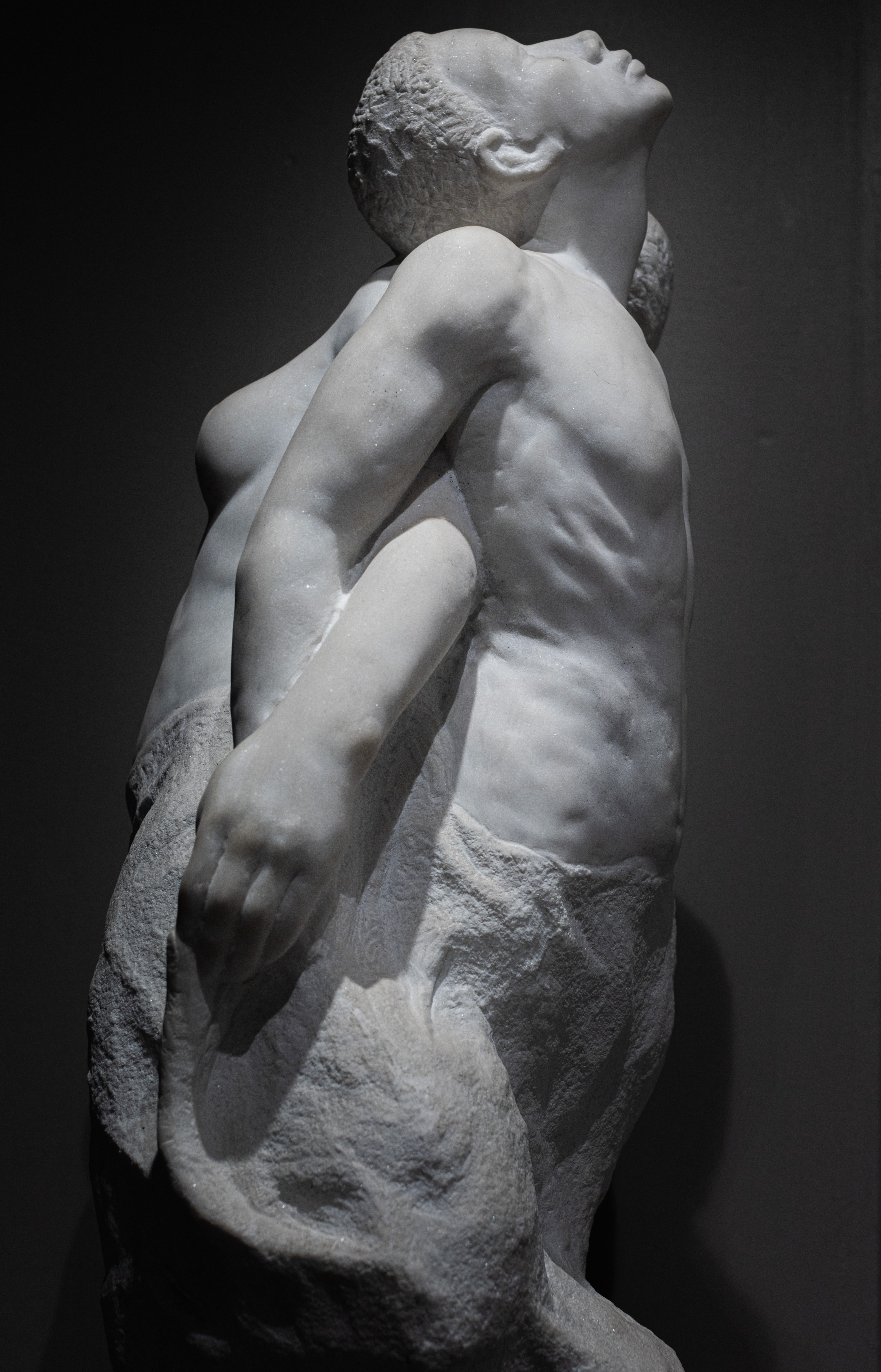 SUTTLE LAKE SYMPOSIUM AUGUST 7-14, 2022
By Kentaro Kojima

After two years of silence, The Northwest Stone Sculptors Association is excited to hold our annual Oregon State Stone Carving Symposium at Suttle Lake Camp. This is the 6th year we are returning to this venue, and it has become our 'home'. The symposium is open to all levels from beginners who have never carved stone before to the professional sculptor. This symposium is one of the most supportive and inclusive environments you will ever encounter.

Suttle Lake Camp is nestled on the eastern slopes of the Cascade Mountains, 14 miles west of Sisters. During the early mornings or afternoons, you might find time to swim, paddle a boat across the lake, take a leisurely bike ride, or walk along the trails nearby.

Symposium tuition includes: Single-occupancy lodging in the Lodge or double occupancy in the rustic style cabins with brand new semi-private shower facilities with dressing areas. Cots with a mattress are provided. Bring your own sleeping bag, pillow and linens. If you prefer more privacy and comfort, there are many hotels and B&B's located nearby in the town of Sisters.

Our inclusive community will set up a circle of tents to carve, share, learn and be invigorated.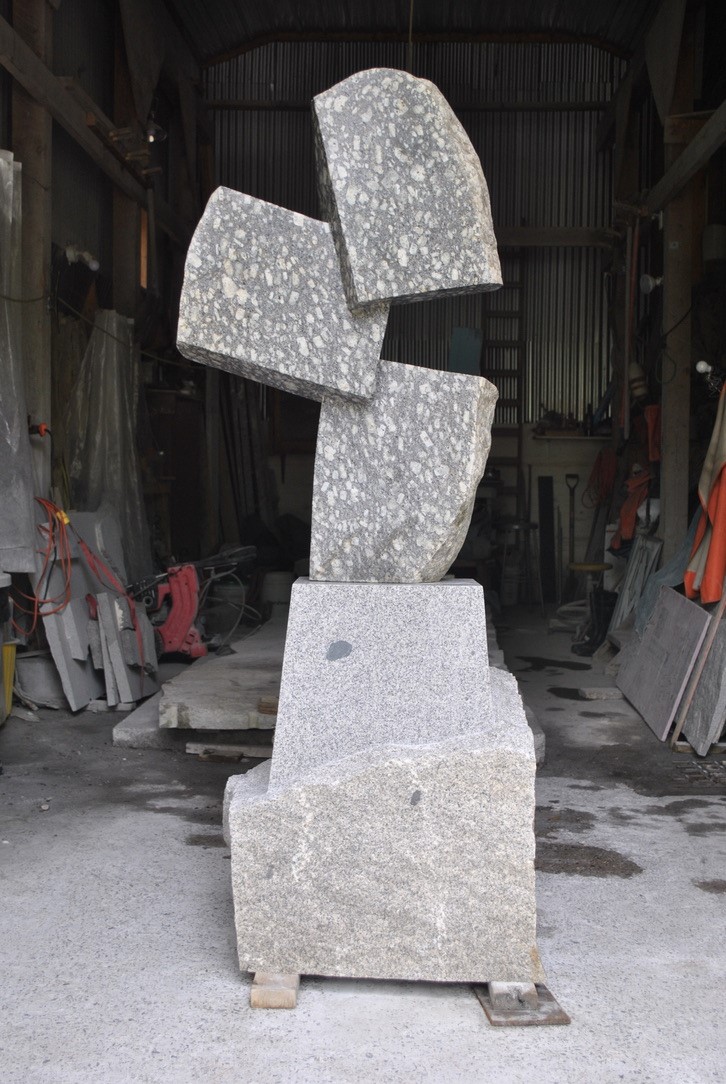 Extensive carving sessions are interspersed with informative classes and stimulating sculpting lessons.
Field mentors and instructors are available to help guide you through your challenges. Bring your gear.
If you are a beginner, we have tools you can use. Connect to our power, water and air sources. Peruse the tools and variety of stones being carved, or available for purchase from our on-site vendors.

Guest Artists will include: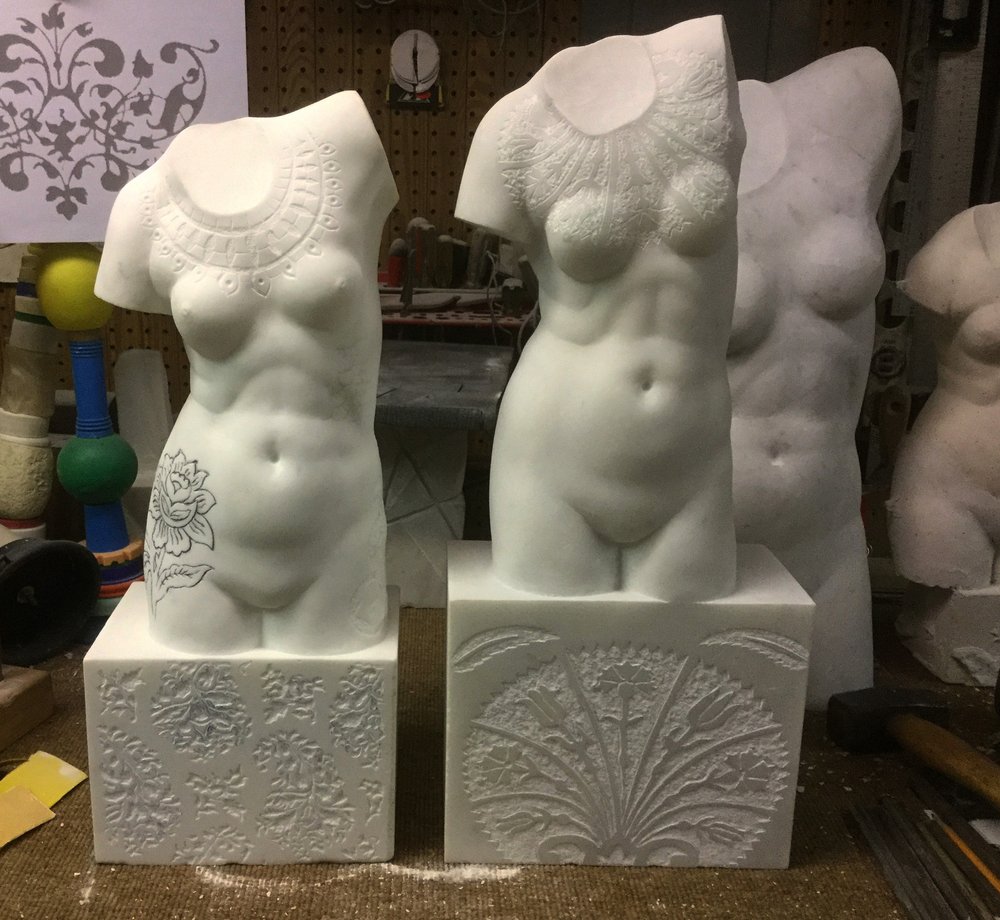 Sabah Al Dhaher www.sabahfineart.com
Matt Auvinen www.mattauvinen.com
Mark Herrington www.markherrington.com
Lawrence Stoller www.lawrencestoller.com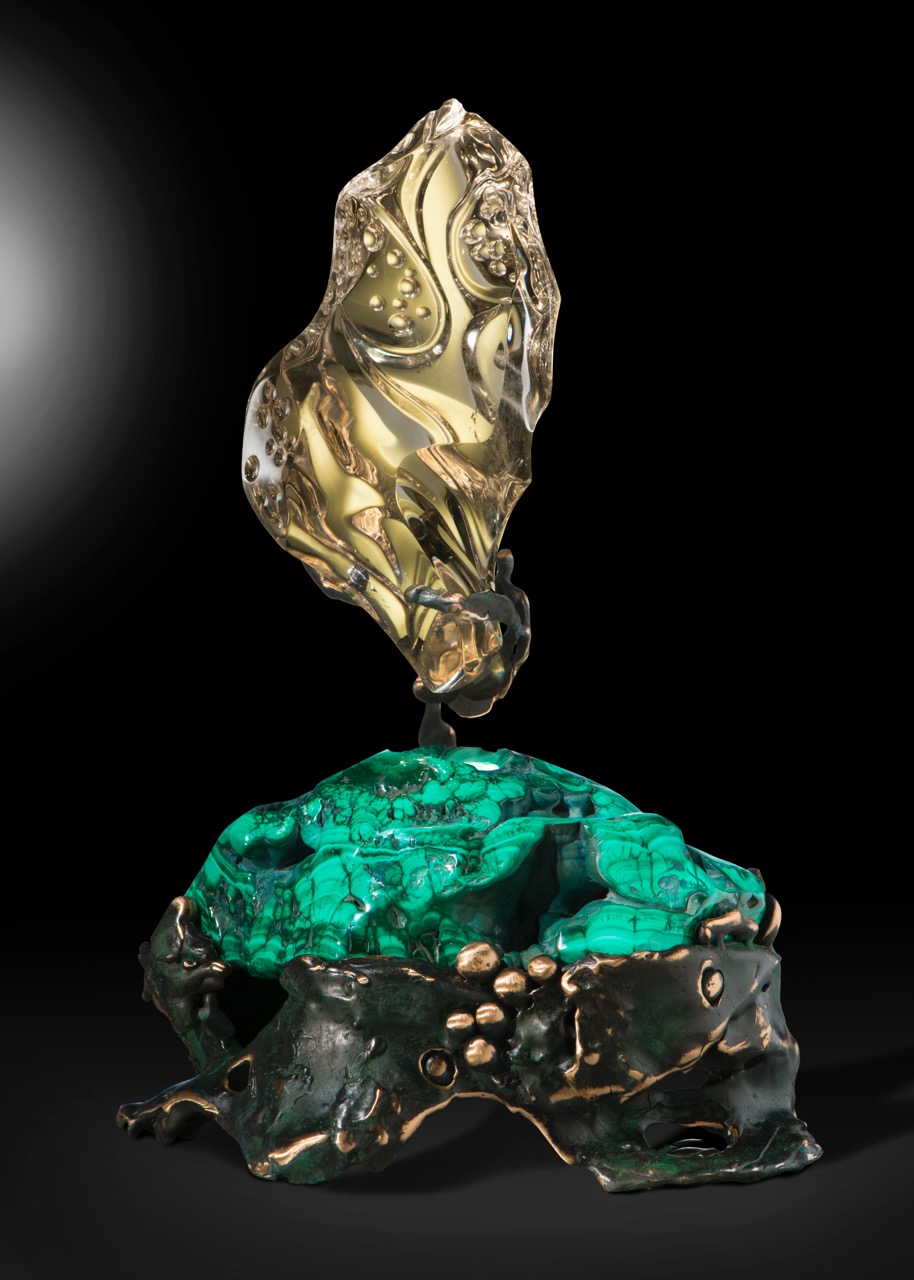 Click Here to Register Online!
We were very fortunate to have Photojournalist Steve Kaufmann, of Central Oregon Daily News visit NWSSA at our Suttle Lake near Sisters, Oregon during our August Symposium.
We hope you enjoy his segment as much as we do!