2019 - 32nd Annual Stone Carving Symposium - Pilgrim Firs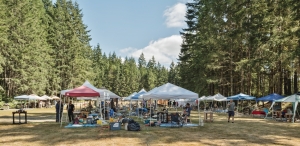 NW Stone Sculptors Association invites

you to join us at Camp Pilgrim Firs for up to eight full days of playing with stone, communing with nature and enjoying the camaraderie of fellow stone enthusiasts. Bring yourself, your creative energy, your tools, and a favorite rock (or four!). If you're new to this whole things and don't have stone or tools, we have an entire space set up for beginners with tools and instructors. The Campgrounds provide cabins and lodges that are connected by walking paths through the forested grounds and three full meals a day, so you'll have the ultimate freedom to delve into carving and building friendships. Evenings are filled with slideshows, informational talks, a riot of a fundraising auction, a music-filled final night party, campfires and even nighttime swims in the lake.
We are offering group workshops in Figurative Marble, Beginning Carving and Jade Carving. The Figurative Marble workshop is a one-time offering where participants each receive an identical 190 lb block of Italian marble. You are asked to bring a maquette and your favorite tools. We'll send additional information to everyone who registers for this (14 max). The Beginner's Workshop is for anyone who's just starting out and includes a block of limestone and full use of our tool room stash. The Jade Workshop offers tool use and instruction and begins Monday the 8th. Small pieces of jade for sale.

Accommodations:
Pilgrim Firs Camp and Conference Center includes 120 wooded acres of which 40 have been developed with cabins, lodges and outdoor recreation areas for guest use. It includes play and sports fields, a lake with canoeing and kayaking, and a floating dock for swimming. There are hiking trails, indoor and outdoor chapel/meditation spaces, two campfire areas, basketball and volleyball courts and many secluded quiet places. It is located 3 miles from the City of Port Orchard and about an hour and a half drive or relaxing ferry ride from downtown Seattle.


The Camp has a lodge with a shared common area and bathrooms; it features multiple dorm-style rooms that sleep 2-4 people each. There are also 11 duplex style cabins with private decks that sleep 3 per side. For those who like to commune more closely with nature, limited space is available for tents or trailers.

Financial Aid:
Scholarships and work study positions are available for you if you are in need of assistance to attend. We'd rather have you here than have you stay home and each year we raise significant funds to help! Scholarship discounts are available from $100+up and Work Study positions offer further discounts. Please contact Cyra before you register! Cyra Jane, Symposium Director, at 206-406-0711 or

This email address is being protected from spambots. You need JavaScript enabled to view it.

. Work Study Application
Event Properties
| | |
| --- | --- |
| Event date | 07-06-2019 |
| Event End Date | 07-14-2019 |
| Registration Start Date | 02-14-2019 |
| Capacity | 100 |
| Registered | 91 |
| Available place | 9 |
| Cut off date | 07-15-2019 |
| Individual Price | $200-$1,200 depending upon accommodation and number of days. |
| Location | Pilgrim Firs |