32nd Annual International Stone Carving Symposium
at Camp Pilgrim Firs, Port Orchard, WA
July 6th-14th 2019
Members register on-line by May 31st receive $100 Discount off full time rate at check-out.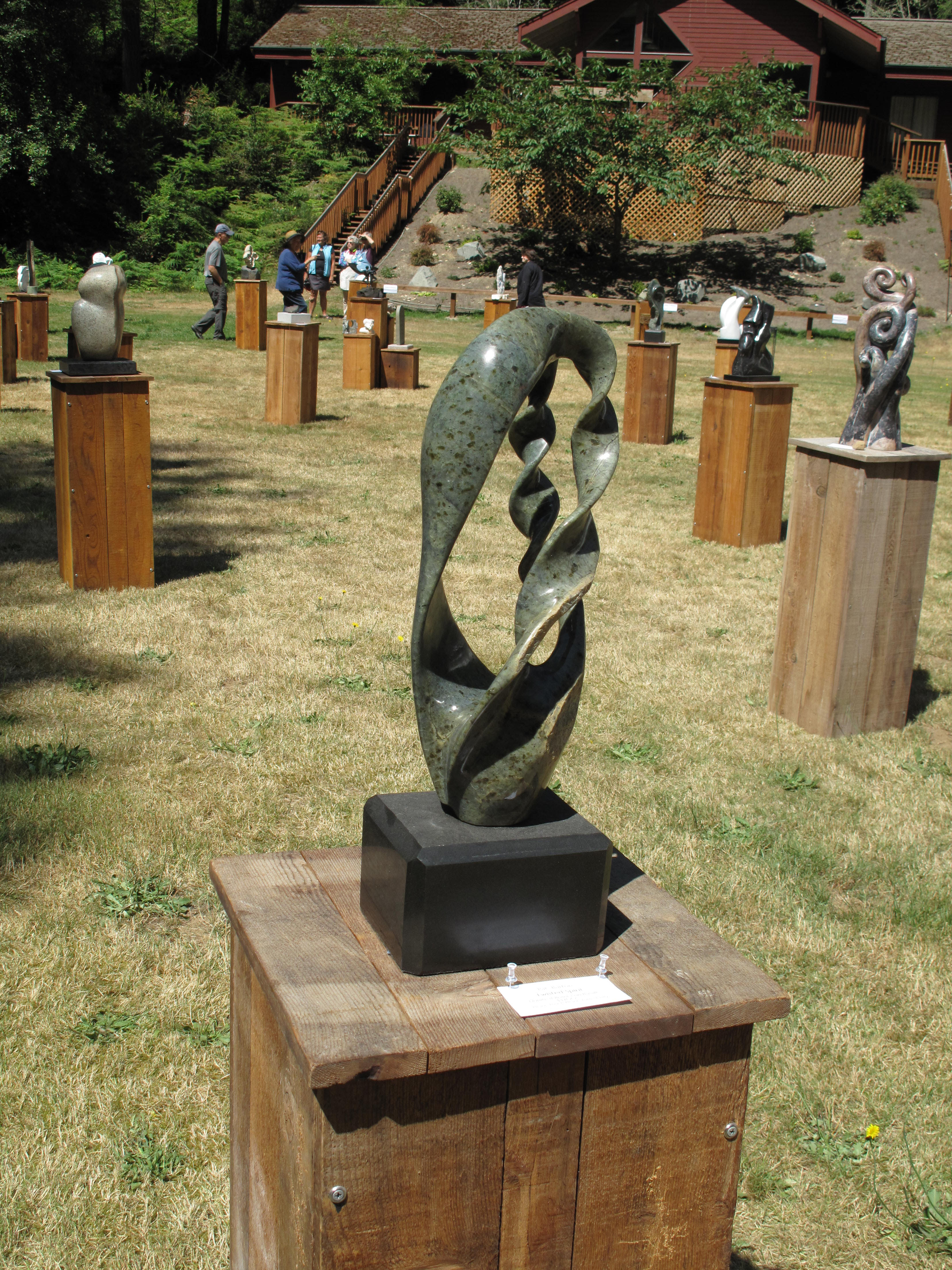 Guest Artists & Workshops:
Large Scale Conceptual Public Art with Dale Enochs; Renaissance of the Figure Group Marble Workshop with Jason Arkles; Jade for Everyone with Dale Blankenship and Beginning Stone Sculpture in the DOJO with Ruth & Tamara
The Symposium
We invite you to join us at Camp Pilgrim Firs for up to eight full days of playing with stone, communing with nature, and enjoying the camaraderie of fellow stone enthusiasts. Bring yourself, your creative energy, your tools, and a favorite rock (or four!). If you're new to this whole thing and don't have stone or tools, we have an entire space set up for beginners with tools and instructors.
The Campground provide cabins and lodges that are connected by serene walking paths through the forested grounds and three full meals a day, so you'll have the ultimate freedom to delve into carving and building friendships. Evenings are filled with slideshows, informational talks, a riot of a fundraising auction, a music-filled final night party, campfires and even nighttime swims in the lake.
Stone and tools are available for purchase by our vendors.
Accommodations
The Camp has a lodge with shared common area and bathrooms; it features multiple dorm-style rooms that sleep 2-4 people each. There are also 11 duplex style cabins with private decks that sleep 3 per side. For those who like to commune more closely with nature, limited space is available for tents or trailers. No pets are allowed during the week.

Financial Aid
Scholarships and work study positions are available for you if you are in need of assistance to attend. We'd rather have you here than have you stay home and each year we raise significant funds to help! Scholarship discounts are available from $100+up and Work Study positions offer further discounts. Please contact Cyra before you register!
Cyra Jane, Symposium Director, at 206-406-0711 or
This email address is being protected from spambots. You need JavaScript enabled to view it.

.
Work Study Application
Sculpture Walk on the Meadow Saturday, July 13th
Our outdoor art gallery is a perfect opportunity to show your work in a supportive and appreciative environment. We encourage everyone to bring up to two finished pieces to display and to invite your friends! Bring pedestals if you have them. Additional smaller items are welcome, too. NWSSA receives a 20% commission on sculpture sales.
Registration
Register On-line: [Click Here],
or via SnailMail: download [ Registration Form ] send with with payment to NWSSA, Attn: Cyra Jane, Symposium Director, PO Box 27364 Seattle, WA 98165
3rd Annual Women's Hand Carving Workshop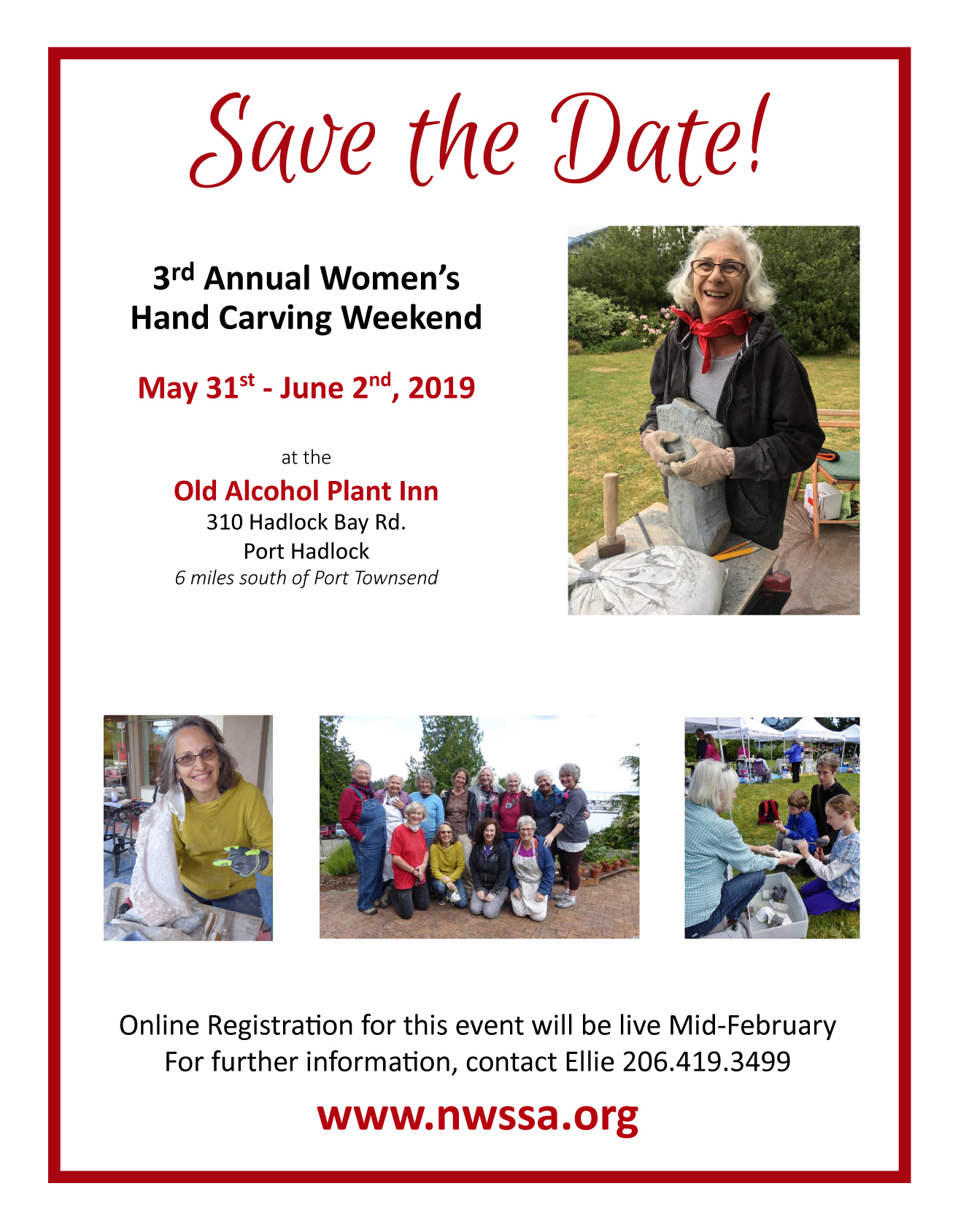 May 31st-June 2nd
Location: Old Alcohol Plant Inn, 310 Hadlock Bay Road, Hadlock, WA. (6 miles South of Port Townsend)
Hours:
Friday: 11:00 am – 4:00 pm;
Saturday: 10:00 am – 4:00 pm
Sunday: 11:00 am – 1:00 pm
Call, text or email any questions to Ellie - 206-419-3499 This email address is being protected from spambots. You need JavaScript enabled to view it.
NWSSA hosts two a year: Suttle Lake (Sisters) Symposium (for over 24 years) in Oregon State, and Camp Pilgrim Firs Symposium (for over 30 years) in Washington State. Both symposia offer something for sculptors at all levels. Beginners and intermediate carvers come to learn, grow as artists, and try new things in a supportive environment. Professional sculptors gather to work on projects, share information, get inspiration, and often to help beginners.

Stone and tools are available for purchase from knowledgeable vendors who know the business and are carvers, too. The teachers vary from year to year, but the overriding theme of our symposiums is always the generous sharing of information with all attendees.

For those who attend it is a working holiday with like-minded folks while being fed three meals a day surrounded by everything to do with stone. Evenings are spent by the fire swapping stories, making new friends, and catching up with connections made from past symposiums.

Symposium price discounts are given to attendees who are NWSSA members.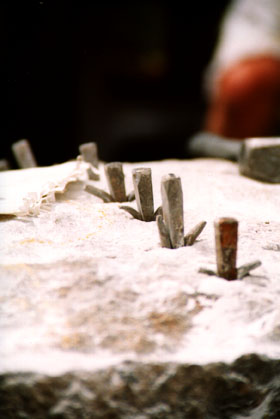 Our mission is to nurture the community of stone sculptors by developing educational opportunities, providing a support system to members, and facilitating interaction with regional, national, and international communities.To learn about becoming a member of Northwest Stone Sculptors Association (NWSSA) click HERE (or click on "Become a Member" at the bottom of the page).
NWSSA is an association of stone sculptors that was founded in 1984 by Meg Pettibone in Seattle. Our first symposium was in 1986 in the Methow Valley east of the Cascade mountains in Washington state. We have since grown to include stone sculptors and associates throughout the western US, Canada, and other parts of the world. We are a federal tax exempt status 501c nonprofit membership organization.