David brings a very broad and varied set of experiences and interests to his artistic endeavors, and his work reflects this breadth. He is a thoughtful and thinking man, and, as Silver Falls and Whidbey Island participants can attest, he is an excellent teacher. It is great to have this opportunity to become better acquainted with this most interesting artist.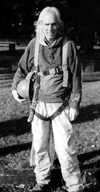 LE: To begin with, please introduce yourself.
DM: My name is David Preston Miller (I use my middle initial. As I grew up, being referred to in this fashion helped to distinguish myself from the other John Does). I was born in New Hampshire in 1949. I am the oldest of five children: two boys and three girls, with an age difference of sixteen years. I grew up, as I consider it, being a corporate nomad, as at that time the corporate structure for management required managers and their families to move often. I was always the "new kid on the block." Four moves, four states by the eighth grade. I finished high school in a small western Pennsylvania coal-mining town. I probably have lived at fifty addresses since I was born. I have lived in the Northwest almost ten years. One year in Bellingham and the remainder outside of Marcola, Oregon on a dead-end road in an area of an early logging town named Wendling. I had spent most of my life in the Northeast, and I have only Alaska and Hawaii left as states to travel to.