June Bloye exemplifies the aspiring sculptor who has benefited a great deal from her involvement in NWSSA. This has allowed her to carve out a second career. She has, in turn, reciprocated by lending her talents to the association by serving as an active and vital board member. Her inspiring story follows.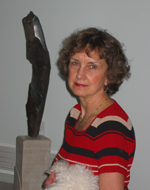 LE: Please introduce yourself, and tell us a little about how you were introduced to sculpture.
JB:  I'm a person who has come late to art. Most of my life I've been a craft person, but now I see a continuum from one art form to another. Cutting out glass for stained glass panels taught me how to cut slate and other flat stones; jewelry making taught me how to manipulate and so on. The converse is also true. A recent project of mine involved appliqueing a scene onto the back of a fleece jacket, which I made 3-D from my sculpture experience. I think that all art forms complement each other. No craft making has been wasted and, in fact, most techniques have come in handy in one way or another. I now enjoy mixing my media so that I have stone with copper wire, glass, and wood. In the future I hope to combine other media as well.