Dave has been an energetic and enthusiastic member of NWSSA, and he currently serves as our Vice President.  As we will learn, his broad training in art and his steady progress in sculpture has resulted in a well deserved blossoming of his career in the last few months.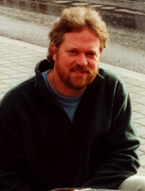 LE:  Please introduce yourself--who are you?
DH: That's a good opening question! My name is Dave Haslett. I work in stone, bronze, oil paint, and am a prolific drawer. I have owned my own business as a licensed general contractor since 1989, drawing plans and performing custom remodeling. Born and raised in the Pacific NW, I am the first male in a long line of loggers to not continue a career in the woods.