SN: Who are you?
CG: My name is Candyce Garrett and I am a granite sculptor from Galisteo, New Mexico who has had the privilege to instruct at both Camp brotherhood and Silver Falls.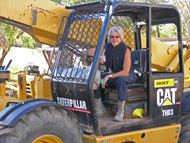 SN: What life experiences affected your direction in art?
CG: My first time in the Northwest was a trip to Camp B in l996. Up till then, I had been carving figurative pieces in marble and limestone. Since then my work has transformed into monumental abstracts in granite.