Editor: Maureen has recently joined NWSSA. You may have met her at Camp B last year, or read her Nov/Dec 2006 Sculpture NorthWest article about the carving she did in Italy. Here is a little more about Maureen; her life and work in Port Angeles.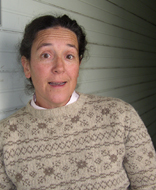 SN: Who are you?
MHW: I am Maureen Hope Wall; I am an artist.
SN: What is your life history as it relates to being an artist?
MHW: I first found sculpture when I was a kid and we came to the Pacific Northwest for our summers. I would play with the drift wood on our beach, making sculptures out of what I saw. Even though I had been drawing and painting by that time in my life, I knew that sculpture was more exciting and engaging.