This interview was conducted by Verena Schwippert on Orcas Island at Pete's home and studio. There is art, almost all made by him, everywhere. The house was built by Pete for his family. The yard, several acres of it, is full of many large sculptures. Some metal, some stone, some a combination of both. The creativity, amount of work and workmanship of the art was mind-boggling to the interviewer. There is also a huge studio for inside work on metal and stone, with a great number of wonderful machines. The interview took place like a relaxed chat amongst friends.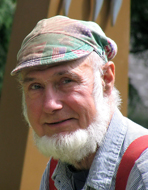 Verena: Please introduce yourself.
Pete: My name is Pete Welty, I live on Orcas Island, and I have been a welder for 42 years. I made my first sculpture when I was 6 years old, it was a bear made out of clay. I have made sculpture ever since. I carved birds out of wood as a young teenager. I have been a welder most of my life but have always dabbled in art on the side.
The overriding motivation was always the feeling to have to create; like a little extra motor that purrs on the side. Not caring about the trappings, it just needs to be greased and oiled and listened to….