The following is an interview with Canadian sculptor Michael Binkley of Vancouver, British Columbia. Here he responds to an interview questionnaire.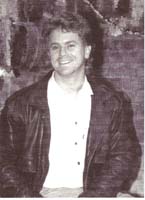 Tell us about your life history related to being an artist. Why did you become an artist?
I was born in Toronto, Ontario in 1960, and my father's company moved us to Vancouver, BC in 1966. I have always been interested in art, and had an aptitude towards creating it on paper. I could draw and paint, and got my first set of oils form my grandmother when I turned 12. I loved to paint, and pursued art as an elective through high school. My whole family kept saying "You should be an artist when you grow up." But like many laypersons, I did not think one could actually make a living at being an artist. So, I wanted to become an architect, and chose my education in that direction. However, after two miserable years at the University of British Columbia, I found my left brain was losing the battle.
What key life experience affected your direction in your art?
In the spring of 1980, I decided to take an art history course, offered by Capilano College, wherein the class went to Florence, Italy, to study Renaissance art. Instead of seeing slides of the artworks, we got to go to the cathedrals and museums, and see them first hand. I thought it would be a kick to go, and a chance to get to Europe. It was there that I was introduced to Michelangelo's David, and the four unfinished Captives at the Accademia. Sure, I'd seen pictures, but they can never convey the power of the real thing. I remember returning a few times to sit in front of those four unfinished sculptures, and realizing I could see what Michelangelo was trying to say. It was not until several years later that I recognized that I was actually finishing the carving in my head. I could see the completed sculptures. I guess that was my epiphany, my calling, if you will.
When I returned home, I asked George Pratt (of Vancouver B.C.) if! could work with him for a summer in his studio. He had been in business with my uncle, but at that time had quit the furniture business, and had turned his hobby of stone carving into his career. He agreed to let me work, but in an unusual arrangement. The classic apprenticeship calls for the protege to pay the master. But George paid me to work on his large commissions, doing grunt work, and in the process, learning about tools and stone. In my spare time, I got to work on my own projects. I remember having a devil of a time with my first piece, which was a dolphin. I had so much experience at trying to make a two dimensional surface look three dimensional. Being confronted with a 3D piece of Texas limestone got my brainhand coordination in a knot. But all of a sudden, it clicked. Don't get me wrong, I was not as talented as most of our new members are right off the bat. I look back at my work of 20 years ago and cringe! But it was the best I could do with the experience I had. I was learning as I went.
My father bought my first piece as a corporate presentation gift to an associate of his who was retiring to Florida. I hope that fellow still has it-I put a #1 on the bottom beside my signature. I worked for George for the summer of 1980. During that time, he convinced me that with the right approach, one could make a living as an artist. He showed me how to have your own exhibitions in your home, and how to get into galleries, in order to sell your work. But it wasn't instant success. So, I got a job at a grocery store, stocking shelves -as my "real" job, and worked off-days at George's shop. He was very helpful-I pitched in what I could for stone and supplies, but it was never enough to compensate for what I consumed. Eventually, George had to move his studio, as Expo '86 was being built on the site.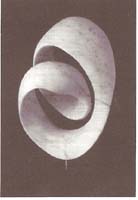 We moved to a location just off Granville Island, and set up a studio/ gallery space. It was very successful, and I managed to contribute more, but it was never a 50-50 split. I guess George really had confidence in me. In the summer of 1985, he told me it was time for me to set out on my own. I've learned so much of the business of sales from George, and am so thankful to him. So, I attribute my artistic career to two people: Michelangelo for the inspirational "why", and George Pratt for the "how".
I bought a house in North Vancouver that backed onto industrial land. My father and I built a small garage studio, and I used the living room as my gallery. That fall, I started my own gallery, Stone Images. In 1987, I had enough sales of my sculpture to support me, and I quit the grocery store job. Now I am a full time sculptor, and the breadwinner of the family. Those bills are a real incentive to get up and at 'er in the morning! Some may criticize me for being somewhat of a prostitute, making sculpture that wi II sell, but I feel that I combine projects that are purely from my heart with those that are commissioned. And hey-isn't that what we all dream for-to be professional?
I'm completely self-represented. I tried the gallery and high end gift store route in the 80's, and some of those outlets worked very well. But none were able to sell enough for me to live.on. In 1986, I started to sell at the local market at the Lonsdale Quay (like Pike Place in Seattle). Every weekend for five years, my wife Michelle and I lugged sculptures and display paraphernalia down there, set up and did our song and dance. We sold a lot of sculpture that way, and trained our clients to come to the house to see more. That, coupled with our two shows each year (the Studio Show in late November, and the Garden Sculpture Show in May) increased OlIf client base to the point where we were in the position to be selfsustaining from sculpture sales. Now I get a call every few months from some gallery wanting to show my work, which is a nice feeling. But they all want to work on consignment, and I can only work with outright purchase, so Stone Images Gallery is the only place to buy my work.
In 1997, we were finally in a financial position to realize a separate gallery to show and sell my sculptures. This has been a real blessing, as it has given us back our private space. We had a 1000 sq. ft. addition built, consisting of a gallery and an office. The space has won praise from our clients, as they feel welcomed and relaxed, making their experience with buying art a pleasure. Our contractor also won an award for his design. The gallery has lots of windows to let in natural light, and to see out into the sculpture garden. The 24' ceiling and exposed trusses give the space the feel of a New England barn, or a warehouse garret loft.
In March, I entered cyberspace with my own website (www.BinkleySculpture.com). I maintain it, and try to update it every two weeks Of so. I've learned the medium is very complex, but it should be worth the effort. Michelle and I track the stats on the site, and so far there are a lot of people looking, all over the world. Kind of eerie. I am using the site so far as a support tool. I get many reqnests for photographs from clients, and the site has saved a lot of time and expense. I'm skeptical as to someone surfing to buy sculpture, but maybe some of those "lookers" will surprise me.
Who and what influenced your artform?
My favourite subject matter is the human nnde. That's Michelangelo's influence. As to other influencesI would have to say "Life". There is no one artist in particular that I could say is an influence on me. I am always bumping into new artist's worksome move me some don't. Just as all life experiences affect one-some influence you to the point of addlng a new slant to your work.
What kind of art do you create?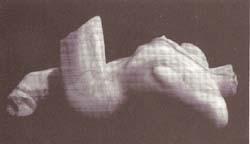 I divide my subject matter into three categories: figurative, animal and pure abstract. I've concentrated on representational work mostly. My thinking is that until you have a handle on proportion, balance, and line, you aren't going to be able to create good pure abstract art. I tried it long ago-thinking that if someone could splash a blue stripe on a red background, call it "Voice of Fire" and sell it for 1.5 million dollars, why can't I? My first forays into abstract-painting and sculpture-were terrible. I feel more confident in my representational abilities now, and so am finding most of my abstract compositions are pleasing, or at least better.
A recent interesting project was the transformation of an earlier piece. I did a life-size sculpture of Eve in the Garden of Eden, just after she had bitten the forbidden fruit. She was seductively posed, the apple concealed in her left hand behind her back. The serpent was coiled about her feet, and reaching up to lick the apple. I called it the Temptation of Adam. Loads of symbolism. Few viewers got it. They didn't.walk around the sculpture.
I was happy with her when I finished it. But as the years went by, and I became disenchanted with her, I thought I'd rework her. So off with her head, her legs, and arms! She got a spine, lost weight in her butt and hips, and I plunked the apple right there in front of her. Voila, Temptation of Adam II. A much more dramatic sculpture, and everyone gets it now.
I've been asked, why torsos, and not complete figures? I like the expressive power of the torso. I find that the whole figure can sometimes negate the expressive power of the torso, especially in stone. I think the whole figure lends itself more to the medium of bronze. One of my clients said she does not like figures with a head and face, as they make her associate them with someone she might know. She prefers to complete a torso's limbs and head in her imagination. I agree with her. Temptation of Adam is a good example.
Another recent piece is "Torsion". I used a piece of Jim Gill's "magic"pink alabaster. (He calls it magic, as anything I make from it sells first at an exhibition-until now!) Tbe female torso is quite nice, in a twisted composition. . But what Michelle noticed is that there is an unusual amount of negative space in the piece- more than] have included in the past. I call it "pushing" the stone. But I don't want to go too far. I like to keep the "stoniness" in my sculptures.
How do you develop ideas?
I direct carve almost exclusively. I never leamed the process of doing maquettes first, so have not pursued that route. I wi II, however, make drawings for a client first to help them to better understand what I will carve for them. And if I ever get that big commission, I'll for certain make a maquette or two to get the kinks out. I just find that with most stones, one cannot be certain of what's on the inside of a block. I would not want to be tied down to a blueprint model, as the stone may have an interesting veining happen deep inside that would encourage a subtle or drastic change in composition. As T mentioned, I see the finished sculpture already before I begin, and just take away what's not supposed to be there. I see the end result, as opposed to seeing it develop along the way. I guess I see what the stone is saying to me, and go after it. For the most part, I don't spend a lot of time communing with a stone before I begin. I'm quite brutal. I look at a piece, decide quickly what I'm going to create, and get down to it. I'm impatient, so I like to finish one piece before starting another. Every now and then, I get itchy to make a largish piece on spec, and then I will have it ongoing as I work in tandem on smaller projects. I must always think of those bills, so the commissioned sculptures always take precedence.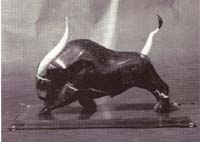 What size or scale is your sculpture?
I work in scale from something that will fit into the palm of your hand, to something that will fit into a park, or plaza. I prefer life size to about half life size scale. This affords me the latitude I like to create, but I still have a way to go to be able to subsist on the sales of those scaled works.
What stone do you prefer to carve?
I like all carvable stones. I stay away from soapstone for its stigma. There are a lot of folks who think that the only sculptors working in stone today are Inuit, and that they carve soapstone. I love marble most, particularly statuario. It has an integrity, crystal structure and workability that I've not found in any other marble.
What tools do you use?
I mostly use diamond abrasive tools-angle grinders, bench grinders, die grinders, etc. ( I've yet to try the hydraulic diamond chainsaw ... ) If I'm working on a larger piece, I'll use pneumatic chisels. I like the sensation of the chisels-they seem to be the "real" way to carve. It's just faster to remove stone with diamond. (He says he's interested in the possibilities of the high pressure water cutter for stone.) My impatience precludes my using hand tools, but if all I had to do for a few years was the great piece, and there was no deadline, I'd dig into a Carrara quarry block with hammer and chisel.
How much sculpture do you complete in a year?
If you include all the flower vases, and small animal and bird sculptures, I produce close to 200 sculptures a year. I figure I've made over 5,000 in my career (one contract alone for a Japanese client was for 1,000 white dove sculptures!)
Do you teach?
I don't fancy myself a great teacher. I do workshops at the NWSSA Symposiums, but aside from that, I don't teach. My shop isn't big enough for classes, and the city zoning would not permit it anyway.
Why is art important to you?
Being around art-paintings, sculpture, architecture, music, prose - is an essential for Michelle and me. Art communicates from one human being to another on an emotional level, as opposed to a purely mental level, such as most technology does. Creating art is essential to me. I think that is what is meant by the saying "an artist must suffer". It's not that we have to endure physical hardship (that happens to everyone). The suffering is that we artists need to create-we can never turn it off. We are always thinking out the next sculpture in our heads. It's not like other jobs where one can walk away after a 9-5 work day. Our work follows us everywhere, all the time. Now fortunately for me, my "suffering" is not a hardship. I just get annoyed when I get a great idea, and can't get hold of a piece of paper and pencil to write it down or draw it!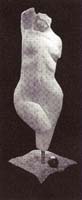 What is your relation to NWSSA?
I joined NWSSA in 1992, at the suggestion of George Pratt. I'm so glad I did. I've met so many wonderful people, who share my same insane passion for getting extremely dirty. All for the love of trying to make a rock look a little more beautiful. I am humbled that there is so much talent in our organization, and I am honoured to be among you all. I love the symposiums, but cannot get to them all. Unlike some of the members who make the symposiums their holidays, this is my work, and I like to vacation where there isn't a chisel around ... I have been an instructor at workshops at past symposia, and will again insttuct at the September '99 Thetis Island Symposium. I will come to Camp Brotherhood (July '99) for a day trip to visit.
What is your life philosophy? How does your art reflect that?
We are here to be the best at whatever we can do, and to enjoy our time as best we can on this earth-plane. If we are to be shit shovelers, we should be the best damn ones around. Never risk more than you are willing to lose. Take baby steps. Always observe-never stop looking. I try to approach life in a very pragmatic, and realistic way. I try to set realistic goals, and go about achieving them in a practical way. I love to carve stone, the process of removing what I don't feel should be there to realize what I hope is a beautiful artwork. If it brings pleasure to someone else, then my accomplishment is enriched. I am not into making big political statements, or exploring sensitive issues. I just feel that I want to make a small corner of the world a little more beautiful.
My wife and I are blessed with curiosity. We want to explore as much of this earth as we can while we are here-the physical locations and the emotional responses they lnspire in us. If we had the financial means, we would go to as many places as we could. But by the same token, we are very grounded in our home environment, and love to be here. Our house and garden are our sanctuary, and we feel whole when here.
What have been your satisfactions in your life as an artist?
Being able to play every day and get paid for it. Getting my hands to do what my mind and heart see. Hearing from a client how much they enjoy my work, how the piece has affected them, and having them caress a piece of my sculpture.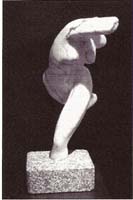 What have been your obstacles or challenges?
Still not having been able to do the great piece. I have wooed clients for almost 20 years, and still haven't gained the confidence to have a large sculpture commission. I see more and more cities adopting public art programs and bylaws which restrict my ability to directl y sell to "tall building clients". Instead, open competitions are the only option, and while on the surface these might look like great opportunities for artists, they really are not.
Art by committee usually results in mediocre (at best!) art. These competitions are so wrought with problems and elitist mentalities that the public they are supposed to serve gets forgotten. The competitions are usually directed by a government body (municipal or state/ provincial), and are another example of how government should really stay out of the way of private enterprise.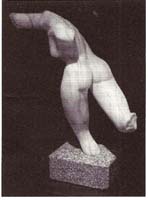 What are you looking forward to (goals, wild ideas)?
If things go surprisingly well.... Finally winning a competition! My record is 0-71, with two more in the judging stage. Also to go to Pietrasanta for a month and carve statuario marble in one of the studios there. Many of the members have done it already, and I salivate over it. Another goal is to rebuild my studio. I have a much better understanding of what my working needs are, and the tools I use have changed since I built the first one, so I would like a different setup.
Cheers, Michael