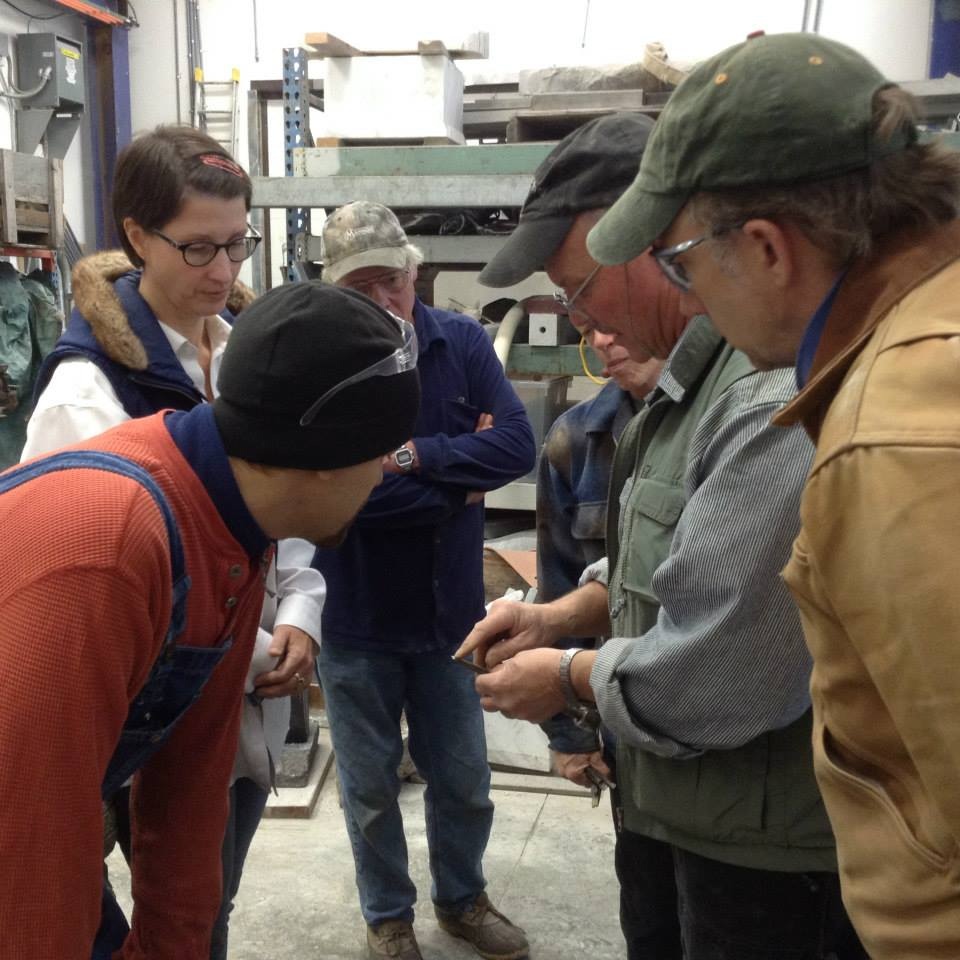 We listened to your input and have begun scheduling half to full day workshops to bring small groups of carvers together. [CLICK HERE] look them over for the details and register.
This Winter, we will have workshop at Portland Community College - and we are looking to also bring together people in the Eugene/Salem/Vancouver British Columbia area.
We'll keep you informed and ask that you keep checking the "Upcoming Workshops" (under "Events and News") part of the web site.
Here are some of the workshops we have held, if you'd like to see them presented again, drop us a note: Sharpening Tools, Marenakos, Pedestals, Photographing 3D Art, Neolithic Stone Tour , Turning Your Stone into Bronze, Carving Face and Human Head, Working From Your Strengths To Find YOUR Way, Professional Photography of your Artwork, Carving the Human Figure, Field Trip to Olivine/Dunite Quarry, Abstract on Orcas, Polishing Hard Stone, Working Wet; Dust Free Stone Carving , ART(ifacts) To What End?
AND to further encourage new and renewing members, the board has decided to reduce NWSSA membership to $45. If you plan on attending two or more workshops, becoming a member makes good sense. Take a look and see if any of the workshops listed meet your needs. For those who have renewed after Sept 1st 2013, you can apply the difference to workshop fees (please leave a comment in the web form when you check out during registration so we can apply it or drop the president [This email address is being protected from spambots. You need JavaScript enabled to view it.] an email).
** Membership Dues increase to $50 annually effective September 2019
Thanks to all who responded to the survey and made comments. Your input gives us direction and helps us in setting up the workshops.
More than 70% (and in the case of "river walks" 80%) said you would attend or were likely to attend a workshop or tour of stone yards, quarries, finding and acquiring stone.

Tool sharpening is of interest to about 71% who said they would attend or would likely attend.

Human Forms/Figurative, Basics of carving marble as well hard stone, and Combining stone and steel had about 65% saying they would attend or would likely attend.

Saturday and Sunday are the favored days of the week to hold a workshop and morning to midday is the preferred time slot for those days.
From this useful information we have more workshops to schedule, people to contact, and venues from which coordinate dates and times. Again thank you for your participation and we look forward to seeing you at the workshops and providing you the chance to talk with other stone carvers.
The Board: Ken Barnes, Ben Mefford, Carl Nelson, Michael Yeaman, Rick Johnson, Steve Sandry, Pat Barton, & Verena Schwippert
Drop one of us a note if you have further questions: [CLICK HERE]