I've Never Carved a Stone! What Can I Expect as a Beginner?
Impressions of Camp B by Pat Barton, Irene Blomberg & Berta Geller
Beginner Work Area:
The beginner work area is set up at the edge of camp, thus allowing the teachers a semi-quiet space to teach. Two large canopies house the work area, with tarps on the ground to catch stone chips and dust. The tents provide protection from both the sun and rain. Tables, benches and stools are provided to store tools and carve comfortably. The work area has electrical power, compressed air, and water. Students pick up and clean their work area at the end of each day.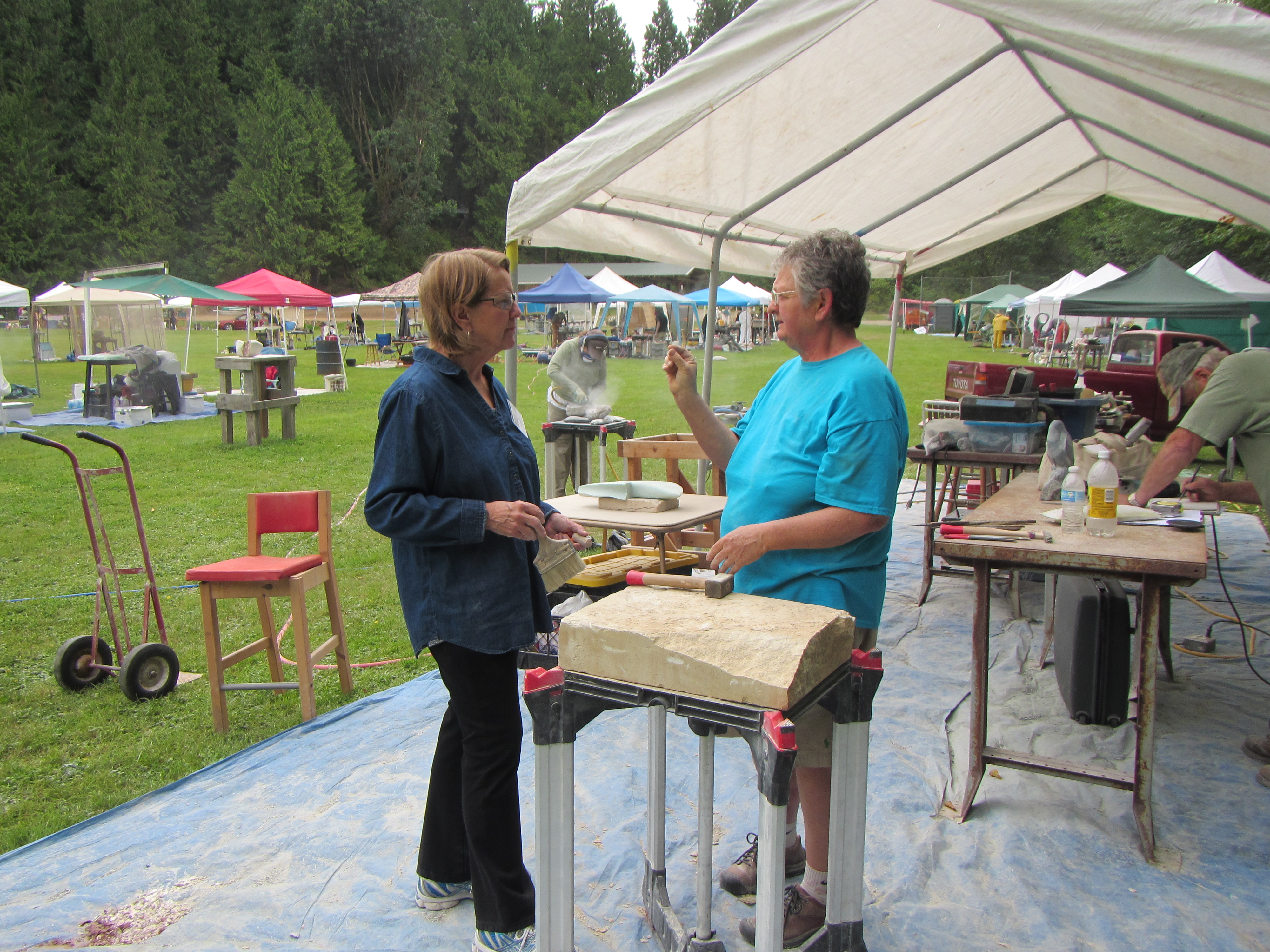 "As one fairly new to stone sculpting, I found the beginner's tent to be a place of great support and encouragement for exploring my creativity with stone." Irene Blomberg
Full Time Instructors: Tamara Buchanan and Ruth Mueseler are both experienced stone sculptors. Tamara has been sculpting stone for over 25 years, and teaches at her studio on Lopez Island for the past 10 years. Ruth, from Bellingham, comes highly recommended by her former students for her thoughtful and respectful manner towards those wanting to learn stone.
Do I need to bring a stone with me?
No, An 8"x20"x4" (approx.) piece of Texas Limestone is given to each student to carve and keep.
You may of course bring a stone of your own. In addition, small pieces of a variety of stones are often available to try from instructors and other sculptors at camp. Our on-site vendors do have a large selection of stone available for purchase - from softer stones like alabaster and limestone to harder stones including marble, granite and basalt.
Do I need to bring tools?
Free Use of Tools: Each beginning student may use NWSSA owned, and some of the instructors' personal tools to work on their sculptures. These tools include both hand and power tools.