34th Annual International Stone Carving Symposium
at Pilgrim Firs Camp, Port Orchard, WA
July 9th-17th 2022

Guest Artists & Workshops: Stephanie Robison - Junctions Between Forms and Materials, Candyce Garrett - Expect the Unexpected, Deborah Wilson - Elegance in Jade, and Beginning Stone Sculpture in the DOJO with Tamara Buchanan & Ruth Mueseler



Click Here to Register Online Now!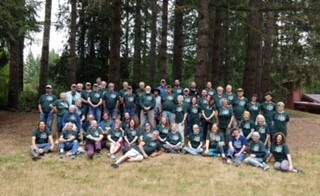 The Symposium
We invite you to join us at Camp Pilgrim Firs for eight full days of playing with stone, communing with nature and enjoying the camaraderie of fellow stone enthusiasts. Bring yourself, your creative energy, your tools, and a favorite rock (or four!)

If you're new to this whole things and don't have stone or tools, we have an entire space set up for beginners with tools and instructors. Stone and tools will be available for purchase by our vendors.

The Campground provides cabins and lodges that are connected by walking paths through the forested grounds and three full meals a day, so you'll have the ultimate freedom to delve into carving and building friendships. Evenings are filled with slideshows, informational talks, a riot of a fundraising auction, a music-filled final night party, campfires and even nighttime swims in the lake.

Accommodations

The Camp has a lodge with a shared common area and bathrooms; it features multiple dorm-style rooms that sleep 2-3 people each. There are also 11 duplex-style cabins with private decks that sleep up to 3 per side. For those who like to commune more closely with nature, limited space is available for tents or trailers. No pets are allowed during the week.
Sculpture Walk on the Meadow

We'll host an outdoor art gallery that's a perfect opportunity to show your work in a supportive and appreciative environment. We encourage everyone to bring a finished piece to display and to invite your friends! Bring pedestals if you have them. NWSSA takes a 20% commission.
Links for these events will become live as registration & information becomes available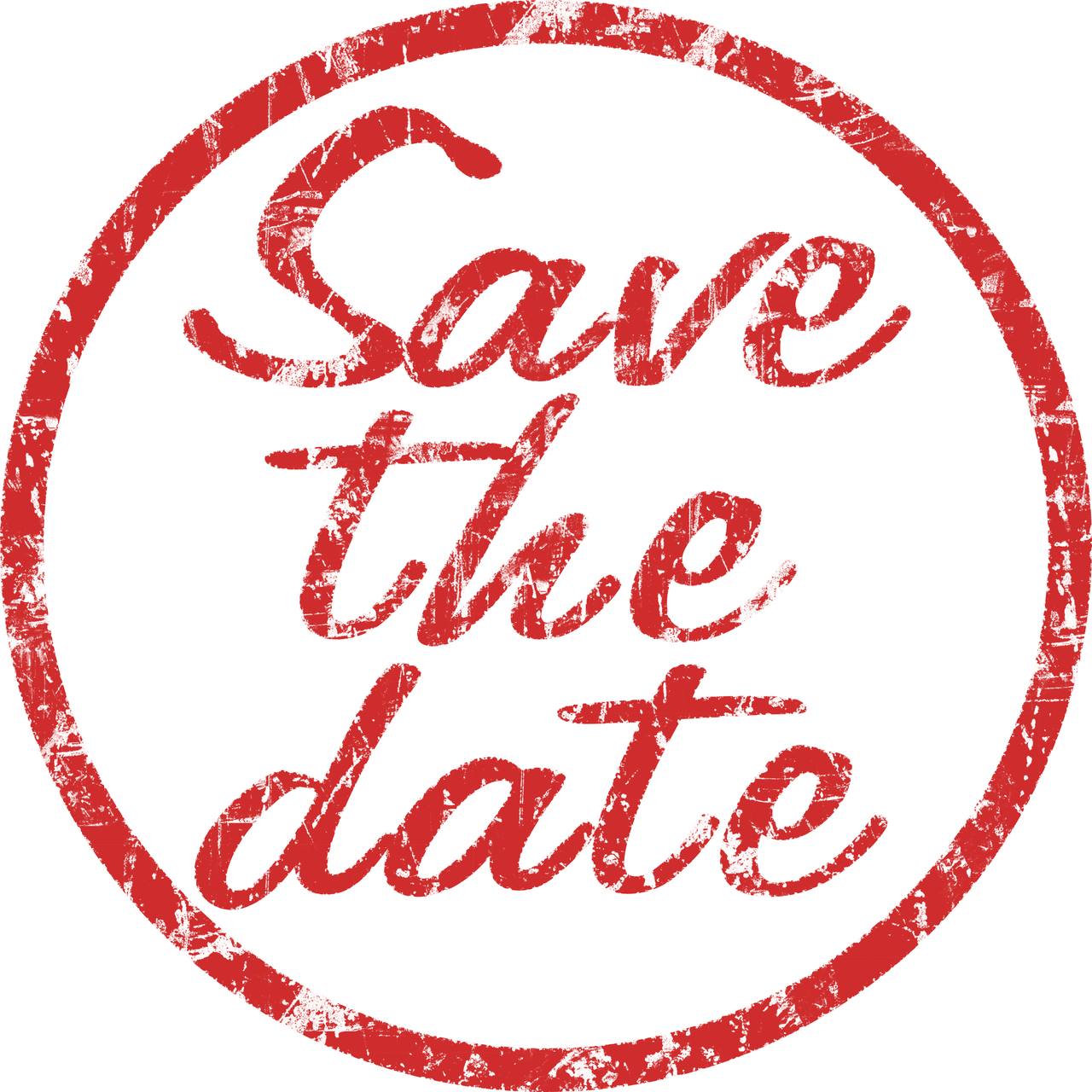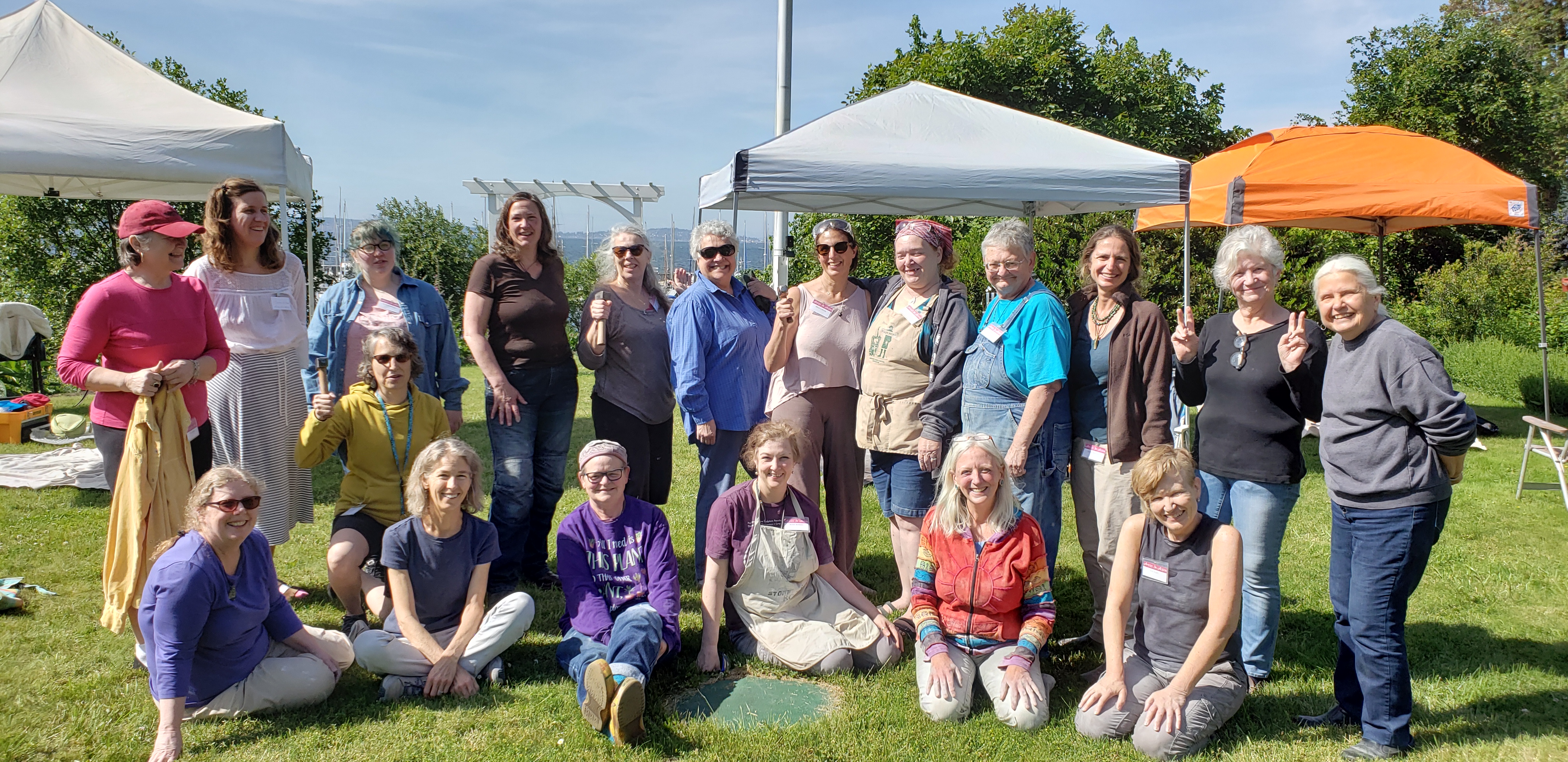 JUNE 3-5, 2022 Women's Hand Carving Event Spend the weekend working with hand tools with other women carvers, exhibit your work and spend time relaxing in the beautiful environment that the Old Alcohol Plant Hotel in Port Hadlock, WA has to offer. Information on cost, accommodations and registration will be coming out mid-January. Some scholarships are available. EVENT IS FULL!
JUNE 3-5 2022 Opening of the Rolling Pin Exhibit
It looks like our first opportunity will be to exhibit at The Old Alcohol Plant Hotel/Restaurant in Port Hadlock. We are planning to exhibit along with the weekend's Women's Carving Retreat held on site. June 3-5, 2022. Leon White will be curating this show and will hold onto your works in between and during more future exhibits. NOW...GET ROLLING WITH YOUR CREATIONS!!!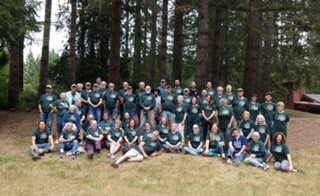 Save the dates and plan your summer for one or both symposia planned for 2022!
In each, extensive carving sessions are interspersed with informative classes and stimulating sculpting lessons. Field mentors and instructors are available to help guide you through your challenges. Bring your gear (if you are a beginner, we have tools you can use), connect to our power, water and air sources and peruse the tools and variety of stones being carved and available for purchase from our on-site vendors.
The symposia are open to all levels from beginners who have never carved stone before to the professional sculptor. These events are one of the most supportive and inclusive environments you will ever encounter. Make new friends, renew old friendships, get inspired, pose your question, answer someone's question, and fire up the creative spirit in a rich, sharing environment.

REGISTER NOW for JULY 9th-17th, 2022: Washington Summer Symposium At Camp Pilgrim Firs, Port Orchard, WA
Watch for registration to open soon for this eight-day symposium on the lovely grounds of Pilgrim Firs Camp in Port Orchard. This year we welcome guest artists Candyce Garrett, Stephanie Robison, and Deborah Wilson. We will have an expanded Beginner's tent, pinning and sleeving station, the NWSSA general assembly meeting, campfires, inspiring conversations and, hopefully, you!
Work Study Applications are Open! Please email the Director at This email address is being protected from spambots. You need JavaScript enabled to view it. for an application. Registration is Now OPEN.

Info update for AUGUST 7-14th 2022: Suttle Lake Symposium in SIsters, Oregon
After two years of silence, the Northwest Stone Sculptors Association is excited to hold our annual Oregon State Stone Carving Symposium at Suttle Lake Camp!! Suttle Lake Camp is nestled on the eastern slopes of the Cascade Mountains 14 miles west of Sisters. It is a special place where the vivid green of Western Oregon mingles with the sunny beauty of the eastern part of the state. This is the 6th year we are returning to this venue that has become our 'home'. Guest Artists will include: Sabah Al-Dhaher, Mark Herrington and Lawrence Stoller.
Registration will be open soon. Questions? Contact Symposium Director Kentaro Kojima at This email address is being protected from spambots. You need JavaScript enabled to view it.
AUGUST 20-21, 2022 Evergreen Arboretum Sculpture Walk
In collaboration with the Everett Arboretum & Gardens, Schack Art Center and the Fresh Paint event we will be co-sponsoring a two-day Sculpture Walk at the Evergreen Arboretum in Everett, WA. The Fresh Paint event has attracted tens of thousands of people (pre-covid) and we anticipate that many of those attending this year's Fresh Paint will wander up to visit this year's Sculpture Walk. Keep your eyes open for the "call for artists". All members are invited to display your outdoor and indoor pieces at this event. We also will be looking for volunteers for this event. We will send out a request for volunteer sign up closer to the date.

BOARD MUSINGS:

NEXT MEETING is April 19, 2022 @ 6:30pm on ZOOM
All members are welcome to sit in and observe. You may get inspired to join the board. Contact Denny at

This email address is being protected from spambots. You need JavaScript enabled to view it.

for a ZOOM invite if you would like to attend.

BOARD NOMINATIONS COMMITTEE:
Looking for New Board Members

Now is a pivotal time to make a difference in the future of the Northwest Stone Sculptor's Association. With the societal shift brought on by Covid-19, we are at a crossroads with the organization and looking for people to strengthen and support the health and long-term wellness of NWSSA. Help carry this transition successfully by offering your skills to build strength in these new times to keep NWSSA thriving.

Our organization has a solid pool of enthusiastic donors but only a handful of volunteers. NWSSA would greatly benefit from your unique perspective and skills. We offer the only stone carving symposiums open to all skill levels sharing interest and passion for stone sculpting. The inclusiveness offered by the community gives all the opportunity for growth and development as an individual, in the NWSSA community and as a stone sculptor. Through NWSSA offerings professional sculptors carve and share wisdom side by side with newly inspired stone carvers this unique opportunity has been fostered over the 30 years of its existence.

Currently, all NWSSA Board meetings are on Zoom, so location no longer limits your involvement. Please consider reaching out to

This email address is being protected from spambots. You need JavaScript enabled to view it.

or

This email address is being protected from spambots. You need JavaScript enabled to view it.

to make a difference by serving on the NWSSA Board of Directors.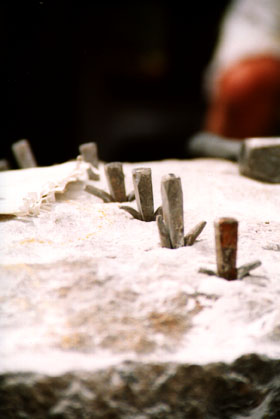 Our mission is to nurture the community of stone sculptors by developing educational opportunities, providing a support system to members, and facilitating interaction with regional, national, and international communities.To learn about becoming a member of Northwest Stone Sculptors Association (NWSSA) click HERE (or click on "Become a Member" at the bottom of the page).
NWSSA is an association of stone sculptors that was founded in 1984 by Meg Pettibone in Seattle. Our first symposium was in 1986 in the Methow Valley east of the Cascade mountains in Washington state. We have since grown to include stone sculptors and associates throughout the western US, Canada, and other parts of the world. We are a federal tax exempt status 501c nonprofit membership organization.