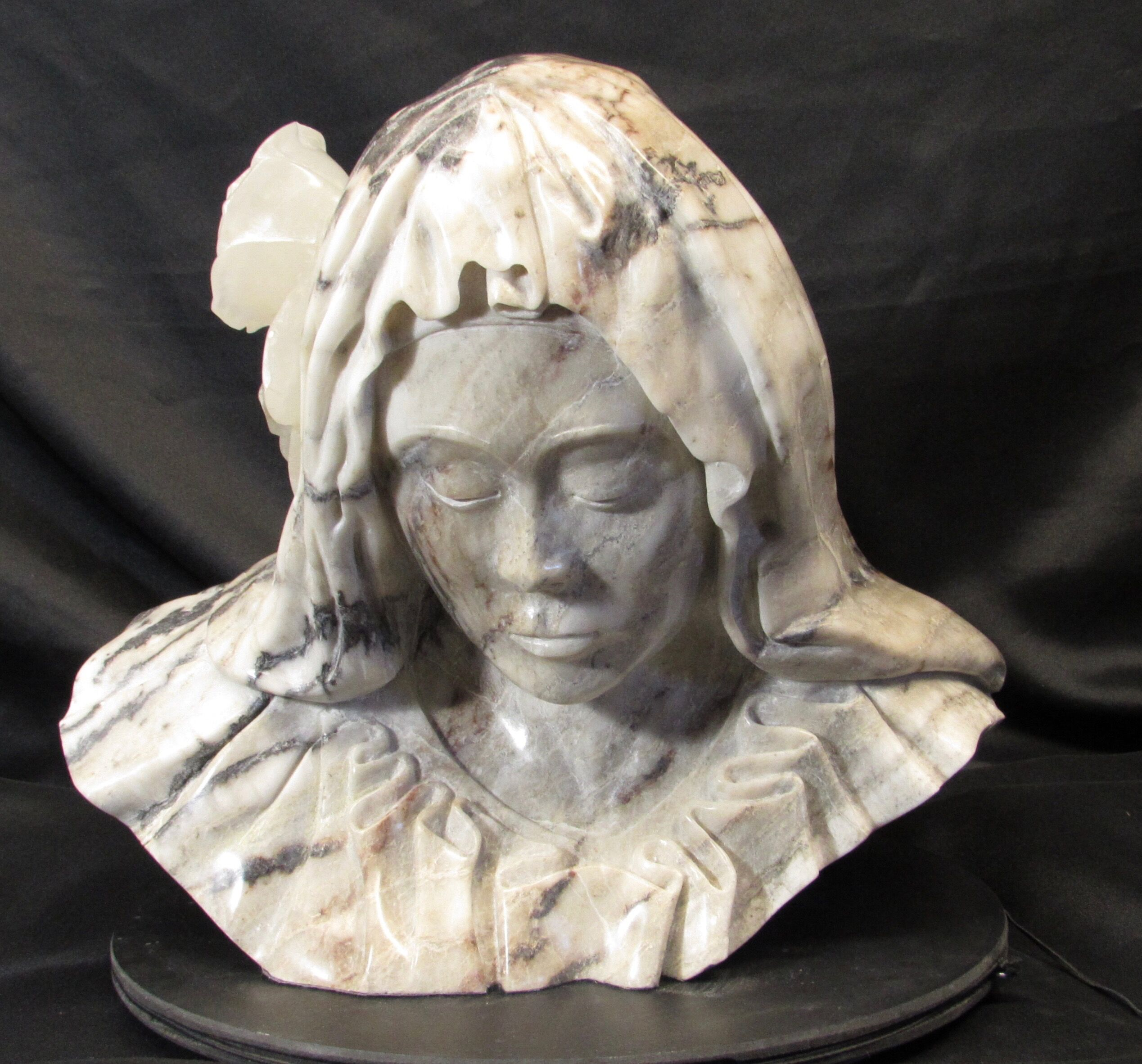 First of All
Many thanks to Penelope Crittenden, Lane Tompkins, and Ben Mefford for the opportunity to share my sculpture experience with Sculpture NorthWest readers. The NWSSA is the most welcoming and supportive organization in art I have ever experienced. I am an "emerging" artist, in my second career: my first being a satisfying and rewarding career as a dentist.
BS (Before Stone)
Although I have dabbled in drawing and three-dimensional art for twenty-five years, I no longer "live by the clock" or have the responsibility of raising my children. Now I focus on satisfying my curiosity through working with stone. If ten thousand hours is a measure of mastery of a skill, I am about one-third of the way up this learning curve. Although I also sculpt wood and clay, I keep returning to stone. My association with the NWSSA is no small part of that.
Art and Science: Discovering Stone
When discussing my art with me, people often assume a correlation between my experience in
dentistry and sculpting. Actually, I think competence in dentistry depends on right brain skills and art more from left brain skills. Certainly both require technical skill and ability to work with and understand materials and tool science.
Dentistry is a highly technical skill which requires careful application of rules for mate-rials and equipment usage. Parameters for design are limited by the variations of human anatomy and aesthetics. The real "art" of dentistry is the diagnostic phase which often requires innovation and imaginative thinking.
Three dimensional art (sculpture) however, requires experience with an unlimited variety of materials and technique. Even if limiting oneself to sculpting in stone, there are no two stones which are alike. What really makes every sculpture unique is the imaginative process that can conceive and then implement a design. Expressing imagination through art is a very left brained skill!


El Camino de Scultura - Sculptural Journey
In the absence of a formal study in fine arts, I am continually seeking opportunities to develop my imagination and skills. Ideally, my skill and my creativity are growing in tandem! My mentors are key to my development and I am honoured to include among my influencers established artists like Michael Binkley (and by extension George Pratt), figurative sculptors Linda Lindsay, Gabriele Vicari, Melanie Furtado, David Hunwick, Alexandra Morosco, Sampa Lhundup and all those whom I have met at two NWSSA symposia so far. I have a small library of literature focusing on sculpture, am developing my online presence, and am focusing my on-line education through technology. Podcasts as developed by Jason Arkles (who is guest presenter to the NWSSA in Pilgrim Firs during July, 2019) and online education offered by the New Masters Academy offer extensive resources to the curious neophyte artist.
To grow as an artist I participate in the art world, in addition to my home-study. I have travelled in Europe for many years, recently being dedicated to viewing and studying art. I have competed in juried shows in Canada and the USA. Showing in commercial and pop-up galleries and participating in community art tours extends the experience of connecting with art consumers, my intended audience. During summer 2019 I am proud to be invited by the San Juan Islands Museum of Art (Friday Harbor) to participate in their exhibit Deep Dive. By writing for art publications I must reflect on my process and product and learn to explain them clearly. By participating in public art calls and art critique forums I am learning to accept criticism. The most valued part of my learning is my association with other artists such as the members of the NWSSA. I hope some day to teach, because I believe this can be the most powerful learning experience.


Figurative/Realism/Representational vs. Abstract/Contemporary?
Perfect symbiosis for me would be the ability to move back and forth between figurative and abstract styles. My journey is dedicated to continually working, producing and advancing. It is only through dedication to push the limits of creativity that skills and imagination develop. This also keeps the mind open to new permutations of a current pro-ject. Both require technical ability, but to think abstractly is more than technical ability. By seeking exposure to other art and artists, I hope to develop my own ability to see out-side and around the edges of my projects.
I am seeking to take my highly representational experience to the next level by creating a story with each sculpture which can be conveyed to my audience, leaving an "impression" of the meaning, and a need to interact with the work. I love it when my audience wants to touch my sculpture.


Why Sculpture?
The impetus for me to sculpt is to create and then have the creation appreciated. To create what my mind can conceive and produce a tangible representation of what I can imagine. At this point in my development, I need to produce art which serves a purpose: attract an audience, have a practical application (such as to memorialize, or meet a need such as a commission), or serve as inspirational, attractive or functional public art.


Process
Most of my work is "breadbox" size or slightly larger and each piece takes, on average one hundred hours to create. I am fortunate to have a workspace, separate from my living space, and far enough from neighbours so that dust and noise are not an irritant to them. I work 25-30 hours per week on my art: 1/3 in study, research, and design, 1/3 in creation, and 1/3 in marketing. My long term goal is to move the balance towards creation at the expense of marketing as I continue to "emerge" as an artist.
Most of my work has been in soft stone such as limestone, chlorite, alabaster, and soap-stone, but I prefer working in marble. During a trip to study figurative sculpture in Pietrasanta, Italy last spring, I was able to personally select 1200 pounds of Bianco/Statuario marble from Carrara.
I take inspiration from my environment, my family, friends and fellow artists (gallery work or personal association). Sometimes the concept of a project comes to my imagination as a fully developed three-dimensional form ready to be created. Often the project requires additional development. This may require a sketch in order to be able to scale and fully understand the subject. The sketch might be two dimensional such as pencil drawing, or increasingly, digital drawing. Sometimes I can skip the two-dimensional sketch and move directly to the three-dimensional maquette of oil-based clay in sufficient detail to use as a proportional model.
My process is to record inspirations on a mobile device with photos and notebook sketches and notes. I research the subject fully, mostly with web searches, and begin design using a digital drawing tool. Then, I seek a stone to fit the project: col-our/texture/size/shape are all important. Sometimes I use the drawing tool to superimpose the drawing over photographs of the stone and then print out the superimposed pictures to simplify the rough out.
I use power tools as much as possible, including diamond chainsaw and angle grinders for the rough-out. I have chosen not to use air tools at this time, but instead have a large selection of angle grinder attachments and the industrial power Foredom tools and accessories and a micro-motor. I imagine this dependence on power tools comes from my experience in dentistry of over 30 years. I would like to supplement my power tools and develop ability with hand tools more extensively, especially in the final carving stages.
Generally, I have a 2-3 pieces in progress at any one time. I find it necessary to leave a piece to rest sometimes, and then revisit to avoid errors. It is important to step away, and return to see with fresh eyes. Also, sometimes it is necessary to allow a piece to dry out, or glue to set, or cool down. If I have other works in progress, it is a good time to turn to them.
One of the greatest difficulties I have as a less experienced artist is the maturity to know when a work is finished. Sometimes, the enemy of good is attempting to make it better. Often before I have reached the stages of finishing, my interest in the project is waning: the concept I had envisioned is realized and now the finishing is a process that is necessary but less appealing to me. I have both under finished and/or damaged by over finish-ing. I have yet to figure out the balance between too much finishing or too little…
Ever since my work has been sought by galleries, I have documented, photographed and numbered them. By cataloguing each sculpture sequentially, I can assess my growth as a sculptor.


Future
As with most things it isn't the destination, but the journey. My journey in art is fully underway but the stage when I can consider myself accomplished is not yet in sight. I don't interact intellectually with the stone or my art and am still learning how to do that. I look forward to be able to create art from my imagination which conveys my intent: humour, emotion or an appreciation of familiar forms and inviting textures or at least inspire the viewer to interpret in their own way.

Bruce Kleeberger
2653 Country Woods Drive, Surrey, BC, Canada V3Z 0E6
(604) 536 7324
Instagram: bruce.kleeberger
Facebook: bruce.kleeberger.5
webpage: www.brucekleeberger.wordpress.com