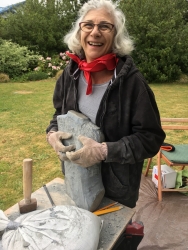 Women's Hand Carving Workshop June 2nd - 4th 2023


Location: Old Alcohol Plant Inn, 310 Hadlock Bay Road,
Hadlock, WA. (6 miles South of Port Townsend)
Hours:
Friday 11:00am – 4:00pm
Sat. 10:00am – 4:00pm
Sun. 11:00am – 1:00pm



ART WALK Saturday 10:00am – 4:00pm
Sorry, this is event is at capacity, please email This email address is being protected from spambots. You need JavaScript enabled to view it. to be added to the waitlist.

Registration fee $125 Member Rate ($165 Non-Member Rate) payable to NWSSA. Our fees are used to underwrite our insurance for the event, to pay the very helpful hotel staff who fully assist us in set-up and tear down. It also helps us cover the use of the Old Alcohol Plant Inn space and facilities and the penthouse.

Location: Old Alcohol Plant Inn, 310 Hadlock Bay Road, Hadlock, WA. (6 miles South of Port Townsend)

Registration Deadline: May 1st, 2023. This provides the hotel enough time to release any untaken rooms that they had been holding for us.
Prefer to register by mail? Click Here to download & print a Registration Form
Hours: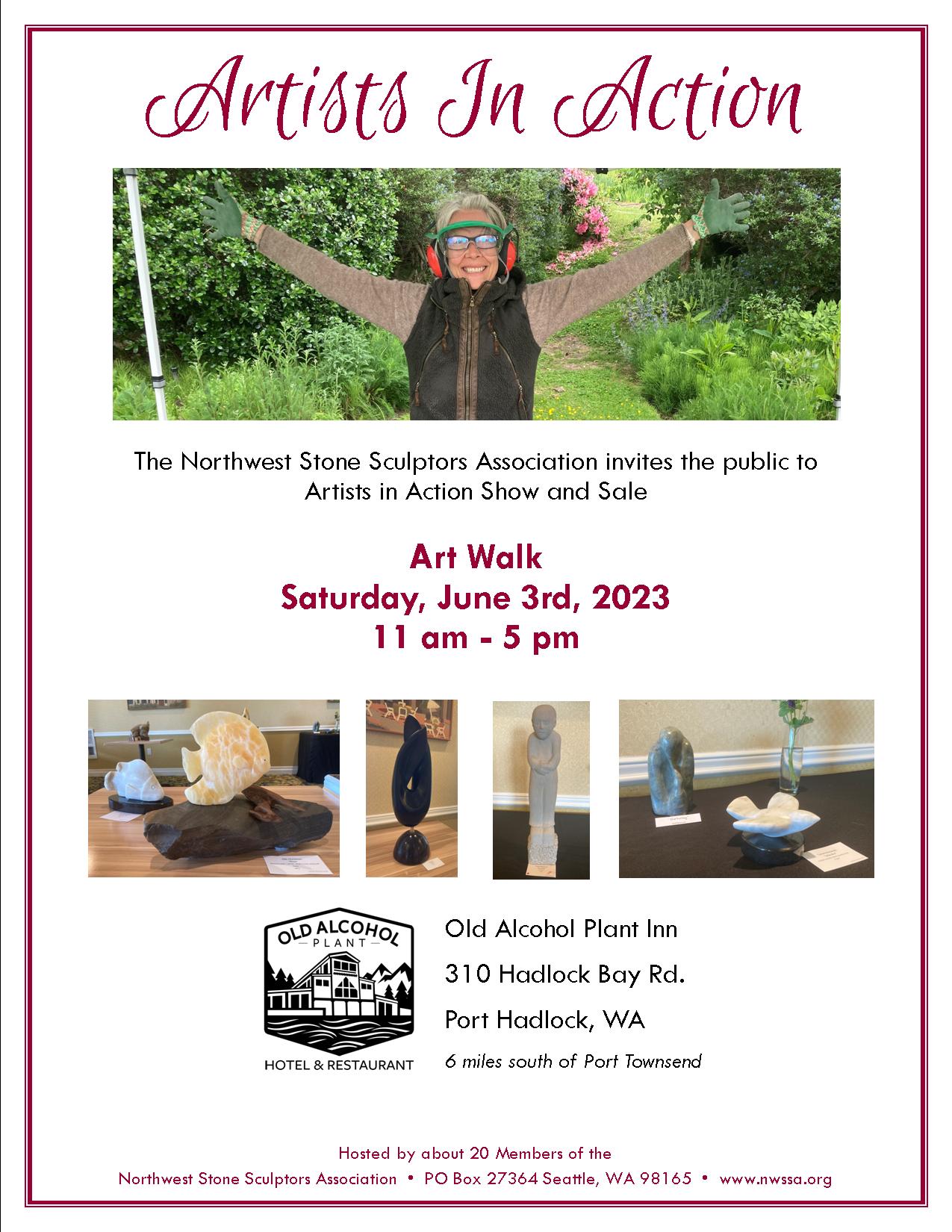 Friday 11:00am – dinner time
Sat. 9:00am – dinner time
Sun. 9:00am – 1:00pm

ART WALK: Saturday Afternoon 12:00pm – 4:00pm
Why Hand Tools :
It is quiet, peaceful, we can easily talk among ourselves and dust is limited. If you aren't a hand carver, bring a partly finished piece you can rasp, chisel, or sand.
We have two set up locations adjacent to each other: There us room for 8 people to set up under the covered patio. This is on a sign-up basis, first come, first served. Please let us know of this preference. There is room for 8 canopies on the lawn. Folks have shared a canopy comfortably for this event.
---
What To Bring:
Bring sculpture pedestals for your finished sculptures for the show and sale. There will also be table space available as well.
We donate a percentage of all sales to support the Old Alcohol Plant Inn's non-profit charity: Bayside Housing & Services.
If you plan on being under the covered deck, bring a work table, chair or stool, and your hand carving tools. Bring a big tarp to put under your workspace.
If you plan on being out on the lawn you should have a canopy and tarp. Please make sure you have long stakes for your canopy set up since it can be super windy at times.
Food Options For The Weekend
The restaurant at the OAPI has eat in and take out.
There is a grocery store approx. 5 min. drive away.
There is a great breakfast place without door seating approx. 5 min. drive away.
There are several restaurants in the surrounding area
Dinners: We are planning on eating together outdoors on Friday and Saturday for those who are comfortable. We will be very careful to maintain a healthy social distance at all times, but especially when our masks are off to eat. As it gets closer to the date, we will decide if we will have pot luck meals or "bring your own dinner".
There is a full kitchen for meal storage and minor prep in the suite that we rent. There is a microwave, a stove, as well as a fridge. There also utensils available.
We can store our coolers there and there may not be enough room in the fridge.
Drinks:
Bring a beverage or bottle of wine to share.
Volunteer:
Many hands make light work…Volunteers would be appreciated to help coordinate various aspects of the weekend.
Please contact Ellie to offer your help. This email address is being protected from spambots. You need JavaScript enabled to view it.

Accommodations:
Old Alcohol Inn Hotel is offering us spring season rates on their usual room rates for reservations made prior to May 15th!
These rates do not include Hotel tax and sales tax.
Please mention NWSSA to the front desk (360-390-4017) when reserving your Room or Suite. Discounted rates for us are:

| | | |
| --- | --- | --- |
| Type of Room | Price per Night Includes Taxes | Room Notes |
| Double | $187.48 | 2 Rooms (301 $303) each room sleeps 2 |
| Standard King | $187.48 | 4 Rooms (401,403,302) |
| Deluxe King | $220.80 | 2 Rooms (324 & 325) each room sleeps 1 |
| Standard Suite | $237.48 | 6 Rooms (221,222,223,224,226) Sofa sleepers available |
| Luxury Suite | $295.81 | 6 rooms (225, 321, 322, 323, 422, 500) sofa sleepers available - except 500 |
| Executive Suite | $329.14 | 1 room (421) sofa sleepers available |
| Penthouse Upper | $349,97 | 1 room (501) sofa sleepers available |
Alternative Nearby Accommodations:
Hadlock Motel ½ mile away
Several B&Bs, VRBO and campgrounds in Port Hadlock, Chimacum, Irondale, Marrowstone Island and Port Townsend
Covid requirements and requests: We will assess this as time gets closer.
Please contact (This email address is being protected from spambots. You need JavaScript enabled to view it., or Beth at This email address is being protected from spambots. You need JavaScript enabled to view it.) if you have any questions or need additional information, or if you have any special needs.
Resources:
to read about current requirements to enter the indoor spaces at the Old Alcohol please look at
Old Alcohol Plant Inn Website: https://www.oldalcoholplant.com/
Old Alcohol Plant Covid protocol info: https://www.oldalcoholplant.com/safety
Watch this space for updates.