REGISTER for Silver Falls Stone Sculptors Symposium
August 25th - 30th, 2012 - Oregon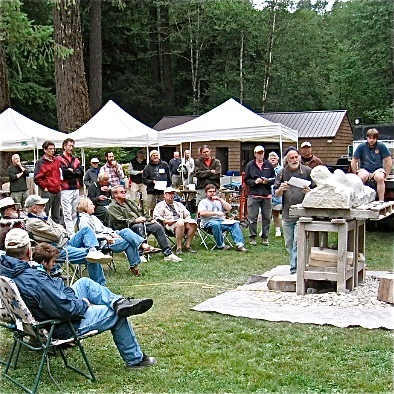 It's time again for stone carvers to gather in the forest at Silver Falls State Park. This rich community event is for all ages and levels of experience, bringing together the professional and the novice. In an easy-going atmosphere, one may learn, admire and be inspired.
The circle of tents in the meadow buzzes and hums as energetic souls play with soft and hard stones, using hand, electric and air tools. Power sources of water, air and electricity are provided. Vendors are also on site to satisfy your appetite for buying beautiful stones and amazing tools.
Choose between open carving time and intriguing classes. Short, informative sessions cover a multitude of subjects: Design, Technique, Materials, Tools and Safety. Individual mentoring is available in the meadow.
Silver Falls Conference Center provides comfortable lodging in double rooms with shared bathrooms, and three superbly prepared meals a day, special dietary needs accommodated. Our evenings feature artists presenting slideshows and discussions of note, before we head off to the campfire under the sparkling stars.
Sign up for an unforgettable experience! And remember-if you miss this, your joints and muscles will be one year older next August!