If our symposia are meant to encourage, support, foster enthusiasms, form friendships, and do all this while teaching and informing about the art of stone carving, then we can count the 10th annual Whidbey hand carving retreat an absolute success.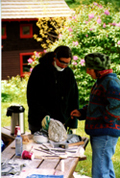 The pre-event organization was superb (thanks to Alexandra Morosco and Penelope Crittenden), the accommodations and setting idyllic (thanks to the Chinook Institute) and the instruction knowledgeable, supportive, and inspiring (thanks to David Miller and Suz Gentiluomo). The stone carving was supplemented by a journal-writing workshop, an evening slide show by the instructors and an evening visit to Langley's Arts Walk to view the galleries.
The following comments sent to me from the carvers illustrate the joys of our wonderful four days together:
"Retreat is the perfect description for the symposium on Whidbey. I knew no one, and had no idea what to carve! But after talking to Alex, Suz, and David, I felt very much at ease and into retreat mode. Everyone was so laid back and friendly, I immediately felt part of the group. Not only was the symposium a wealth of information and experience, it was a wonderful social event. I grew up in the stone industry, and yet I learned so much this weekend. I can't think of anything that needs improvement. The location, food, amenities, were all excellent. Larry's journaling workshop was superb, I was so inspired, I purchased a new journal. Alex, Suz and David were a great trio for instruction; I enjoyed watching them go back and forth debating their own methods. Mostly, it was the participants that made this symposium extraordinary. This event was delicious."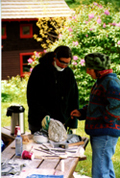 "Of course I enjoyed everything that we all did, but there was a little something more. I loved walking around in the early morning, watching cottontail rabbits and birds. The bunnies were fun enough, but the nest of winter wrens was the best. It was down in the garden. That busy pair were wearing themselves out running back and forth with their little beaks full of bugs. The nest was in a tin can, strung along horizontal sticks on wires, near the back fence. Carefully moving the string of cans, I could just make out the tiny, little hatchlings hunkering down in their rusted castle. Not wanting to bother them more, I backed off and watched their barely larger folks zipping around, full up with the obligations of parenthood.
That was worth the price of admission.
Another bit of fun was the scotch tastings. I can still recall the smell of the room with those dozen glasses of peaty libation, all swirling and being inhaled by the acolytes. The Farmhouse living room was such a comfortable place for all of us to share our liquor and friendship. Who could have predicted that we would have three different Islay Island, single malts show up with only 20 people! That's got to be some kind of record."
"Thanks to Larry, for a thought provoking writer's workshop. It opened up new ways of looking at my sculpture in progress and I felt it complimented the carving workshop beautifully. This Whidbey workshop seemed quite special to me. One; because Penelope came for the first time and it was wonderful to see her delighted reaction to all of it. Two; I had to miss last year and the "coming home" feeling was stronger than ever. I delighted in rediscovering my favorite trails and haunts in the beautiful forest. Three; the hand tool format allows for more and easier socializing with co-chiselers. This is not as easy when all of us are using angle grinders and pneumatic chisels! I got to know several folks that I will enjoy keeping in touch with. It is obvious that this retreat center has been created with love and respect for the natural setting. The artistry of the whole was complimented by food preparation that was as beautifully presented as it was delicious and wholesome. Sound good? It was!"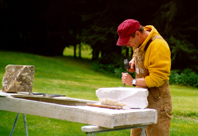 "The people were varied, from beginners to pro.
We all gathered round, those in the know.
While stone chips flew, tools hit their mark.
Let's see, what if, we all took part.
Out of this camaraderie, friendships did grow.
Shapes came to life, we all now know."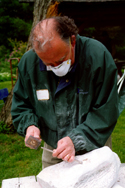 "The Whidbey workshop far surpassed my expectations. Being a total beginner I felt I was taken under everyone's wings and guided along. What a wonderful experience. I felt I came away with a new set of friends! Of course the carving was fun but it was really the people that made this event special. All were willing to share their expertise and encouragement. And this group knew how to have fun. The impromptu koosh-ball toss that evolved into koosh-ball hacky sack after lunch one day, and the wine and single malt whisky tasting in the evening was fun as well! The writing workshop brought to surface thoughts and memories I didn't know were there or were forgotten.  Oh, and did I mention the food? The folks at Chinook did a fantastic job feeding us as well! I must say, I still have a shit eating grin on my face a week later!"
"You know Larry, I will never forget Whidbey. It is difficult to say exactly what it was about those four days. Something very special and deep happened there, and it was much more than just friendship; more than shared enjoyment of carving. It was as though we had all been together before in a similar situation in some past life. Okay, now I'm getting spooky, but those four days really carved a deep impression in my soul, so to speak."
"As an immediate reaction I am doing things a bit differently, still basking in the glow of the high from this weekend. So many people commented on how content I appeared and so enthusiastic for what I did. I really came home with the I CAN DO IT ATTITUDE AND CONFIDENCE because of the workshop. The carving, writing, people, camaraderie, ambiance, food, scotch, massage, etc.; it was such a true total connection."
"The thing that sticks out in my mind more than anything else were the smiles on everyone's faces. I expected to be welcomed in sort of a 'kindly watch quietly and stay out of the way' manner that I have felt before when new to a group. It felt so good to be in a place where, every time someone looked at me, I saw welcome and acceptance in their face. The way each and every person got involved with each and every other person really connected us in a permanent way. The other big thing for me was the stone.  Watching each person bring his or her own vision out of the stone (including me!) was really remarkable. The help I received from everyone during my first carving experience gave me confidence in my ability to really do it. In our fun and inspiring writing workshop, we allowed ourselves to explore things from the stone's point of view, which really clarified a few things for me. At this retreat, I found a new passion in stone carving and a new family of friends that I am proud and happy to be a part of. Oh, and the food, accommodations, surroundings, art walk, sauna, massage, labyrinth, juggling demo, etc. etc. were all wonderful surprises too.  I really, really, really enjoyed myself!"
"Now what could I say that would not be echoed twenty times? I was impressed how much everything flowed with the experience, weather, and people. Individual hurdles openly worked. To see such things in so short a time was truly a gift. To know that even what may have seemed to be such a simple act, when compared to another, was such a large leap for the person that experienced it made my position as a facilitator very rewarding. I love how people in this group open themselves up to such challenges."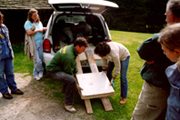 Chef Tom French and his staff took basic recipes and turned them into scrumptious, gourmet meals to the delight of all of the participants. The glowing reviews from the carvers indicate that the recipe, preparations, and special "spices" for this workshop also produced something of gourmet quality.  Perhaps you should add this to your carving menu for next year.
Finally, this "dessert" item from a carver - "I recently came across this quote from Goethe. 'If nature is your teacher, your soul will awaken.' When I read this, I immediately thought of my time at the symposium. In addition to our "human" teachers, we learned from the stone, the trees and meadows, the serenity, and indeed, my soul awakened."