The entries to Bellevue Sculpture Exhibition 2004 were due April 9th, which once again was the cut off date of days, if not weeks of toil and tussle with papers, slides, annotation sheets, resumes, SASEs and art statements.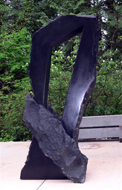 After – at least for me – oodles of rejection letters containing the sentence: "We are sorry to inform you…", this year we hit pay dirt. Pasha Stinson with 'Portal(2)', Tom Small and his 'Sophia's Dream', and Verena with 'Giga Now 'were accepted.
The auspicious beginning of my conversation with the organizers brought me the hint: "You should certainly feel honored to be accepted into this show…", which took me aback only momentarily, but then quickly steered me into the right attitudinal direction; any little bit of guidance helps. Apparently 100 sculptors offered their art, of which 20 were chosen into the honoring bunch; three of the 20 are your fellow association members.
One would think that sculpture is mainly selected for esthetic reasons at events like this public showing. I learned otherwise, namely that, as so often in real life, safety comes first. On an as of yet unknown list of safety criteria appears the hole, no larger than 4 ", otherwise rejectable for its entrapment capacities of little heads and limbs. Unless its very big, of course, like Pasha's window.
Seems that a complete list of the safety rules would help us all in making good public sculpture, so I will try and get a copy.
The jurors of the Bellevue Sculpture Exhibition 2004 turned out to be a distinguished and illustrious group, one of the roots for the above-mentioned hint perhaps, with Brian Ohno, B.O.D. of ISC and owner of Bryain Ono Gallery, Robert Duncan, Chairman of International Sculpture Center, and Gerard Tsutakawa, sculptor.
The men on the advisory board also have fine titles: Michael Klein, Curator Microsoft Corp., Jim McDonald, Curator Safeco Corp and our fellow sculptor Gerard Tsutakawa.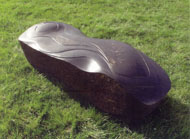 This list alone could inspire awe, but there is more. A quote from the application brochure:" To make participating in the Exhibition the best possible experience for the artist, the city offers assistance with shipping [$ 500 stipend, plus mileage] and installation [which means Artech will install the sculptures with and for us], insures the installed work, provides exhibition catalogs and other promotion, and takes no commission on the sales…." Indeed a sweet deal, until now unheard of, apt to spoil us for less generous or more miserly conditions.
The show will be presented at the 17 acre, award-winning park in the heart of downtown Bellevue – I have not been there yet – and this is where we will install the sculptures between June 21rst and 26th, so all will be ready for the Opening Celebration on June 26th, Saturday, from 6pm to 8pm.
Said reception/celebration will be hosted at the Bellevue Art Museum, 510 Bellevue Way N.E., just across from the Downtown Park. The artwork remains in situ until October 12th and will then be "de-installed" according to the brochure.
About the sculptures of your comrades:Verena's sculpture consists of two granite boulders, gently shaped into bud vases of gigantic dimensions. Gigantic is also the clue to part of the title, namely 'Giga', more familiarly used in Gigabyte, here combined with the term for the present, the here and now. Ergo, the name means " the big fat now", which definitely makes itself apparent at installation, schlepping and dismantling time. The combined weight is 3.5 tons, we have to use two trucks to trundle it around.
Pat Stinson's comment about his sculpture 'Portal(2)': "I carved it early this year; it is one of a series that deals with my thoughts on windows or portals to change our view of the future or past. It seems at times that I am using a very tough and heavy material to express such airy ideas."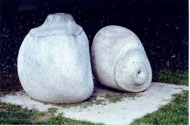 Tom Small about 'Sophia's Dream': "Sensuous, obviously a bench space ship woman racecar Italian shoe feeling. The stone had a strong identity when I got it so I stayed with simple lines and curves. When I was carving it I often imagined lying on it and floating through space. It is a vehicle for moving through space as well as being in space."
Maybe sleeping and dreaming are as effective means of moving across the universe as any other.