This year's Camp Brotherhood Symposium was a record breaker. First: in attendance with 105 people. Second: with our Art Walk and Show — 65 sculptures exhibited and four pieces sold. Third: the auction raised $5,050 for the scholarship and educational fund. Fourth: in the number and quality of evaluations. The feedback was excellent, with constructive comments that will affect many decisions for next year.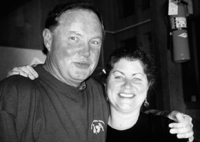 Workshops and Camp B
Meeting B. Amore and participating in the wide range of experiences she offered, was one of the rich experiences this year. During her meditation group workshop, participants had an opportunity to look into their own creative process and to hear how others in the group felt about the process of stone carving. Feelings we share but hadn't put into words. [B. has offered to compile these writings for those who e-mail them to her (This email address is being protected from spambots. You need JavaScript enabled to view it.).] In addition to B.'s workshops, she brought slides and videos, including The Italian Carvers, Carrara, Noguchi studio. B.'s  slides of her own work included her recent "Life Line" show, which is installed at Ellis Island and will be travelling to San Francisco and Italy. We were all touched by the fountain of energy emanating from B. Amore. We ask everyone to write to the Washington State Arts Commission (PO Box 42675, Olympia, WA 98504-2675) to thank them for assisting in making it possible for B. Amore to join us this year.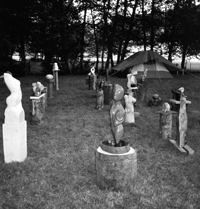 We also thank B. for acting indirectly as a mirror of ourselves as a community. As someone who is responsible for re-igniting the enthusiasm for stone carving on the east coast with her Carving Studio in Vermont, and who has participated in stone carving symposia around the world, B. is in a unique position to appreciate what we have created here in the northwest. As she watched cars and trucks pull in and people set up their tents, she remarked on the unique and powerful the sense of community that the "stone gypsies" at Camp Brotherhood had created.
Kazutaka Uchida dazzled us again with the elegance of his work. Uchida's ability to explore the nature of stone with such pure finished forms astounds us, as well as his technical feats of creating them. To experience the work of Uchida helps each of us extend our thinking of what is possible in stone. Uchida inspires us. Thanks to Rich Hestekind for his facilitation and translation.  It was a great experience to have Uchida-san and B. Amore collaborate one afternoon with a hands-on workshop with granite. The demonstration of the celestial stippling was beautiful.
Alfonso Rodriguez Medina from Peru graced us this year with his artistic mastery of the human figure, tool forging, his untiring pace, and always whistling a song on his lips. Alfonso had his "studio" set up under the new white tent-classroom, but was available to visit everyone who requested his help to give them suggestions and encouraging words. Alfonso is a wonderful guide in showing how to get into the stone with a rondel, curving around the shapes of the face and head structure. He also shared photos of a recently completed work of a life size sculpture of the Pope to be cast in bronze.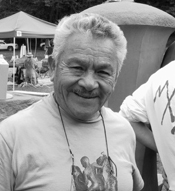 Sabah Al-Dhaher's workshop, also exploring the human figure, started by working directly with a model;  the next days were spent placing a figure into a large piece of marble with direct carving techniques. Finding the balance of defining the shapes enough but not developing one area too much to limit the proportion of another area is the extraordinary skill that no one else has quite like Sabah. He is also able to be very specific with his students' work, helping them with the challenges of making their vision emerge from their stone with a personal warmth which is genuine and supportive.
Hon Lee is like a musician composing an original piece of music for us each year. This year was no different. Hon Lee juxtaposed four diverse artists: Nobel prize winner Gao Xingian, Noguchi, Yoshko and Max Bill. With insights and stories about the artists as people Hon Lee illustrates that these people are as we are; and reminds us not to take them or ourselves too seriously. In addition to the lecture and slides, Hon Lee had a hands-on session demonstrating paper relief using a fine Japanese paper. Hon Lee's knowledge is not only versatile, but accessible. What will he compose for us next year?
Joanne Duby rarely stops to take a breath when she starts teaching: Get set, get ready, go…and she's off trying to cover material in a few days that would easily fill a month long workshop:  Finishing, Basing, Polishing and Pinning. Joanne helps us with the aesthetics of basing as well as the techniques of pinning and sleeving.  With her seemingly unflappable good nature and endless skills, Joanne is patient and informative with all of her students, beginner and experienced carver. Joanne is a gifted carver and skilled craftsperson, and we are fortunate in the time she shares with us.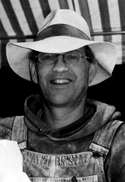 Alexandra Morosco got to take off her "Pronto Tools" hat and share some of her vast experience as a stone carver and figurative artist. Focusing on commissions, Alex led us into a three-part process of working with a client from developing a model or maquette to efficiently carving it in stone. First Alex showed two examples of commissioned pieces with the emphasis on establishing clear communication with the client, using drawings or maquettes. Then the focus shifted to hands-on pnuematics to help us choose the best ways to dig into the stone. Alex then answered specific questions about our own projects. It was a pleasure to have this opportunity to learn from this talented artist.
Rich Hestekind's Large Scale Sculpture hands-on class led us into wonderfully challenging realms of creating and placing sculpture in outdoor settings. By assigning the four teams their projects to create and install a piece in distinctly diverse settings, Rich was both our mischievous and experienced guide. He blended seriousness and creativity to help us think outside the box. This was a good experience for developing an eye for seeing the environment with new perspective in thinking about how to design and place sculpture. It was very interesting to have Uchida participate in this process and hear his comments and stories about the placement of some of his work in some very challenging settings.
Dan Michael stepped in to teach the power tool workshop. (Tom Urban was not able to attend because of a family medical emergency.) Covering pneumatics and electric tools, Dan was able to address the mechanics of each tool with candor and experience. He was great at weaving in his own expertise as well as the expertise of others in answering peoples' questions about tools. People were busy scribbling down manufacturers' names and recommendations for the next tool on their wish lists. A big thanks to Dan for his willingness to step in and teach with such ease and good spirits.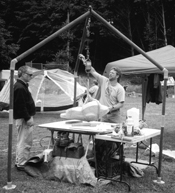 Randy Zieber stepped in to talk about stone in part to try to answer questions that people may have been wanting to ask Ron Geitgey (who was not able to teach because of a family medical emergency), and in part to introduce the different rocks on the tarmac. Weaving geology, composition, hardness, with the experience of a carver, Randy was able to guide the rock-knowledge-hungry group through the maze of the rock yard. Although not a geologist, Randy has a solid basis from years of experience travelling Canada and the world in search of stone for sculpture. This makes him an excellent resource for anyone's questions.
The Art Walk and Show on the last Saturday was another highlight. It was such a perfect way to round out our nine days together, seeing our accomplishments and our fellow carver's finished work on the very field that most of them were carved. The spacious outdoor gallery, back dropped by the tall green walls of the trees, embraced an extraordinary showing of 65 stone sculptures. The arrangement of the pieces was defined by an axis that invited viewers into the space, greeted by the enormous "hand, holding a flower" sculpture piece for Vic, still surrounded by the stones and flowers from the dedication ceremony the evening before. The pieces were presented on pedestals appropriate to the surroundings: wooded logs cut from trees from the property. Professional labels donned each piece (thanks to Verna Dice, who stayed up all night preparing them on the computer). Portfolios were displayed under a canopy, with wine, cheese and crackers. Guests walked the stone carving field, curiously watching and asking questions as artists worked. Four pieces were sold, which, for the 40 or so guests, was a fantastic beginning of a wonderful new tradition to include the community. We thank each of you for participating in the show this year. Please plan for next year to bring even more of your finished work. A special "Kudos" to Stacy Shure for not only the idea of this open house and show but for a tremendous amount of outreach and marketing concerning this event and the symposium.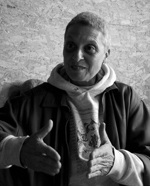 The dedication piece that was created for Victor Picou was a vortex of energy during the entire time with people carving and people watching as the details of the fingers and the hand emerged. The initial vision of beginning and completing a big piece during the time at Camp Brotherhood was not only accomplished, but beautifully finished with the dazzling detail of the tangerine alabaster flower (pinned and sleeved, of course, by JoAnne Duby). [For more about the group piece, see Meredith Earl's article, "A Gift To Vic…" page 12.] The Friday evening ceremony to dedicate and present this piece to Vic, invited stories and memories, all of which told how his  enthusiasm has touched and changed each of our lives. Vic joyfully and tearfully took in the words, the smiles, the tears, the flowers and the strength of the huge circle of his stone carving family.
We had a GREAT party this year. Having it down on the field under the pavilion made all the difference in the world. With twinkle lights, good dance music, a nice spread of food and enough of the liquid spirits to loosen up even the most timid dancers - it was fantastic! Alfonso should come back next year if only to teach dancing. It was the fullest dance floor I think we've ever had! Thanks to everyone who threw their inhibitions aside and kicked up their heels!
Special Thanks
We could not have had such a fantastic symposium without the help of: Arliss Newcomb, Vic Picou, Hank Nelson, Elaine McKay, Stacy Shure, Rich Hestekind, Kirk McLean, Ruth Mueseler, Scott Emory, Char Cobb, Tom Small, Anastasia Miller, Dave Haslett and Verna Dice. Thank you instructors for all that you give to us.