This year the NWSSA received its first grant from a public arts agency. The Washington State Arts Commission provided funds from their Project Support Program that helped us bring visiting artist B. Amore to this year's International Stone Sculptors Symposium held at Camp Brotherhood in July.  The purpose in inviting B. stated in the grant application was two-fold: first, to provide a valuable educational resource to the artists attending the Symposium, and second, to develop ties between the NWSSA and the stone sculpture community on the East Coast.
Sculptors attending Camp Brotherhood can attest to the fact that B. worked overtime in sharing her information and enthusiasm.  She conducted a powerful workshop that helped us look at the inner thoughts and feelings we bring to our sculpture, provided individual portfolio discussions to many sculptors, talked about her own work, gave us several slide shows on a variety of topics and combined with Kazutaka Uchida in an impromptu demonstration of hand-carving techniques in granite.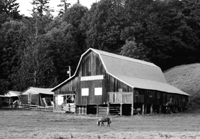 Of great importance are the new connections forged between B. and the NWSSA.  Out of our discussions came the beginnings of formal ties between the Carving Studio in Vermont and the NWSSA.  We are planning a joint website that would list the classes and events of both organizations and that hopefully will expand to be the clearinghouse for stone sculpture centers in North America.  We are also discussing an exchange of teachers and staff between the two organizations. Building on our existing ties with Art City in California, the Carving Studio connection expands our members' links to the stone sculpture community.  B. also served as a very helpful consultant in developing our thinking about possible public art projects involving the NWSSA.
The grant from the Washington State Arts Commission has helped us make a new life-long friend and supporter.  We are very grateful that their assistance for this event will pay dividends for Washington State artists far into the future.