Northwest Stone Sculptors Association 1st Annual Outdoor Sculpture Show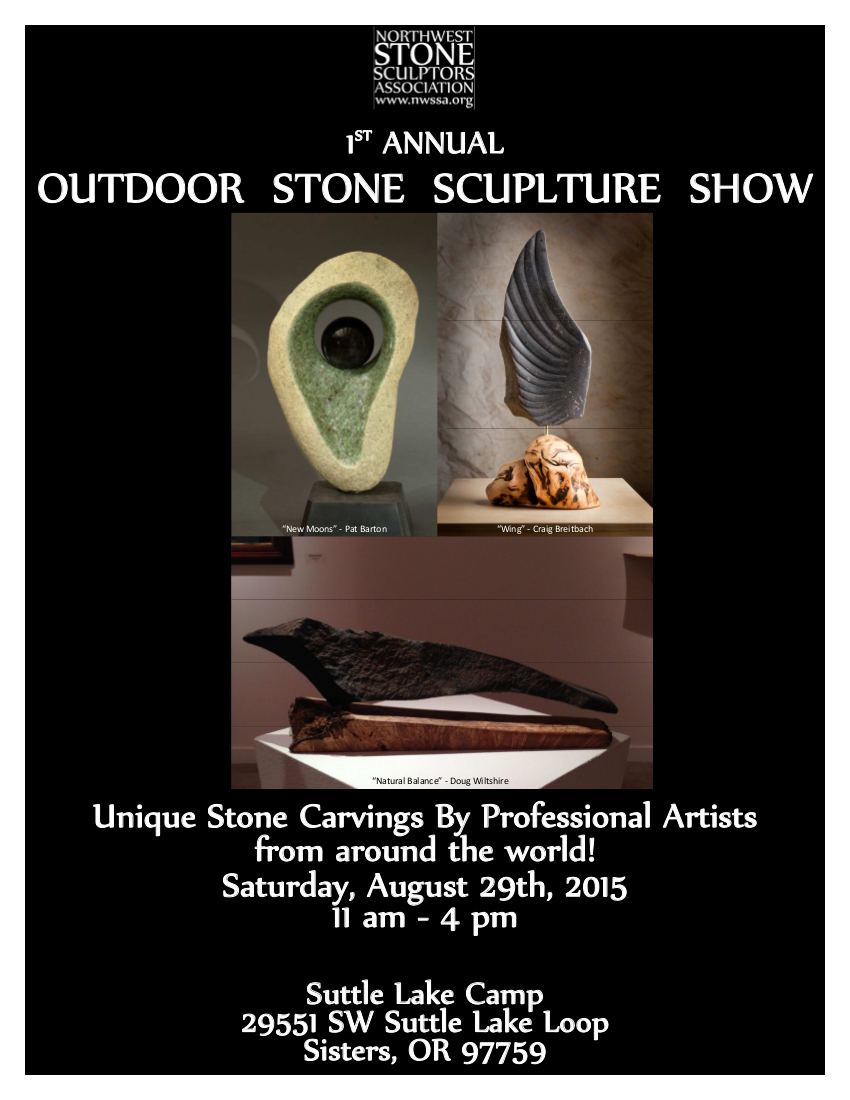 Unique Stone Carvings by Professional Artists from around the world!

Saturday, August 29th, 2015
11 am - 4 pm

Suttle Lake Camp
29551 SW Suttle Lake Loop
Sisters, OR 97759

Join the members of the Northwest Stone Sculptors Association for an inaugural outdoor sculpture show & afternoon exhibition of their work. Artists will be on site to discuss their art, techniques and stone. Many of the sculptures are offered for sale. Visit with us to learn about and enjoy the wonderful work of this thriving community of artists.

This event is free to the public.


Directions to Suttle Lake Camp:

Southbound on I-5:
Take exit 253 at Salem east onto Highway 22. Proceed eighty-three miles through Detroit to the junction with Highway 126/20. Merge left. Continue thirteen miles east to the Suttle Lake Campgrounds turnoff. At Suttle Lake, proceed south onto Suttle Lake Loop Road 2070. The Suttle Lake United Methodist Camp parking lot will be on your left 0.3 miles from the highway.

Northbound on 1-5:
Take exit 194A, Highway 126 East, the McKenzie River Highway and proceed eighty-nine miles, passing the McKenzie Bridge and the junction of Highway 20 and Highway 22. Travel north on Highway 126/20. Keep to the right at the junction of Highway 20 and proceed east to the Suttle Lake Campgrounds turnoff. At Suttle Lake, proceed south onto Suttle Lake Loop Road 2070. The Suttle Lake United Methodist Camp parking lot will be on your left 0.3 miles from the highway.

From Albany:
Take Interstate 5 exit 233 and drive east through Lebanon on Highway 20 to Suttle Lake. At Suttle Lake, proceed south onto Suttle Lake Loop Road 2070. The Suttle Lake United Methodist Camp parking lot will be on your left 0.3 miles from the highway.

Southbound on Highway 97:
From Redmond, travel 20 miles west on Highway 126 to Sisters. From Sisters, continue northwest on Highway 126/20 thirteen miles to the Suttle Lake Campgrounds turnoff. At Suttle Lake, proceed south onto Suttle Lake Loop Road 2070. The Suttle Lake United Methodist Camp parking lot will be on your left 0.3 miles from the highway.

Northbound on Highway 97:
From Bend, travel twenty-one miles northwest on Highway 20 to Sisters. From Sisters, proceed north on Highway 126/20 for thirteen miles to the Suttle Lake Campgrounds turnoff. At Suttle Lake, proceed south onto Suttle Lake Loop Road 2070. The Suttle Lake United Methodist Camp parking lot will be on your left 0.3 miles from the highway