The NorthWest Stone Sculptors Association was saddened to hear of Elaine Mackay's recent passing in January 2017. In memory of her, we share the following articles, photos, video and your remembrances of Elaine and how she touched so many of us.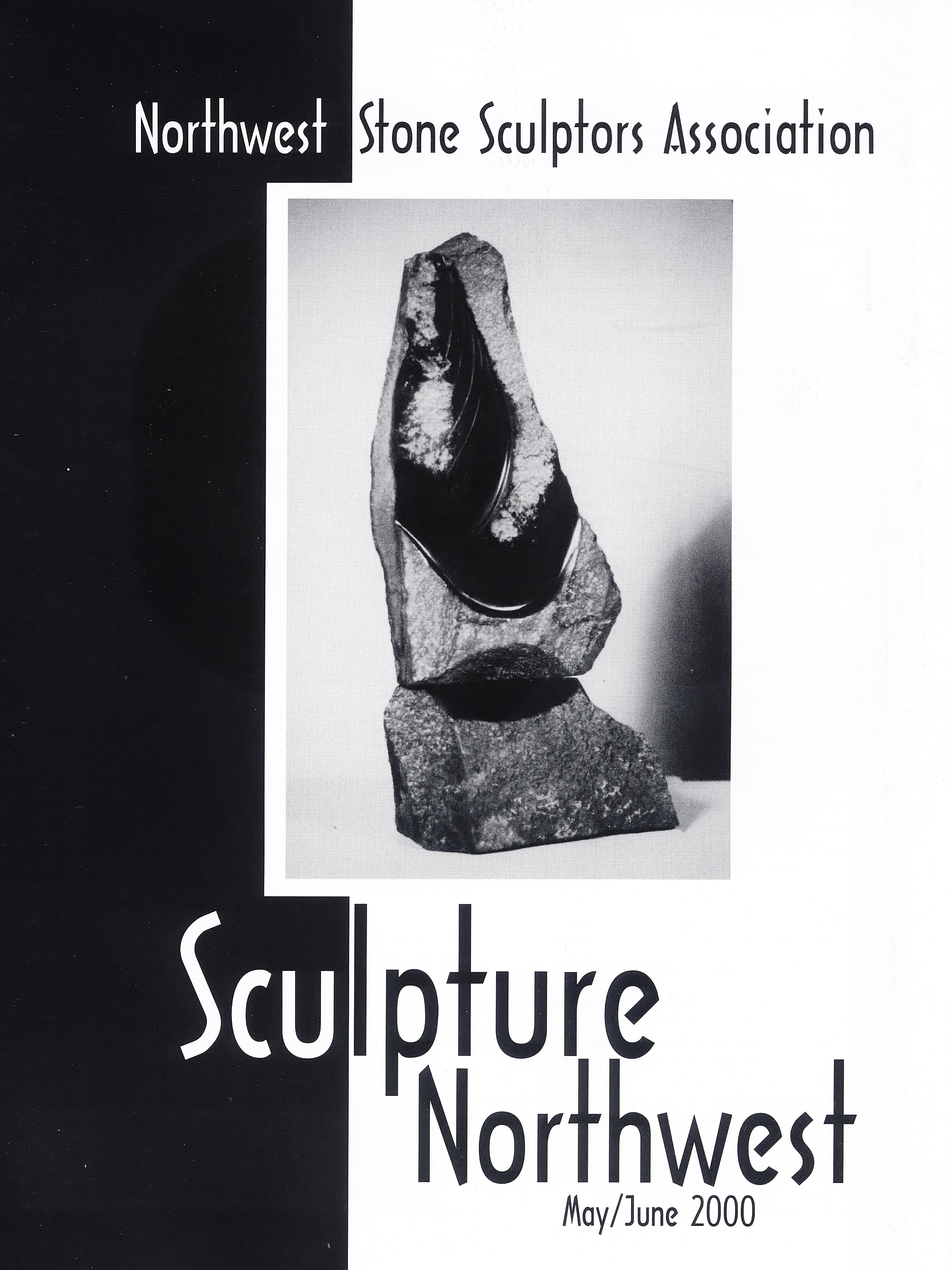 In her own words:
"Carving stone has given me personal happiness, satisfaction and an even keel in my life that had heretofore eluded me. Which brings me to the importance of NWSSA in my life. The community of like-minded people, ideas, education, and opportunity.
Reading David Quammen's article on the Dodo bird coincided with my first Camp B. symposium and I knew I would never have to face such a destiny. This is what my art and the people I absorb through NWSSA gave me. I hope I am able to give a tenth back."
- Elaine MacKay


Elaine touched so many of our lives. Upon hearing of her passing, many memories were shared on the listserve. The following are just a few remembrances from our members.
If you have a memory or photo of Elaine, please share it with us. {

This email address is being protected from spambots. You need JavaScript enabled to view it.

}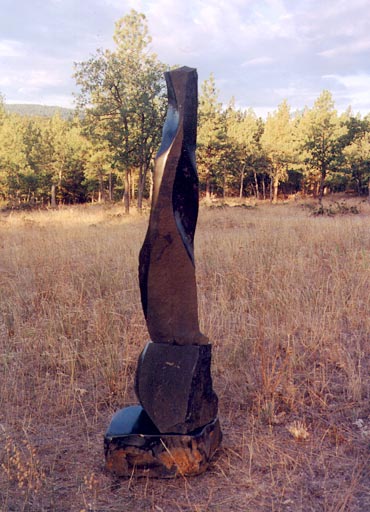 Having just learned of Elaine Mackay's death from emphysema, a long-time member of NWSSA, and a dear, true friend of mine since she came into our fold of stoners. I am writing this, my eulogy, from my heart to hers and to you who have known her. Elaine hit it off instantly with me since it takes one farm kid to another's simple and naïve upbringing to understand the roots of our souls and humble beginnings. Simple in describing that it was daily routine physical work tending to farm duties. Naïve in breaking away from such a life to explore the world when coming of age.

While bringing her life's knowledge and experience to the handling of tools, she brought her naiveté (but funny and sweet) for social graces at times, which made her the salt of the earth! Along with her early farming life, came service in the military. Both making her the pillar of strength and strong independence. Under her many colors of camouflage fatigues, which was her protective defense, as was her drill sergeant demeanor, to say it as it is without sugar coating (go girl,) she often came across as too strong for many. If you really knew her, you would know that she is as gentle and fragile as a butterfly. She probably had soft cotton PJ's in camouflage as well! Only if you were privileged to be in her inner circle, would you see that her sincerity is as real as they come.

She and her partner Patty lived waaaay up in the mountains above The Dalles, Oregon. The home that they built by hand was isolated (no running to the neighbors for a cup of sugar.) Their lives were well planned and organized, having to stick out months of winter and fog. As Elaine put it, those were the hardest times to keep the "mind maggots" from making one nuts out there!

Her life, as with many of us, made a 360-degree change when she discovered stone sculptors, her "tribe" in the NWSSA! This organization and WE, set her heart and soul to newfound true freedom with ones-self! She was active and worked very hard to keep the gears greased for and with the NWSSA. We are special creators because we work with something that comes from the earth. Back to the earth will go our physical dust, but Elaine's flame will always burn in our stone hearths.

Leon White

---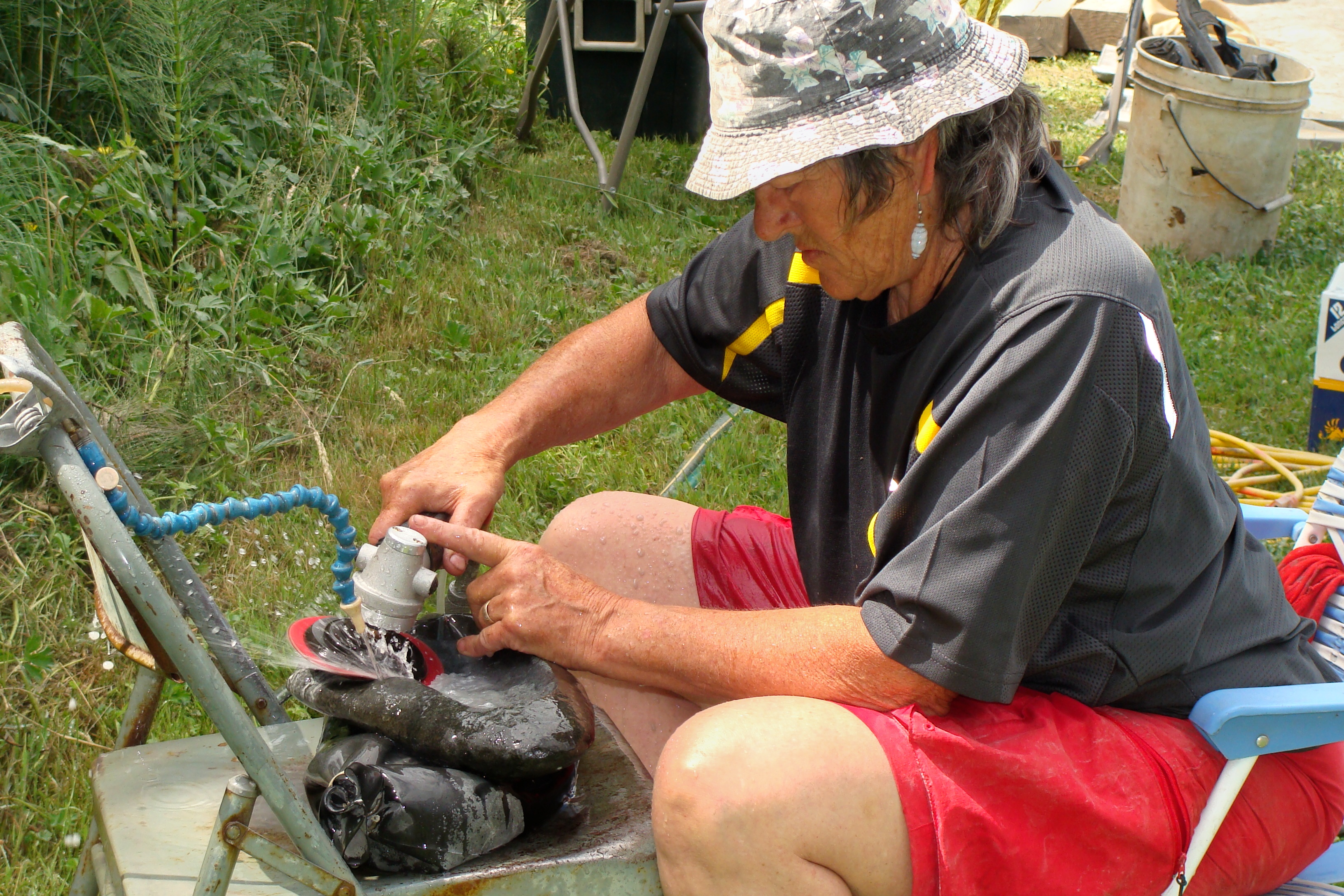 Blunt and challenging, open-hearted and loyal, shocking and funny (and shockingly funny too), tough and full of heart. Elaine fiercely loved NWSSA and the people in it. It's her kind of devotion that has given NWSSA its foundation which has evolved into its momentum of continued success.
She gave the group a lot, because it felt like home to her.
Kisses, hugs, and a nip of whiskey to you, Elaine, wherever you may be.
Gerda Lattey


---
One of the best days of my life was wandering with Elaine around the hills and valleys near Dufur and gathering a few tons of basalt.
We weighed our trucks by a grain silo and then rode up into the hills for steak and whiskey. I'll miss her. We'll remember her at the next campfire.
Tom Small

---
Some years ago, I was visiting an old friend in The Dalles and he told me you've got to meet Elaine. So we drove way out into the toolies east of Mt Hood to her place. We drove towards the house and out comes this person in camouflage attire, smoking and coughing, and I thought......never mind ! "Vic, meet Elaine Mackay ". I told her about NWSSA and our symposiums and she just soared with excitement. About a month later she showed up at Camp B with slabs of granite and her skill saw......she was totally awestruck with the amazing levels of sculptural expressions and tools. She quickly gave up the idea of carving " granite counter tops". She had designed and built a beautiful home for her and Patty. Sculpture was another dimension however. Her life changed instantly as she realized she had enriched talents to be realized. Two years later she won an award at AIA, an architectural center in Seattle for her basalt designs. Elaine had her own set of rules and she gave incredible energy to Silver Falls and Camp B, and she created some awesome forms in basalt. I'll never forget the look on her face when I told her about NWSSA which she had never heard about. RIP ELAINE. Thanks for the inspiration.
Vic Picou.

---
I remember the first time I saw Elaine as she set up to learn how to put a hole in a granite counter top. That was her only goal until the carving bug bit her hard. She was a good friend.
Patty McPhee

---
My wish for Elaine is grand adventure on the next part of her journey.
Will miss her – her presence.
Batya Friedman

---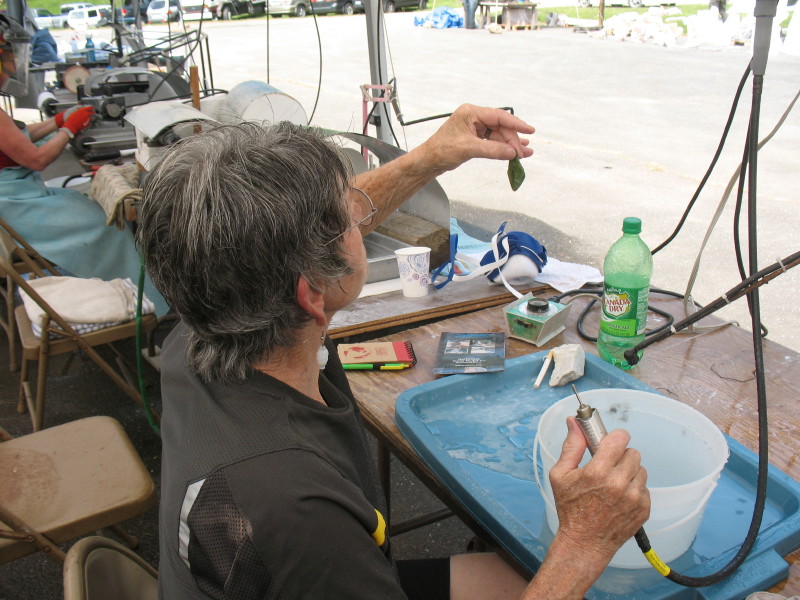 I am truly sorry to hear of Elaine's passing. She was one of the first people I met at my first visit to camp B and she immediately made a strong and lasting impression. I too, responded well to her salty, no nonsense approach, but she always seemed to keep her heart on her sleeve at the same time, while maintaining a sincerity that was unique. She will certainly be missed.
Michael T. Gardner
---
Thank you Leon, Mike and Carl, for the beautiful capturing of who Elaine was: Loving and helpful, and funny too.
We love you Elaine, where ever you are. Keeping you in our hearts,
Verena Schwippert

---
Elaine was one of the core who introduced me to NWSSA values, which include openness, sharing, inclusiveness, and the ability to talk about issues which a closed-soul attorney like me mostly kept to himself.
I'll miss her, although I'll remember her at the next get together when those values she helped establish will once again be there.
Bill and Rudi Weissinger

---
I was so intimidated by her at first, but I quickly realized that she was just testing me and couldn't wait to laugh. Her dedication to art, basalt and the NWSSA was inspiring. I've missed her of late, and forever.
Ken Barnes

---
Oh what sad news, though the inevitable will come to us all. Elaine and I found we were kindred spirits some years ago at Silver Falls. When I told her I manage a Convent property in The Dalles, the invitation to visit came swiftly. She and partner Patty (a yin and yang couple) had finished their amazingly beautiful home on the high desert, and showed me around their well-earned pride without prejudice. I truly salute (I learned that like her) Elaine's way of being wise without BS, steadfast and loyal yet craftily suspicious, funny with an underlining sadness and so appreciative of the real deal, regardless of one's background. My blessings to Patty and their local community, and to all of the carver's who shared a taste of life with Elaine. Magic comes in all colors!
Kim Lewis

---
She was my mentor, my nemesis, my wonder, my leader! I have missed her every winter - and every summer since she stopped coming to Camp B. Like all of you, she WAS Camp B for me.
Thank you, Leon, for your lovely letter of memorial. It said it all.
And thank Patty for the years of caring for one so precious to us.
Gus Schairer

---
Elaine's memory is clearly a blessing to all who remember her. What better traces of a life well lived could we have! There is a story that when a ship sails out on its journey there is nothing much to note, but that when it returns safely to the harbor we can appreciate where it has been, and what it has seen and done in its travels. Elaine is still an indelible memory of someone full of life and curiosity, and she will be remembered that way by many, including me. My sincere condolences to her partner, Patty.
Joan R

---
If there's a Camp B in heaven, or a parallel universe some place, I expect they've tapped Elaine to run the field.
And what was it she always said at the end of her messages to us? I think it was, "Sculpt Proud!"
Bob Leverich

---
I've really missed Elaine at Camp B the past several years. Missed her cranky, funny and warm ways. Missed seeing what color of camo she would come up with each year. Loved it when I first met her and she said that she was a lesbitarian. She could be so funny.
Wonderful to read everyone's comments - brings her into clear focus. She has given to all.
Constance Jones

---

I am sad to hear of Elaine's death. She lived life so vividly that I will always have her image and example in my heart. She spoke her truth and lived with courage and generosity. Elaine Mackay's hard work and heart were central to making the NWSSA an exceptional community. She lives on in this community, which she helped carve. When Elaine sat next to me at one of the first NWSSA meals I attended and we talked about stone, I felt I was in a place where people were invited to be themselves and to rely on one another in the shaping of stone and the shaping of our lives.
Laura Alpert

---
Elaine Mackay was one of my best friends for years when I lived close to her homestead in the hills above The Dalles, and she will always be remembered as one of the most interesting, alive, passionate and fun people I've ever known. I'm happy she finally found her passion in stone carving, and intensely saddened by her too-soon departure.

I would be honored to have you use the "Elaine" chapter from The Modern Homestead Manual.The link to the site is http://www.homesteadinginfo.net/

Skip Thomsen

---
It's wonderful to read all the tributes to Elaine. She was such a treasured friend to so many of us. She is missed. Much love to you my friend. I will hold you in my heart.
Love, Reg Akright

---
Elaine was definitely one of a kind. Beyond her wry looks of acknowledgment and her rapid-fire smartass repartee and her no-nonsense attitude about tools, materials, and safety, what I loved most about Elaine was her enormous heart. Very early in Elaine's tenure in NWSSA, my daughter Susan attended Camp Brotherhood for the one and only time, along with her young son Amaris. Elaine took Susan under her wing and made her feel one of the gang, and forever after that, Elaine asked about Susan and Amaris by name every time we met. It brings me to tears to consider Elaine's enormous heart.
Lee Gass
---