The NorthWest Stone Sculptors Association was saddened to hear of the passing of Sheri Tangen on December 2nd 2018. In memory of her, her family shared the following in remembrance of Sheri.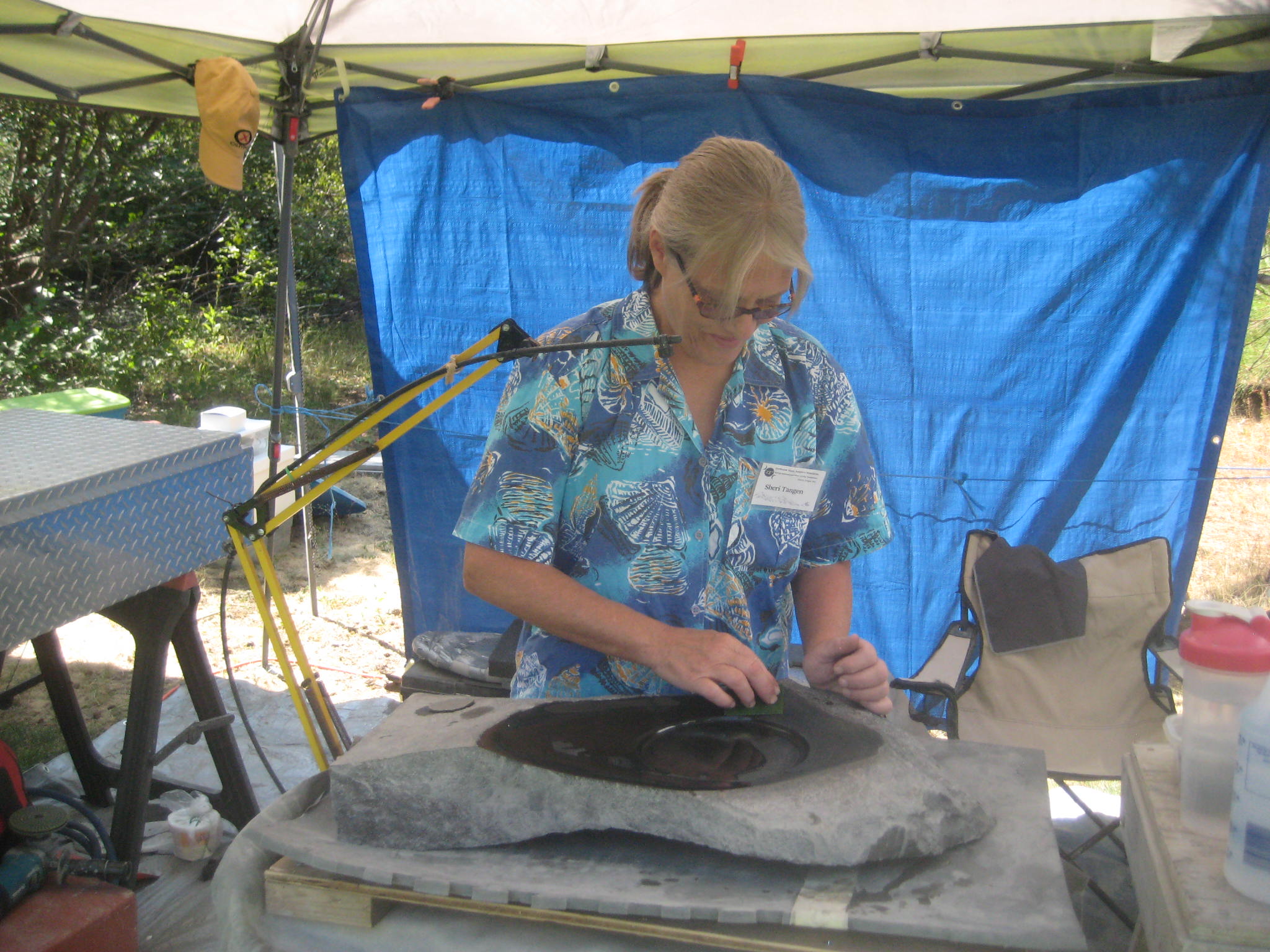 Sheri was born in 1954 in North Seattle to Harry and Elin Tangen. She grew up in Richmond Beach in a house that her parents built. She had an older sister, Julie, and 2 younger brothers, Bryan and Erik. Her father was a fisherman, and her mother was a homemaker. In addition to the children, her mother raised poodles and German shepherds. They enjoyed growing up there and playing at the nearby beach. Sheri loved animals of all kinds and was known to bring home strays that crossed her path.
When Sheri was a teenager, the family moved to a large beachfront house in Bremerton. Her mother, Elin, pursued her artistic talents at painting oil and watercolors. Sheri loved riding dirt bikes with her brothers. She graduated from high school there. She took a trip to visit family in Norway, and also traveled throughout Europe. Upon returning home, she attended Oregon Tech in Klamath Falls.
She joined the U.S. Army in 1977 and trained as an Operating Room Specialist. She received an honorable discharge and stayed on in the Army Reserves in the Helicopter Medi-Vac Unit until her unit moved out of state. Sheri then joined the Carpenters Union in Seattle and trained as an apprentice in the acoustical ceiling trade. She became a journeyman and worked in the trade until retiring at 55. One of only a very few women in that trade.
In 1983, Sheri and Deb bought 5 acres in Monroe and built a log house. They had a small farm with horses, goats, sheep, dogs and cats. They enjoyed living the country life and all the fun times it had to offer. They also enjoyed camping, hiking and road trips. Sheri joined the Backcountry Horsemen Riders and went on many overnight horse packing rides in the mountains riding her horse, Buzzy.
Sheri followed in her mother's artistic talents and joined a driftwood art sculpture group. Sheri and Deb enjoyed many driftwood hunting excursions around the area. A few years later, she became interested in stone sculpting. After getting to know members of the NorthWest Stone Sculptors Association, Sheri declared that "she had found her people"! There were many talented professional artists as well as beginners. This became her fulltime passion! She especially enjoyed the weeklong sculpture camps in Port Orchard, WA and Sisters, OR. Sheri continued to follow this passion until she was no longer able to do so due to her illness.
She fought a brave fight against the cancer. Always positive, doing whatever she was asked of with a smile on her face. She especially appreciated all the love and support her family and friends bestowed upon her throughout the ordeal. She is much loved and will be greatly missed by all who were blessed to know her.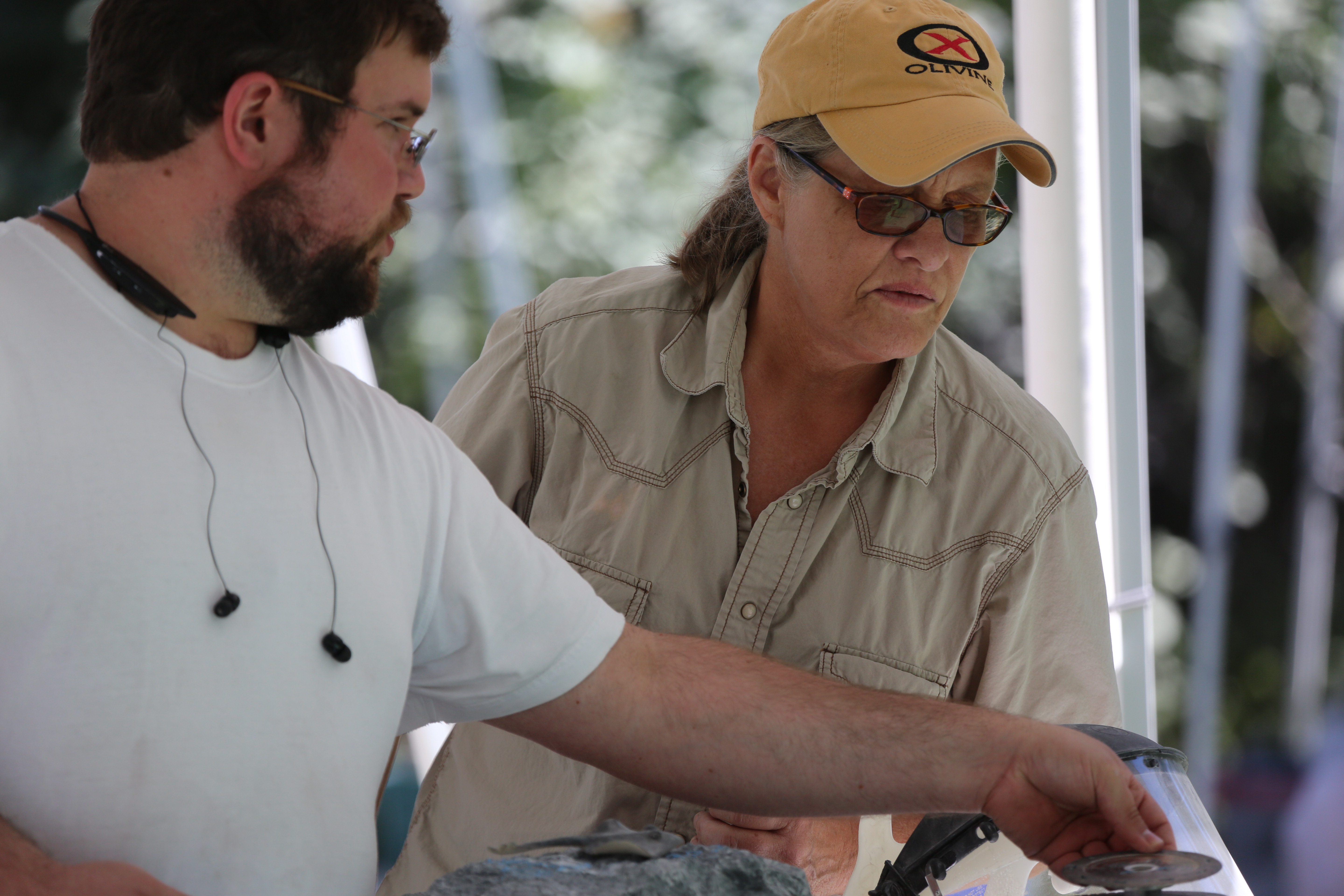 ---


Sheri wrote about her experience at our Oregon State Stone Carving Symposium for our Sculpture Northwest Journal

In Her own Words:
My First Time at Silver Falls


---
As Sheri is remembered by a few of her stone carving friends:
Hello All, For those who may have met and or got to know Sheri Tangen at the few symposiums, a couple at Camp B and Silver Falls last year. Debbie, her wife of 32 years just contacted me that Sheri passed away December 2nd from cancer at 64 years old. Debbie just retired so they were really looking forward to their retirement together. Since her first symposium, Sheri was immediately welcomed with her joyous laugh and her great sense of humor. She was positive with everything, even with her battle as Debbie has said. She soooooo enjoyed finding the NWSSA "Her People" and was 100% engaged in learning to Sculpt! -Leon White
I will miss her. So many times talking with her about tools and techniques and encouraging her to continue the great work she was doing. I will miss her. BTW - Because of her calling in a favor from her brother we have electrical power at Pilgrim Firs. - Carl Nelson
"Oh, this news hit so sadly. Sheri was such a light - always so open, enthusiastic, supportive and generous. We were work studies together our first year and became fast friends. I will miss her greatly." Cyra Jane

What a bright light…it is really hard for me to believe that she will not be at Camp this year…our time on this planet is unknown…I will miss her greatly. - Michael Yeaman
I am so sorry to hear about Sherry. I have so many memories. One of my favorite remembrances was her excitement and justifiable pride in the Olivine bowl with a handle she made, her first foray into working with harder stone. I can see her smile. Sue K