REFLECTIONS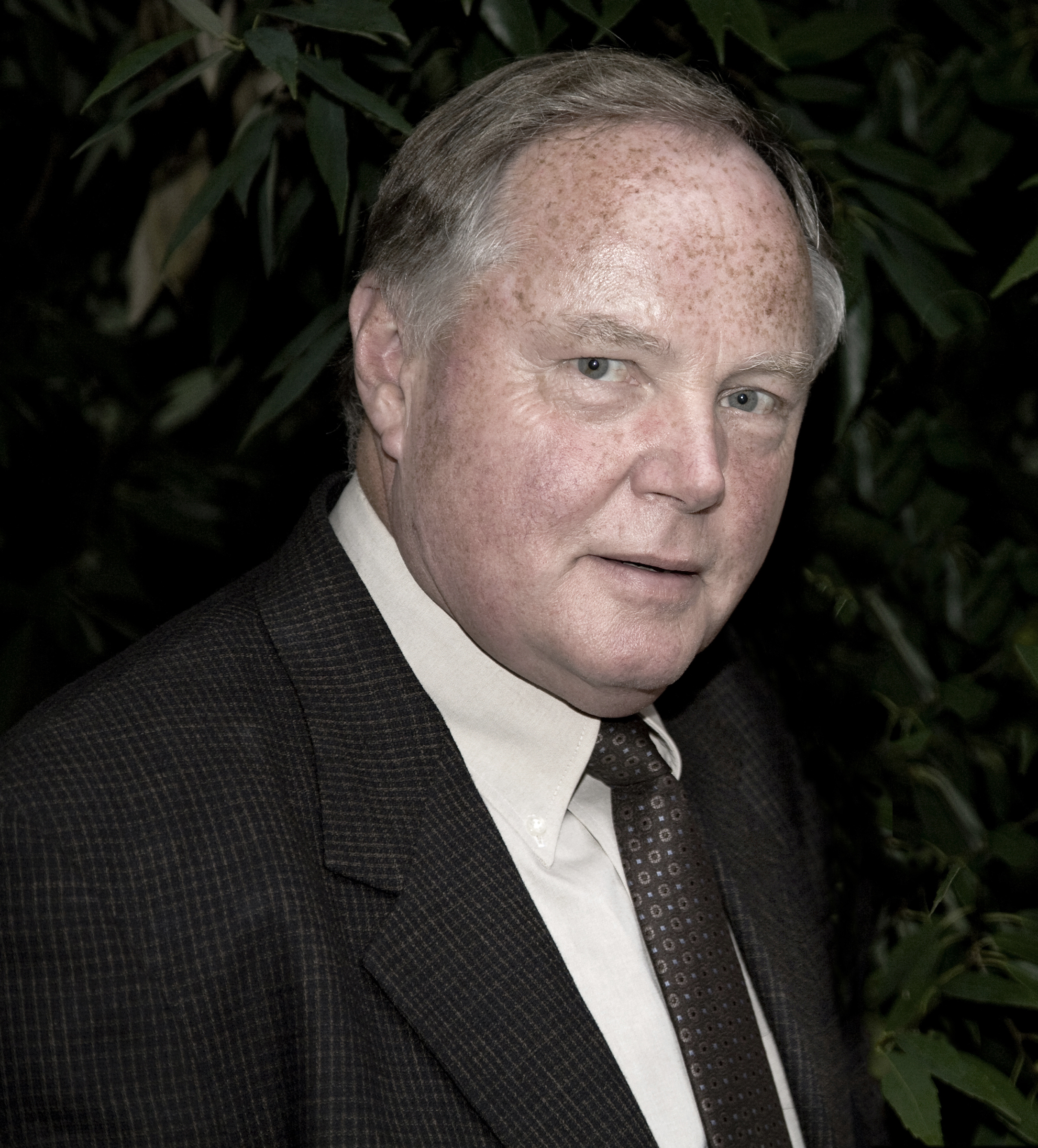 After two and half decades of membership in the NWSSA I thought I would share a few observations and thoughts on who we are and what we do.

In the spring of 1991, while working on a design project in the Capitol Hill area of Seattle, I ran into an old friend and mentor, Everett Dupen. He was the former head of the sculpture department at the University of Washington where I received both my BFA and MFA. He excitedly expressed his enthusiasm in meeting a group of stone sculptors and encouraged me to attend a symposium they were having in early summer at a place called Camp Brotherhood. Stone was always my preferred medium for personal expressive sculpture. At the time and for the past number of years my energy had been focused on social and environmental art. The return to personal expression and the visceral allure of stone propelled me to attend.

Arriving, I absorbed what was happening in this extraordinary environment. I experienced a transformation. The feel of community was immediate and warmly embracing. Full supportive resources of material, tools, and instruction was there to receive. Each participant was subtracting chip by chip, layer by layer their vision embedded in the stone they now embraced.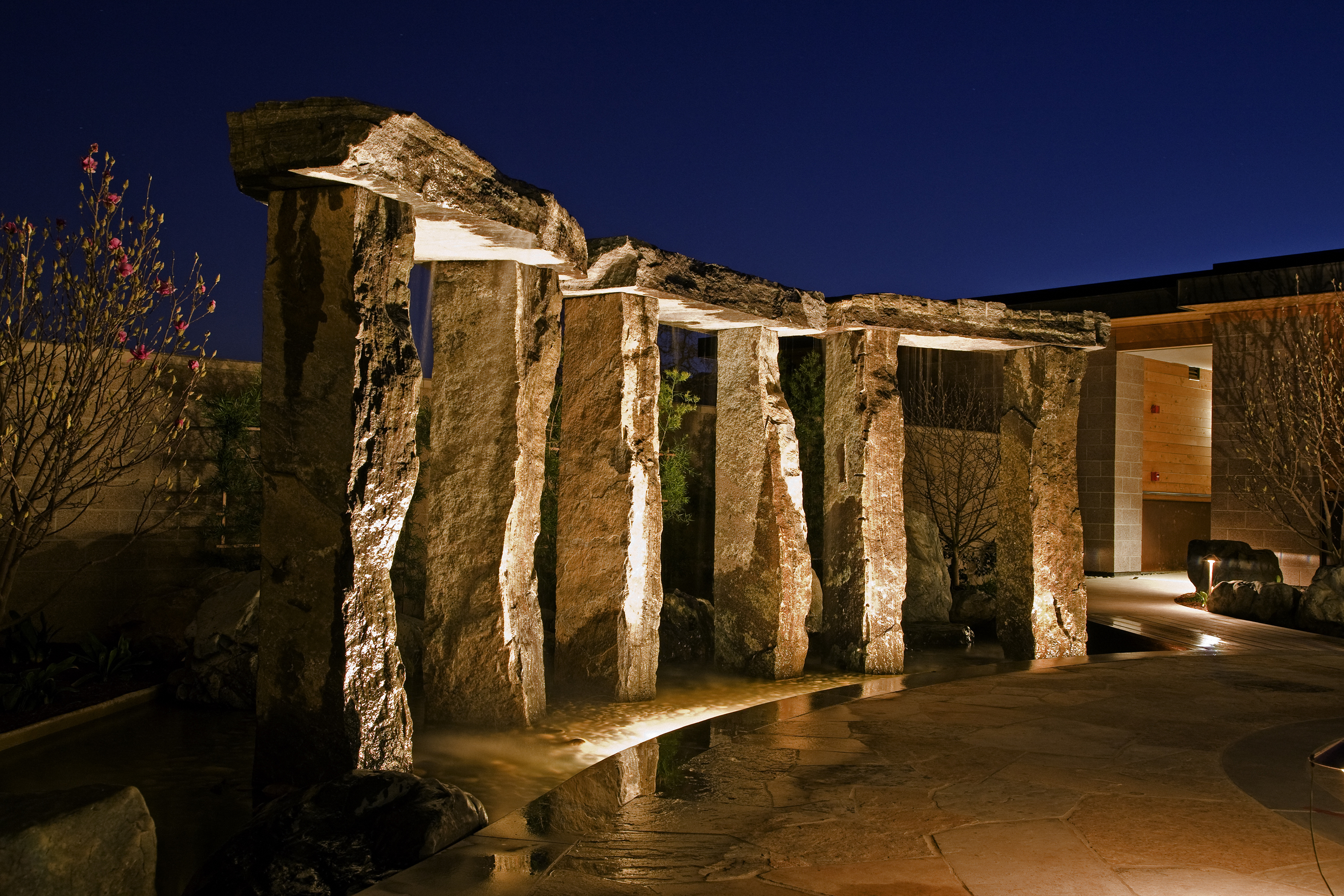 How and why? This was not some militarized artisanal boot camp nor was it some hierarchical art academy with its cannons of performance and its standards for righteous achievement. This seemed to be a focused community thriving in a nurturing supportive setting. The participants, regardless of experience or recognized achievement, seemed to be flourishing in each other's company. It was amazing. I had stumbled into an experience of such deep and resonant personal value, a culture of trust and sharing. I needed to embrace and commit myself to this community like so many others have done.

I came to know the vision and goals of the core establishing members: Vic Picou, George Pratt, Meg Pettibone, Tamara Buchanan and others.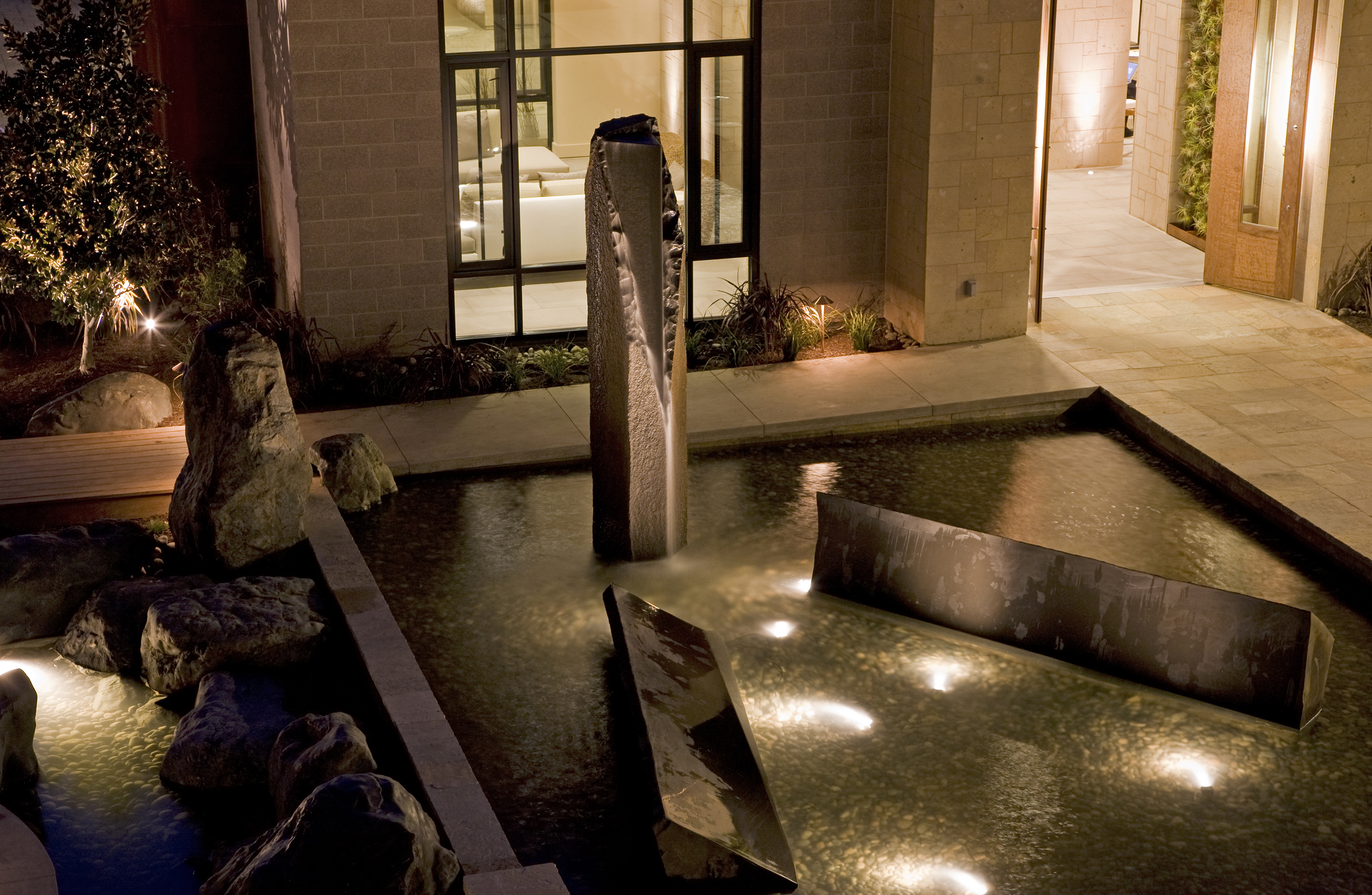 Many years of symposia, workshops, exhibits, board meetings, special events and parties have passed. Our community is still thriving. I am so thankful to all of those who dedicated so much and took responsibility for our wellbeing:
All the board members
All the presidents and their administrations
All the symposium and workshop directors and their teams
The editors and staff of the journal

There are so many individuals I would especially like to thank for our growth and development. A few are;
Vic Picou for his inclusive leadership.
George Pratt for his innovative tool method and education
Nancy Jordan for transforming a newsletter into a nationally featured journal.
Ward Lynch who was so dedicated and kept our tools running.

There are many more individuals that need to be mentioned and honored for their contributions. We have been so enriched. I have been blessed to know them.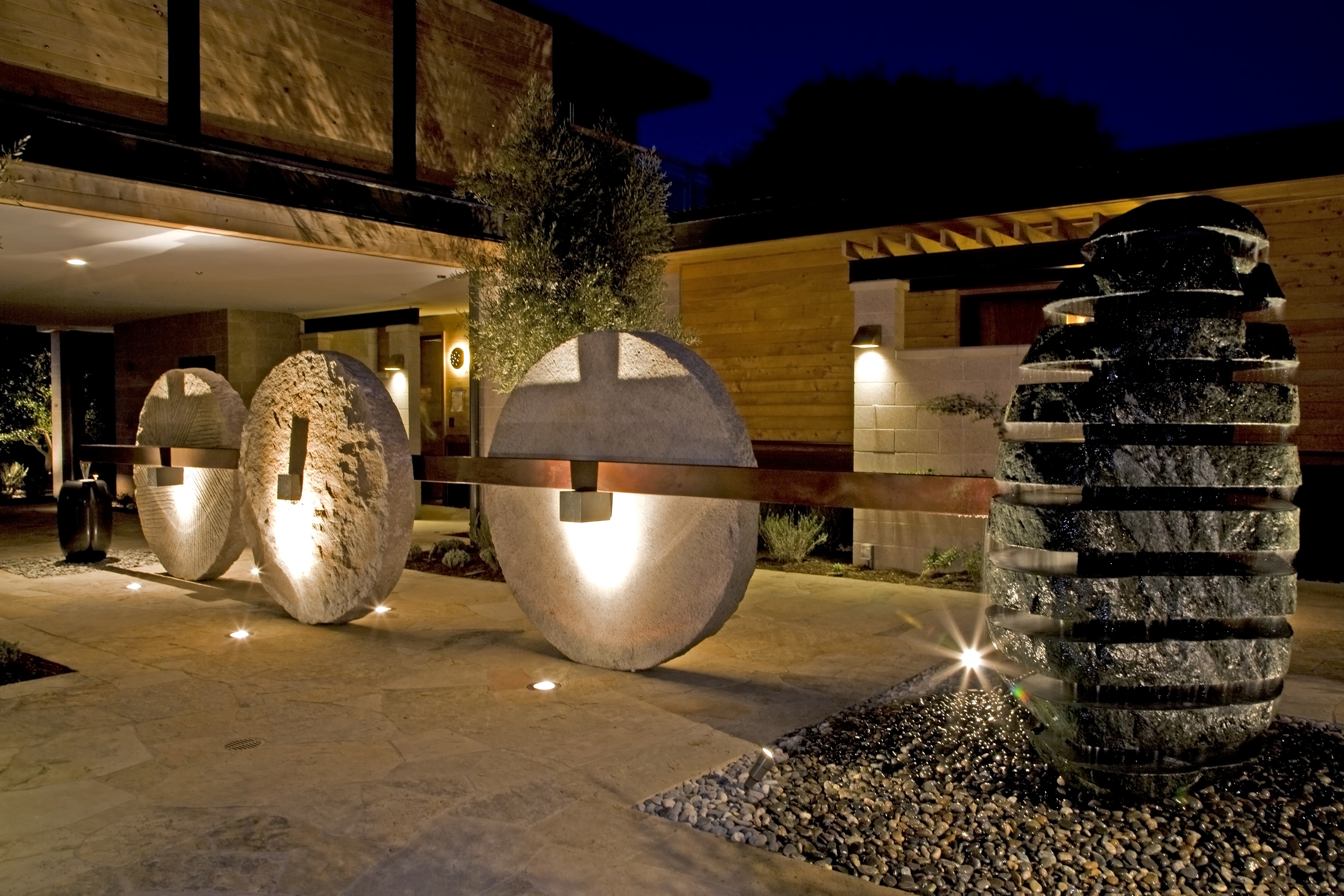 THE BARDESSANO COMMISSION
All photos by Jim Ballard

The Bardessono, a 62 room hotel, restaurant and spa complex in Yountville, California opened in early February 2009. Described as one of the nation's most energy-efficient hotels, the Bardessono also features a number of unique courtyards.

Richard Hestekind was commissioned in 2007by developer Phil Sherburne to create a series of sculptural water features within these courtyards.

Each of the features presents different ways water springs up and out of stone as it continues its life-sustaining journey.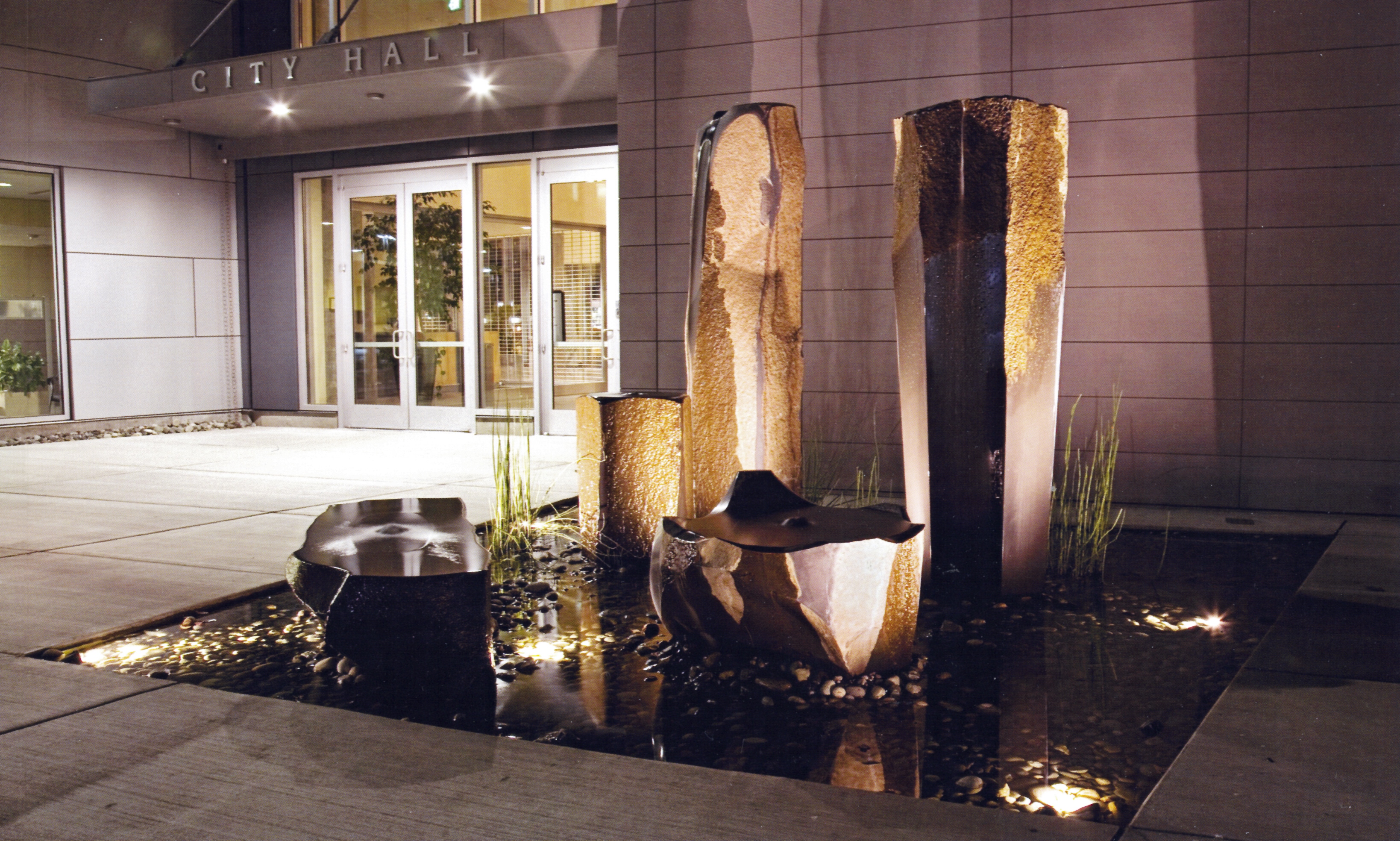 The Shoreline City Hall Commission

Here is a Shoreline, Washington public project undertaken in the fall of 2009. The building was designed to provide state of the art energy efficiency. Sculptor and designer Richard Hestekind was commissioned to develop and install a water feature that integrated with many of the design components already in place. Elements of the sculpture display how water flows through this specific community and into Puget Sound. The feature was sculpted from Washington State Columbia River basalt columns.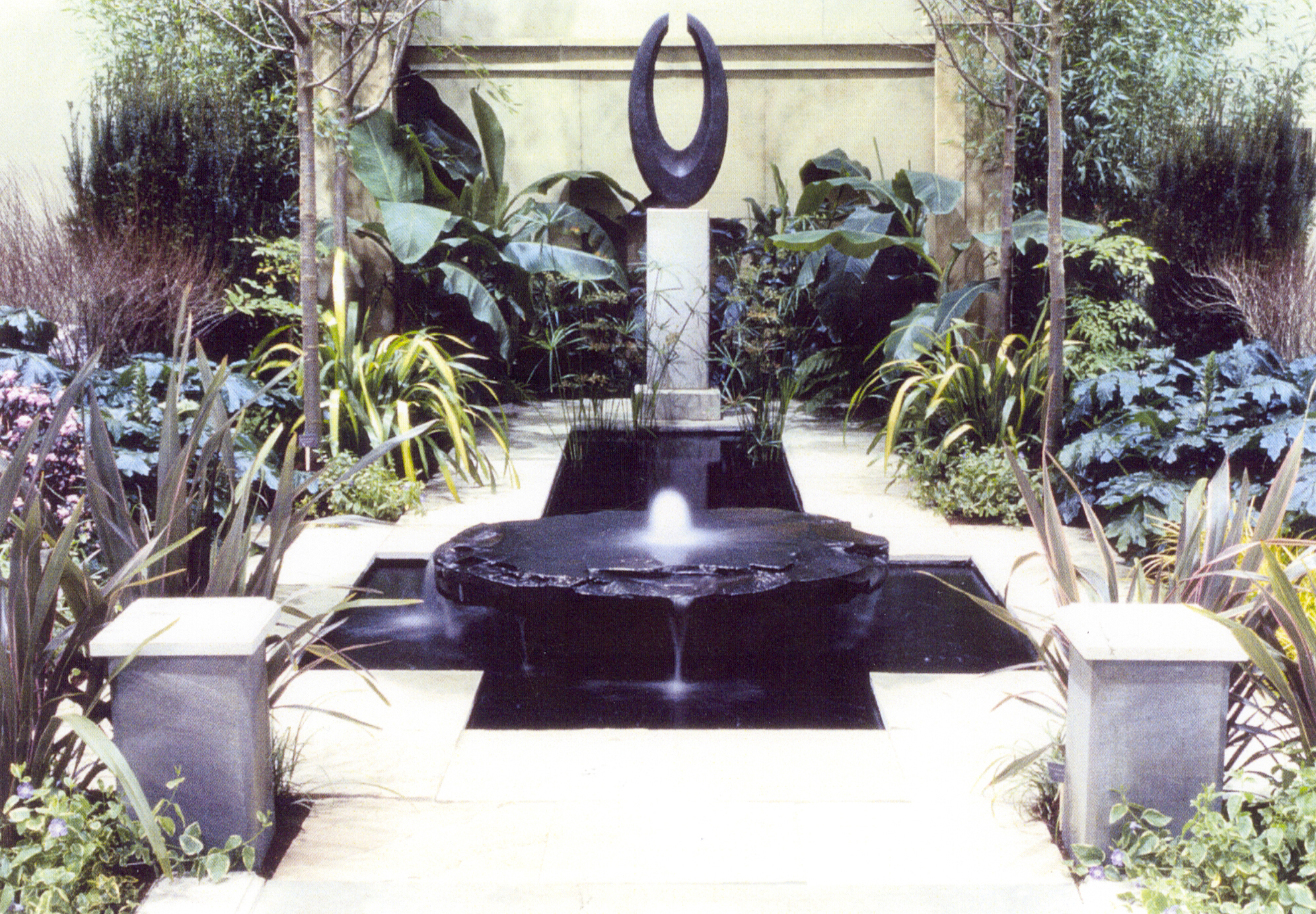 Seattle Flower and Garden Show Display

One of the display gardens Rich created for the Northwest Flower and Garden Show in Seattle. This was a gold medal, award winning design. He created the fountain shown in the foreground as well as designing the entire display. In the distance is "Threshold" a black granite sculpture by Jim Ballard.

IMPRESSIONS – Paper & Stone
Some of the images and caption material are taken with permission from a book about this show compiled by Jim Ballard.

This collaboration in 2011 between Jim Ballard and Richard Hestekind opened at the Frances Anderson Center in Edmonds, Washington on February 10th, continuing through March 15. The Exhibit was presented by the Edmonds Arts Commission and the Edmonds Arts Festival Foundation.

This display of work explores the duality and the dynamic interplay between opposites; light and dark, hard and soft, positive and negative, subtractive and additive, substantive and illusive. The interplay of these qualities converge on our paper and stone.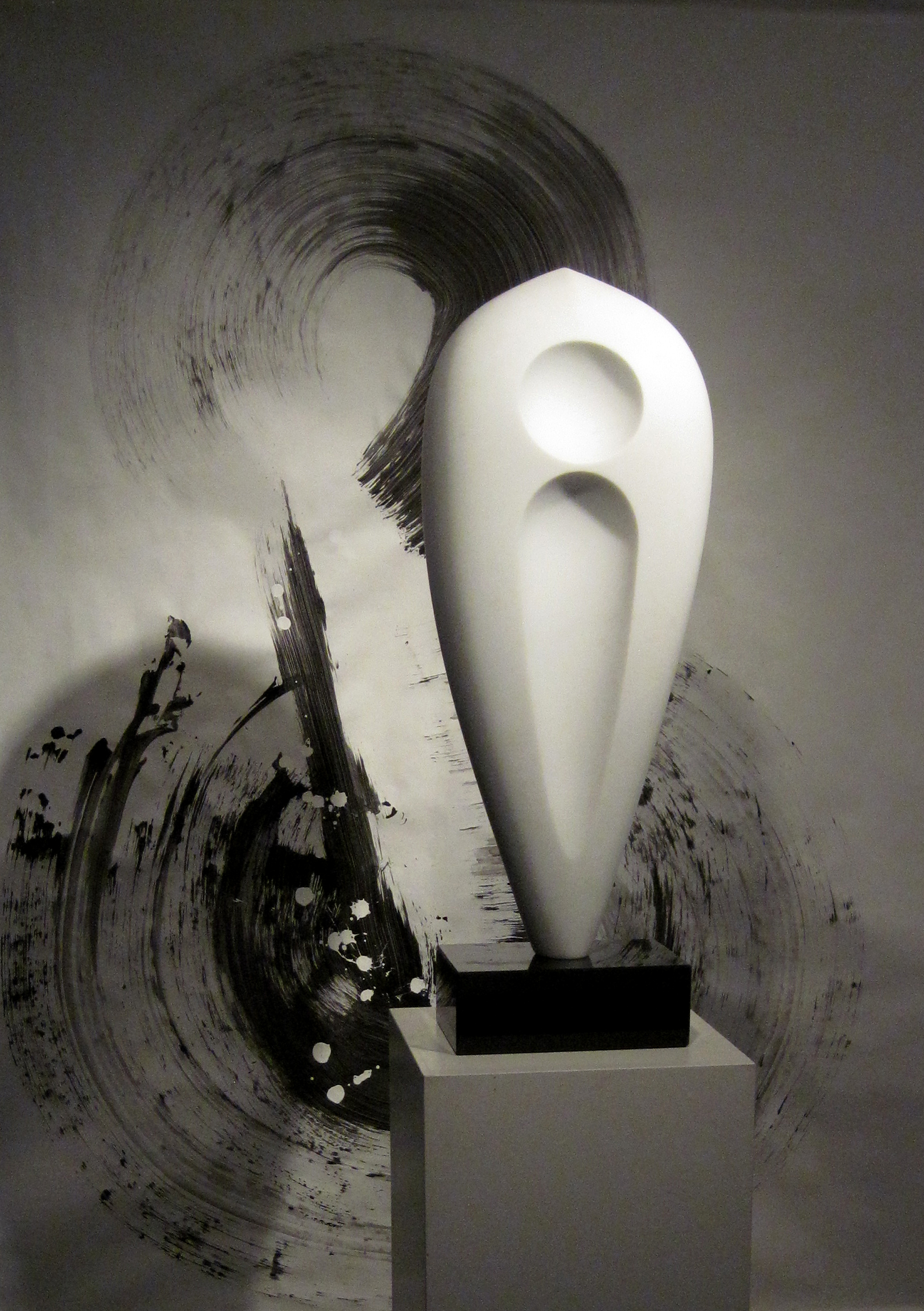 The "BRUSHWORK" series

These works on paper have evolved from my interest in the brushwork used in Sumi-e and Chinese Calligraphy. The scrolls are 5 ½ feet high and 4 feet wide. I used both small and very large brushes loaded with tempera paint to create the brushstrokes. This is my exploratory departure from these traditional expressions.
- Jim Ballard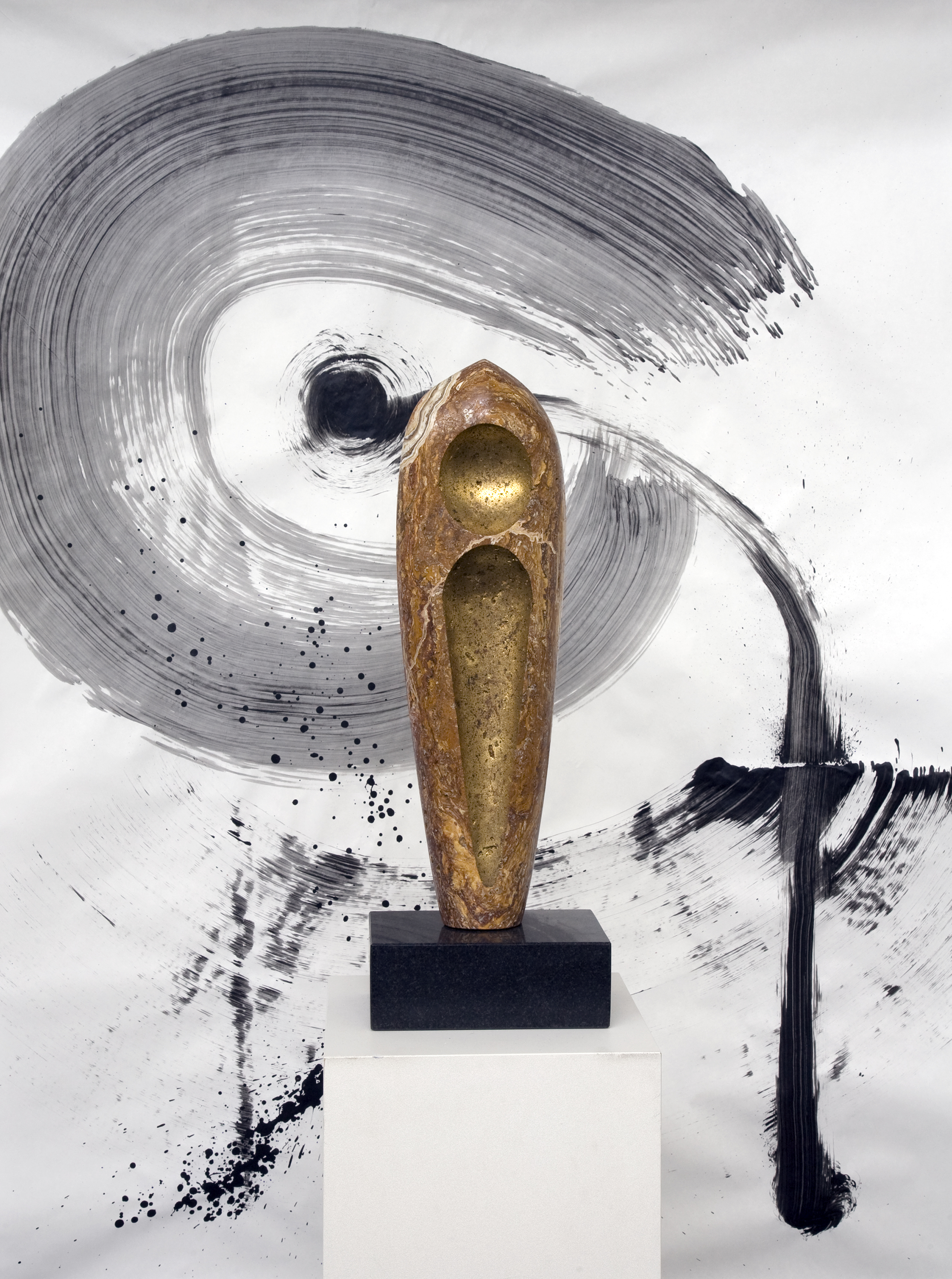 The "CHRYSALIS" series

Each rock is a fragment of the skin of the earth. Each has a compositional identity that narrates its own history. On a select few, I engage in an active dialog exploring their unique character. This process displays another cycle in its metamorphosis of form. In these few presentations, I attempt to reveal what I discovered. Each stone left an impression on me, and I left a fragment of an impression on it.
- Richard Hestekind