Jim could be a "poster child" for the NWSSA symposia and workshops. After acquiring an extensive background in art and graphics, his life has been transformed since he attended his first workshop. He is now a successful and prolific sculptor and a vital member of NWSSA.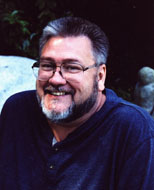 LE: Briefly introduce yourself and your artistic training.
JH: I am a forty-seven year old Seattle native who is trying to balance my desire to create art with the challenges of everyday life.
As far back as memory serves me, art has been a part of my life. In grade school through high school, I was always making drawings for people – from doodles to elaborate pen and ink pieces. Sculpture always fascinated me, but being practical, I turned more towards the craft end of art – making bowls and lamps on the lathe. Later, I made stained glass windows and designed and had fabricated a series of high end lamps constructed out of acrylics, steel and stone.
In community college, I took graphic design and then drafting and design. This led me to Western Washington University and the Industrial Design program. The ID program is geared towards familiarization with all aspects of designing products to be manufactured. Always looking to be practical, this fit right into my desire to make art and make a living.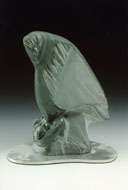 Circumstances cut my education short, and I went to work for a technical graphics firm in Bellevue. I started as an illustrator, advanced to art supervisor, and finally became the art director. All during this time, I had my own part-time business doing mostly graphics and stained glass.
In 1984, I moved to Santa Fe to pursue more of an artist's approach to my life. Again, due to circumstances, I returned to the Seattle area and worked as a freelancer in the technical graphics field.
LE: How did you get started carving?
JH: In the 1990's, gardening and landscape design drew my interest. Trying to fulfill client's wishes for garden art led me toward becoming a sculptor. The search to learn how to carve stone brought me to Silver Falls in 1999, and changed my life completely. I've spent the last five years consumed with creating art through sculpture.
After Silver Falls, I went on to take numerous classes with Brian Berman and Nicky Oberholtzer. I then went to Art City for a session with Joanne Duby, attended the Whidbey Island retreat, Camp Brotherhood, and the 2000 session of Silver Falls. That first year, I learned an incredible amount from many wonderful and talented artists.
LE: Who are some of your artistic mentors?
JH: Henry Moore, Noguchi, Brancusi, Barbara Hepworth, Jean Arp, and M.C. Escher, as well as many of the NWSSA members.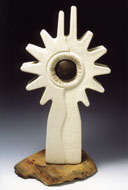 LE: How did these artists influence you and your work?
JH: Henry Moore – Some of my earliest memories of sculpture occurred while waiting for the bus in downtown Seattle sitting next to Henry Moore's "Vertebrae" sculpture. I loved its simplicity and wonderful form. I remember running my hands over it and feeling its energy and life within.
Arp, Brancusi and Hepworth – All of these artists' works tend toward simplicity of shape, yet all make very powerful forms. As with Henry Moore's pieces, these artists seem to breathe life into their sculptures.
About six years ago, before I started sculpting, I saw a PBS special about Isamu Noguchi and marveled at the forms he produced. This started me thinking about sculpture again and pushed me to seek out further information about him and his work.
M.C. Escher was a graphic artist and illustrator that I grew up admiring and trying to emulate. He had a clean and precise way of drawing very complex ideas in a way that could be understood and appreciated.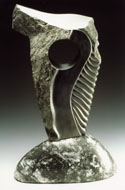 As for the many NWSSA artists that I admire – these artists continue to amaze and inspire me with the innovative and imaginative ways they execute successful designs in stone. I look forward to seeing the many diverse pieces that get produced and experiencing the feeling that almost anything is possible.
LE: How would you describe your work?
JH: I don't hold any deep philosophy about my work. For the most part, my search is for the perfect form. Whether I'm drawing, designing or sculpting, I am simply trying to shape the elements of the piece into a cohesive unit that reads as a whole – essentially to make the piece work.
LE: Where do your ideas come from?
JH: My ideas are generated two ways: by the shape of the stone when direct carving or by the many, many drawings I do daily. These drawings are usually developed much in the same way I direct carve. I simply draw some pleasing lines or shapes in my pad and then make an appealing form from them.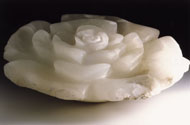 I am continuously searching through drawings in my sketchpads for the perfect shape. This activity generates many designs to be translated into sculpture when the right stone is found. Sometimes certain stones suggest a form. These tend to be the easiest carves and perhaps the best.
For the most part, I select a design from my sketchpad that appeals to my sense of the esthetic (not all of them do). Then I go to my stone supply and try to find one that will accommodate that design. Usually, the size, shape, color or type of stone is secondary to the possibility of getting the design out of it. My stones are pretty much set up on display around my studio and carving area so that I can view them at all times. Occasionally I'll walk by a certain stone and see a shape within it and get inspired, and away I go into another sculpture.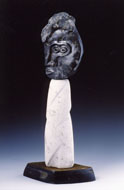 LE: What stones do you prefer?
JH: I carve all stones, from soapstone, alabaster, marble, and limestones to sandstone, granite, and basalt. Since I want to do more out-door pieces, I'll probably carve more hard stones in the future. Last summer, I completed, as a collaboration with Chuck-O Davis, my first granite piece called 'Time Inbetween.' I am also working on two other larger pieces as collaborations with other NWSSA artists – an eight-foot high steel, sandstone, and granite piece with Pete Welty, and a larger granite piece still in the preliminary stage with Verena Schwippert. We hope to have both pieces finished by the summer of 2004.
LE: What is your working process?
JH: I tend to work on lots of pieces at once, some of which I'll probably never finish. Currently I've got ten or so serious pieces going and twice that many started and set aside to possibly be completed later. By serious piece, I mean one that I feel has potential for success and will most likely be brought to completion. Not all pieces will be completed. I don't feel the need to finish something just because I started it. Sometimes I just need to move on to the next idea. Maybe I'll come back to some of them in the future, or maybe not. The good ones get completed – about 10 to 12 a year.
LE: What tools do you use?
JH: Since I work on so many kinds of stone, my philosophy is: I'll use what ever tools it takes to get a job done - from hand tools (chisels, hammers, rifflers and rasps) to electrical power tools like Foredoms, angle grinders and polishers. I also use an air hammer and air die grinders. Last year I had a design digitized and cut out on the water jet. Maybe my favorite way to rough out a piece is to have someone else do the preliminary work. Then I come in and do the shaping and finishing (thanks Chuck-O and Verena). So you see, anyway to get the job done works for me!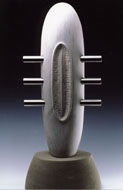 LE: Please describe your studio.
JH: I live in a large tri-level house in Edmonds. The house has a two-car garage with a small workroom that I use as my indoor carving area. Along the north side of the house I have set up a covered area to do most of the roughing out. The back patio area, as well as the small workroom, looks out onto the wonderful garden, so I usually move to these areas to sand and polish, depending on the weather. The garage houses my more fragile stones, as well as my many sculptures in progress, the compressor and all my tools. The indoor carving area has a dust collection system which is used for smaller pieces that can fit into the 12"x12"x 18" housing and can be worked with a Foredom or close quarter drill. Having plenty of space allows me the opportunity to sculpt whenever the inspiration strikes.
LE: Describe some of your pieces.
JH: 'Black Knight' started out as one of the first pieces of chlorite I bought from Brian Berman. I liked the shape of the stone, but was unsure of what to do with it. A seahorse was a possibility. I needed a black core for another piece, so I had a 3" core drilled through it and set it aside. Then, about three years after I had purchased the stone, Leon White was over at my studio, saw the stone, and suggested a chess piece. From there everything just came together easily, and it became 'Black Knight.'
'Time Inbetween' started out as a 400+ pound, Indian black granite stair tread from Lakeview Stone. Chuck-O and I decided to work together on a project. He picked one of my designs and then spent many hours roughing it out, bushing it, and helped with much of the final shaping. I took over the final stages of shaping and finishing. I also worked with Dave Lisch, an accomplished blacksmith, to fabricate the base out of forged steel. Together, the three of us produced a very successful piece that I most likely would not have attempted on my own. Many thanks to Chuck-O and Dave.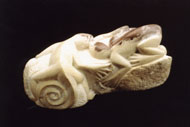 'Raptor' was a piece of green argillite that Gary McWilliams plopped down on my workbench at Silver Falls. He said, "What do you see?" I said, "A bird." He said, "carve it." So I did. Then, when he saw it next year at Camp B. he had to have it, and he bought it from me at a fair price. Thanks Gary.
LE: What do you like about these pieces?
JH: 'Black Knight' – I liked how the natural break of the stone suggested a horse-like figure. The carved areas are minimal and enhance this. As happens with chlorite, the polished areas set off the natural texture of the stone beautifully. By making the base out of a very special piece of Alaskan marble, it contributes to the overall design, as well as supports the piece.
'Raptor' – One of the best features of this stone is how it breaks naturally. I probably couldn't carve (at least not as well) the details that make up the feathers on this piece – these wonderful breaks are what make 'Raptor' special. All I had to do was carve the features that define and enhance the shape already present.
The best part about 'Time Inbetween' is that it got accomplished. Collaborating with Chuck-O is the only way it could have ever gotten done. The design itself is very pleasing as well as quite imposing (due to the granite we used). The use of texture, polish and natural break of the stone work together to produce a successful piece.
LE: Where do you exhibit your work?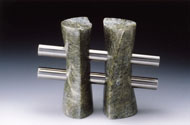 JH: I have shown in the Artist Gallery in Seattle with Terry Slaton, the Kirsten Gallery with NWSSA, and numerous local art festivals including Edmonds, Kenmore and Shoreline. This summer, I am again going to have a show and sale in my home and garden and participate in the Camp Brotherhood ArtWalk.
LE: What are your future plans?
JH: Of course, I plan to continue to draw and carve many of my designs to completion. And, since I want to do some larger out-door public pieces, I hope to get the opportunity to collaborate with some more of my fellow NWSSA artists. As in the past, this process feeds my inspiration and has led to great success.
In closing, I'd like to express my gratitude to all the wonderful people in our group. They have accepted me, helped, and inspired me to become, not only a bettor sculptor, but also, and more importantly, a better person.