Getting acquainted with Ken reminds me of taking the rind off of a weathered rock. The beautiful colors and delightful patterns that emerge are similar to the depth and breadth of his training and interests, and his work speaks for itself.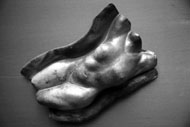 LE: Who are you?
KL: I'm a native here in the Puget Sound area, raised and educated in Bremerton and Tacoma. Learned to fish salmon when I was 4 years old and have had the disease ever since. Art came a few years later. Joined the Navy in 1951 and married my wife Inez on boot leave when I was 20. Got out in 1955 and went back to school on the GI Bill, taking a commercial art oriented program, but concentrated on sculpture. I went to school half time for eight years while working as a lineman for Pacific Northwest Bell Telephone Co. Inez pretty well raised our son Patrick and daughter Katrine by herself as I was at work or school most of the time. I can't give her enough credit for the support she gave me. We celebrated our 53rd this year. I don't know how she put up with me this long.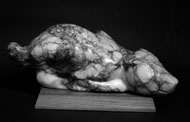 We lived in Silverdale, 20 miles west of Seattle, for 35 years on an old farmstead, and Patrick and I built my first studio with salvaged material from the old mill town in Port Gamble. After taking early retirement from US West in 1983, I built my present studio on 20 acres at Seabeck. I've been fishing and making art since.
LE: What was your path to becoming an artist?
KL: I think there is this need to create an object or scratch or paint in most people early on, but few are encouraged to develop or study art. Then there are the few who do it with or without help. I was fortunate. I had the urge to draw when very young, enjoyed the art classes in grade school, got praise for the things I brought home, gold stars and encouragement from teachers, etc. This will keep you at it, but beyond that, it was something I had to do, paint, draw and make things. Not necessarily art, but making things.
I had an art teacher at Stadium High in Tacoma, Miss Warner (a tall red-head, very excitable) who was a major influence. She liked what I was doing and encouraged me to keep on and try new things.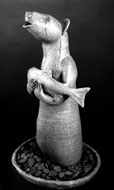 The most influential person in my life was Harrison (Hank) Blass. At the time (1949) he was the art department at Olympic College, having established the art program there. We got along very well from the start and became close friends for nearly 40 years. He was a fine painter and drew like a master. He gave no quarter when it came to grades and was a disciplinarian in the classroom and the studio. They had no sculpture program, but he let me focus on sculpture after completing token assignments in the courses they did have. I took design, drawing, and painting seriously. Hank taught me social skills and an appreciation for architecture and landscape design. He admired my faculty with tools and equipment. I worked on his home and Japanese garden at Evetoi Beach in Bremerton, moving and placing large stones with only hand tools. Hank also arranged the first sale of my sculpture to a collector in New York City, and helped in securing my first commission.
One other instructor stands out for me; Mel Wallis followed Mr. Blass at OC and I took metal casting and ceramics courses with him. I was impressed with his craftsmanship and skills. He worked harder than his students in the sculpture classes. We became fishing buddies, good friends and along with potter Steve Sauer we built my anagama kiln (described on next page).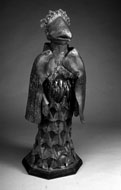 LE: What is your philosophy?
KL: Be true to yourself, be yourself and don't try to con people. I've accepted who I am and do the best I am able with whatever means are available to me.
LE: Where do you get your ideas and inspiration?
KL: I'm inspired by the natural world, animal, mineral and spiritual (in a non-religious sense). The human figure has always been a source, I especially appreciate the female form and have enjoyed figure drawing for many years as well as doing female figures in metal, stone, wood and clay.
My abstract pieces are often inspired by the shape of the stone or log, that suggests a direction to explore. I refer to it as exploiting nature. A geometric block of marble or walnut doesn't stimulate me like a free form boulder or sinuous log of hardwood.

My wife, Inez, frequently suggests an idea for a piece. "Kenny, you should do a such and such …." Sometimes I do. The stimulus for me is a deadline for a solo show. After getting started on a piece or two, the ideas come faster than I can carry them out. The sketchbook is a warehouse for these inspirations; I've found that the memory is not a good or reliable source over time. Looking back through past drawings and sketches, the better ideas still look good or fresh after twenty years or so. When I am stuck for an idea, I dig out some sketchbooks. I usually come up with a new idea, but the process gets me thinking, gives me something to bounce off of. Life drawing, too, has always been an inspiration.
I have always been ready to try a new medium, so I've worked in most of them, including glass and plastics. I keep coming back to wood, stone, clay, combining them at times with other materials. My studio is full of equipment to work with all that stuff, and I sometimes wonder if it wouldn't be smart to specialize: I'd regain some space. I have a tendency to collect material, preferably durable, with the thought that if an idea doesn't present itself immediately, it will come, so I never turn down good stuff with potential. I have to have acreage to accommodate this practice, because if a little is good, a lot is better.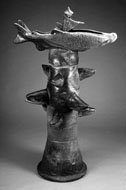 LE: Which artists influenced and inspired you?
KL: There were many, but I think David Smith in metal, Rodin in bronze and modeling, Henry Moore in wood and bronze, and Isamu Noguchi in stone. Noguchi's range of style and form was incredible.
LE: How has NWSSA influenced your work?
KL: Well, it put me in the middle of a pool of stone junkies who knew what they were doing with stone and were willing to share their knowledge. The symposia and workshops put me on the track to professional quality stone sculpture. The networking and resource-pool, as well as show opportunities, have been invaluable. The incredibly talented member artists are a privilege to know and are greatly inspiring.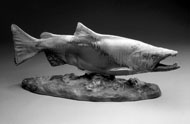 LE: Describe your art.
KL: My work is largely representational, abstract or non-objective at times when an idea and material fit together. I try to show a subject from a personal point of view, letting the medium exert limitations or enhancements as they are suggested by grain, texture, color, etc. Again, exploiting the nature of the material.
Social comment enters my work when I am concerned about an issue or a threat to our environment or human condition, such as the decline in the marine mammal populations in the '60s and '70s. Politics I leave alone.
LE: What scale do you work in?
KL: Miniature to monumental. I've worked from 2-3 inches to 18 feet in metal. Clay and stone have been limited to kiln size and logistics, but I'm working my way up scale. It's really cool to build a piece you can climb around on.

LE: How much work do you complete in a year?
KL: I've only been completing two or three stone pieces a year lately. Clay has me mired. Firing the anagama kiln 4-5 times a year demands producing a body of work; pots and sculptures every two or three months. I'll tell you, the clay is a lot easier on the body than stone, but it still takes its toll on an old gummer. Going back to stone periodically is therapeutic, at least for the soul.
LE: Tell us a little more about the anagama kiln.
KL: The anagama is a cross-tunnel kiln - an ancient design developed in Asia, used in Japan for a thousand years or more, to fire stoneware and porcelain pottery.
My kiln is an adaptation of the traditional form. The overall length is 24 feet with a 13 foot tall chimney; inside it is 17 feet long, 4 feet wide and 4 feet high, a moderate size with about 200 cubic feet of stacking space. I usually have a crew of 10-12 people, which is enough for 3 eight-hour shifts of continual wood stoking. We fire for five days and reach cone 13 in front, trying for even temperatures throughout the kiln. We burn on average six cords of dry alder and fir each firing.
The reason we woodfire is for the effect of flame flashing and natural ash glaze that enhance the forms we submit to the fire. The results can seem miraculous, but can also be quite disappointing at times. Then again, a refire can do wonders.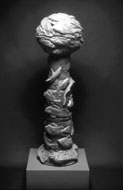 LE: What kind of stone do you prefer to work with?
KL: I like the permanence and durability of the hard stones, the polish they are capable of. Basalt and marble first. I like the softer stones, like alabaster, for color and translucency. They are nice for smaller indoor pieces and can be worked in the studio without chips flying across the room.

LE: Describe a recent stone piece.
KL: I recently installed a basalt piece at the Klahowya Secondary School in Central Kitsap. My grandson Tristan Lundemo graduated from there in June with the class of '04. The class had a limited budget for a gift to the school and thought a stone with the school logo engraved on it would be appropriate. The Facilities Coordinator working with the class looked on the web for a stone sculptor in the area came across my name and knew Tristan by that name in the class. I was asked if I could do something more than a boulder with a logo on their budget?
I found a basalt column about 71/2 feet long at NW Rock in Kingston and managed to get it home on my trailer (it weighed in at 4200lbs). After engraving the logo on a polished lense and doing some free engraving on the other facets, I decided it needed more height. Back to the dealer, found a column segment that was concave on both sides and somewhat fan shaped that only weighed 820lbs. We polished both concavities and drilled for pins.
We installed the piece with the help of Will Robinson and his large boom truck. We set it on a concrete pad with a steel plate and 24" long, 2" diameter pin. We fine-tuned it plumb with wedges and a final concrete application topped it off. It's quite a relief to see your work upright and looking OK after only seeing it lying down and only being able to roll it over. It was fun doing a sculpture that size, the first in years that I couldn't install without help. It will be interesting to see what the enterprising students at Klahowya will attempt to do to modify or embellish it. There are reports of photos already of two and three sophomores sitting on the top section.
LE: Have you received any awards or public recognition for your work?
KL: I started showing in local art shows, the state fair at Puyallup and doing the demonstrating artist at Arts and Crafts shows carving wood and welding sculptures in the late 1950's – early 60's.
My first carved wood piece was a mother and child in apple wood. A stylized female figure in Pacific yew was next, -- it was stolen out of a showcase at Olympic College. The third piece, titled "Salome," in English walnut was sold to a collector in NYC. These pieces were direct carved and were 10-20" tall. I would find burned or weathered wood on my hunting and fishing trips and make garden sculpture with them. I accumulated hardwoods to season for carving and found fruitwoods (pit fruits) checked terribly. Walnut was the best.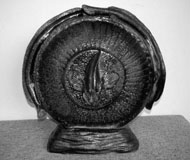 I tried carving stone at about that time, too, using marbles surplused at local monument works. Some of it was pretty nice. I did a snowy owl about life size and sold it to a local attorney who later collected several of my pieces including a life size female figure carved in a black walnut that I had rescued from being cut up for firewood.
Next I became interested in doing some metal work. Inspired by David Smith and Giacometti, I invested in a small oxyacetylene outfit and did a lot of torch-welded figures and assembled plate constructions. The smaller figures sold well. A fellow worker at the phone company would say at the end of a shift, "I suppose you're going to go home and bend up a coat hanger and sell it for 50 bucks." I spent a lot of evenings out in the studio welding, and found that the fumes would give me a buzz that wouldn't let me get to sleep.
My first commission was welded steel with bronze about 16 feet tall, for the courtyard of an apartment complex in East Bremerton in 1962. Titled "Gulls" it is still in place and looks good. I had no idea how it would weather or what its longevity might be.
I won awards at the local shows and had a solo show now and then. I tried some metal casting (lost foam) with limited success. Later I took classes at OC and built foundry equipment that worked pretty well. My largest pour was a 250 lb. Mother and Child. The bronze casting was exciting, but it's not practical to cast your own work these days, there's a number of art foundries within reach and they do it better, faster and at reasonable rates.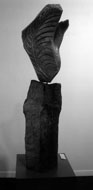 In 1975 I got the first 1 % for art sculpture commission through the Washington State Arts Commission program. I built a cor-ten steel Viking ship for the Poulsbo elementary school. It was the forward third of the ship rising up on waves. A dragon's head with horns reached about 18 feet high. That was a fun project researching the Vikings and the Scandinavian boat building technique. I built similarly, but welded instead of using spruce root ties.
Back to awards, I've received a lot over the years, mostly local shows. The latest, in 2003, a best of show at the North Kitsap Arts and Crafts Show, and 1st place in the juried sculpture show, for the ceramic piece "Riding the crest." That same piece gave me People's Choice at the Port Townsend show, too, and sold at the North Kitsap Arts and Crafts show. In June 2004 the Washington Potters Association gave me Member's Choice for a group of my work, including "Fish Finder," "Salmonella," and a porcelain salmon figure. They are all woodfired in my anagama kiln.
LE: What are your plans for the future?
KL: Well, I'll tell ya --- I will probably just keep on making art, usually not as much as I think I can but some, anyway. I always have to produce some clay pieces for the woodfire kiln four or five times a year. I am planning to build a new kiln in the near future that will allow firing taller figures maybe six feet or so in height with a second smaller chamber for salt or soda glazes. We will be able to fire this kiln with wood or gas and firings of shorter duration. Some stone I've had seasoning here for a while needs attention and I plan on doing some garden figures, maybe combining some stone with metal. I've been trying to do some printmaking the last few winters, and maybe this will be the season it will happen. I will enter two or three shows next year and see what happens. You never know what turns those judges on. So much to do, so little time.