The interview took place at Art City Studios in Ventura, California on October 11, 2000 with Chris Provenzano.
Chris Provenzano is a resident artist at Art City Studios (the mayor of which is Paul Lindhardt - the stone vendor everyone knows from Camp Brotherhood), in Ventura, California. Ventura is a small town by Southern California standards and has a closely-knit artists' community. Chris lives near the studio, right on the Pacific Ocean in Muscle Shoals. Originally from San Francisco, Chris was raised by very artistic parents: her father is a musician and her mother is an artist.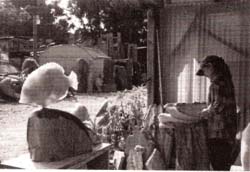 SS: Chris, tell me a little about you and your introduction to art, and art as a profession.
CP: I've always been involved in art, particularly because of my family's influences. My grandmother and my mother are painters. My father is a musician. I was always in a very artistic and creative environment. There were always art materials available for me. I fir st started studying art in school about 20 years ago, first at California State University at Northridge then at the University of California, Santa Barbara. I received a degree in Art Studio from UCSB. I came to Art City 10 years ago to buy stone and never left. I have studied with Joanne Duby for many years and Paul Lindhardt has also been a very big influence on me (especially with basing). Paul is still a major influence on me and the way I work; he encourages me to push myself. Both Paul and Joanne have been very generous with their time and knowledge, and I hope that it is reflected in my work. I've been carving for 10 years now. I maintain a studio at Art City and also work at a local company, Vic's Novelty, as a designer in product development.
SS: What kind of products do you develop and does it involve artistic expression?
CP: Yes, my par t-time job is very creative since I am making clay original models to be reproduced in vinyl and latex for mass production. The products I make are sold at Disneyland, among other places.
SS: Does this job leave time for carving?
CP: Yes, I carve four days a week.
SS: What can you tell me about yourstyle of carving, and who were your major influences?
CP: I'll start with some of the major influences, those whose style I like very much. There is Zuniga, Picasso — especially his paintings — and Brancusi. I also like Botero's style. My carving tends to be stylized realism. That would be, for instance, taking a dog and accentuating some of its features to the almost fanciful — augmenting the features to a point of making it almost cartoonistic. I like to impart a sense of humor in my work. In the fish I have recently completed (the two alabaster fish in the photo on page 7), I overaccentuated the mouths. I like to pattern and accentuate characteristics that may not be there, but go well with the piece. It worked well when carving these fish and brought more life to them. I like the design aspects of the work. I think that the pattern, the line, play an important part.
SS: When carving, are you creating for the public, what you think they will like, or is there something inside you that drives your vision?
CP: I do the work primarily for myself. I fall in love with the stone - it always happens this way. It's like playing with nature and history at the same time. I get to import my own feelings into history. I feel the stone is a living creature that was alive at one point, in whatever form, and then I get to inter act with it. There's always a surprise, a mystery, with each stone. I never know where the rock will break and where it will go. I follow the stone. I reveal new patterns as I carve and I try to use the grain and inherent pattern of the stone in my work. I try very hard to compliment the pattern as it presents itself. It makes my work have more substance and makes it easier for the viewer to draw meaning from the piece.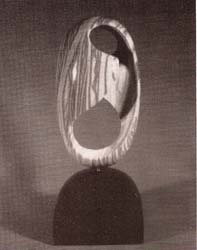 SS: Why is art important to you?
CP: Because I really need to be expressive in an artistic way. It's the best place for me to be because I'm working by myself, having a dialog with the rock. The design, the form, it provides answers for me.
SS: What tools do you use in your work? Do you have a preference?
CP: Now that I'm working in marble more I'm using the skill saw (a 7" diamond blade) a great deal. I also use my pneumatic hammers much of the time. I like the texturing tools. The contrast of texture next to gloss really augments a piece. But I mostly prefer to riff le, it gives me the greatest joy. I think that sorrows, emotional traumas in your life, are a good vehicle for producing energy. Using the hand tools gets me in immediate touch with the stone and the emotional process. This really is why I stopped painting and why I devote my time to stone. The physicality of the work pleases me, it's an outlet that I need. I feel satisfied with the work I am doing and the effect it has on me.
SS: Where would I go to see your work, if I weren't here at Art City actually watching you create it?
CP: I show my work in Ojai, at the Art In the Park event, and the Art Walk in Santa Barbara. I was selected to show my work in the La Quinta, California show two years ago. I am also represented in a gallery in Car penteria, California and Art City Studios Gallery.
SS: You also recently won an award for one of your pieces, didn't you?
CP: Yes, it was a piece that I entered last year at the Santa Barbara Fine Art Show and I won first place there in a juried competition. It was called "Madam Chair" and was made of Coyama brown alabaster and orange alabaster. This same piece recently won fir st place in the Professional Sculpture class at the Ventura County Fair.
SS: Congratulations. That is quite an accomplishment for any sculptor. How do you sell your work? Have you found it difficult?
CP: I mostly sell through the shows I'm entered in, and to people who visit the Art City Studios and see me working or stroll through the gallery and see my work. I don't actively market my work. It's not something I've put a lot of time in on yet.
SS: When you are carving do you prefer to finish a piece before you start on another, or do you work on multiple pieces at once?
CP: Usually I am working on at least two different pieces at any given time, at least until I get hung up on one of them. It takes time to fall in love with a piece. When I do, then I work it to completion.
SS: Where does your inspiration come from, what determines what you are going to carve, and how?
CP: Well, it var ies. With "Madam Chair" the objective was as simple as trying to save as much of the orange alabaster as I could! It was a very spontaneous piece. I was on the Santa Monica Landmarks Commission and there was a lady who was the chair of the commission who inspired me. I think her attitude had an affect on me and it really inspired me and came through in the piece.
SS: What do you have planned for the future?
CP: "Princess Nefarious", the piece I am beginning now, is black Belgian marble from Mexico. She's going to have great breasts! I'm planning on carving her with some very realistic as well as abstract parts.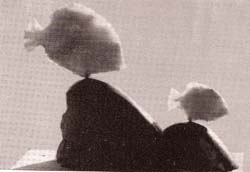 SS: When you start a piece like "Princess Nefarious", do you prefer to direct carve from the vision that you have in your head or do you make a maquette?
CP: Sometimes, as with this piece, I have a drawing I am relying on. I actually did the drawing of "Princess Nefarious" after I started. Other times I use a maquette. I have to use a maquette for a complicated, abstract carving to work out the design.
SS: How has membership in NWSSA affected your work?
CP: I've been to Camp Brotherhood twice, first two years ago and then again this past summer. I loved the Hon Lee lecture and slide presentation. He's very inspiring to me. I also enjoyed seeing the monumental work being done there. I have made a goal from what I saw at Camp Brotherhood to work on larger pieces, particularly a large piece of travertine I'm now contemplating. The camaraderie I felt at Camp Brotherhood nourished the artist in me, I really felt like these are my brothers and sisters. After all, we all love rock!
SS: Lastly, Chris, where do you think you'll be in 10 years?
CP: At Art City! Exploring new stones that Paul brings in. Carving and exploring the freedom that I find so satisfying when I carve.