Autoclaved Aerated Cement Is Coming To Silver Falls
by Penelope Crittenden
Carole Murphy, President of Pacific Northwest Sculptors, will be giving a workshop on Sculpting Autoclaved Aerated Cement at the Silver Falls Symposium Aug 27-Sept 1, 2011.
Carole was more than generous with her time on the phone telling me a little more about the medium and its potential.
Here are some of the things I learned:
Having come from a background of working with various media, including bronze, glass and poured cement, Carole was looking for a lighter medium and spent several months researching different products. She came upon Autoclaved Aerated Cement and liked it for its green qualities (it weighs about 1/5th as much as cement cutting down on transportation costs) as well as its ease of carving.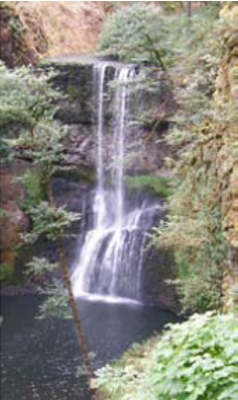 Not a new medium, having been in use in Europe as a building material since 1910, AAC is enjoying a renaissance as a sculpture medium. It responds well to hand tools of many kinds and can also be worked with powered tools, but they really aren't necessary and there is a more intimate connection with the media without them. AAC is worked best wet as it keeps the dust down so that it can be sculpted without the use of a respirator in a well ventilated area. Several pieces can be put together with a bonding agent, creating the possibility of large sculptures. At $15 dollars for a 24" X 12" X 8" block, it is an affordable material, perfect for maquettes or finished pieces. Some blocks will be for sale at the symposium.
This light weight material in its natural form is quite porous. It can be left that way for a pumice like effect or it can be finished in a variety of ways using metalizing guns that actually spray metal onto the piece, or by using a cement slurry in various applications for a variety of textures. It can be sanded and sealed, dyed and patinized. Molds can be created from it, thereby allowing it to be cast in bronze or other materials. It is one versatile medium.
To learn more about how to work with this interesting material and have hands-on time with it, be sure to look in on Carole's workshop at Silver Falls in September. Carole will be showing slides of her work along with some of her students' works in a presentation in the first part of the symposium.
Contact Carole at 503-235-7233 or
This email address is being protected from spambots. You need JavaScript enabled to view it.
See her work on her website:
www.CaroleMurphy.com
See the work of her students at:
www.CaroleMurphy.com/studentgallery.htm
---
About PNWSPacific Northwest Sculptors
is an organization comprised of sculptors of all media in the NW and those in associated fields. It puts on shows in galleries, museums and art centers and it offers workshops, lectures and art events. Meetings are held monthly in each other's studios offering a chance to exchange ideas and brainstorm with fellow sculptors. Many times they include speakers, demonstrations, lectures and always a studio tour. Member benefits also include exhibition opportunities, exposure on the PNWS online Gallery, discounts on some sculpture supplies, a really good call to artists specific to sculptors, but most importantly the opportunity to meet with other sculptors.
Check out their website!
www.pnwsculptors.org