by Candyce Garrett

syn.er.gy


noun
The interaction or cooperation of 2 or more organizations, substances, or other agents to produce a combined effect greater than the sum of their separate effects.

Synergy is the interaction of softness in curves and circles with a sharp, angular design piercing through, and red and black granites to emphasize the boldness of the design. My fascination with attempting to soften granite led me to designing something everyone could identify and interpret in their own way.

Once I had a design in mind, I drilled and broke a 6' x 8 1/2" square African black granite slab with pins and wedges into an irregular circle. After finding the center and drawing circles to represent a target, I cut out a 14" diameter hole with my hydraulic chain saw. I then plunged the tip of the saw 2 1/2" around the inside circle and 3 1/2" deep on the outside circle. In order to soften the look, I used a diamond cup wheel to grind out the saw marks on the inner circle, then polished up to 3000 grit. I also polished the raised circles for contrast..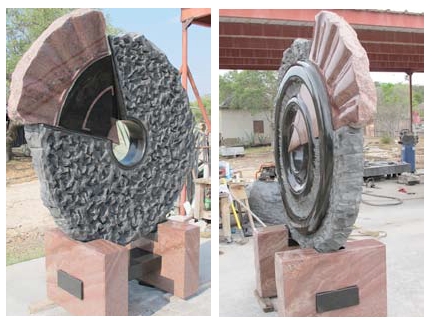 The red arrow, 8" thick, was cut with the chainsaw, then shaped with a 4 1/2"grinder and 4 1/2" diamond blade. The point of the arrow and the outside fan shape of the arrow were recessed, pinned and glued 1" into the black granite. The 2 pieces within the target were cut and shaped to fit between the raised areas to give the illusion the arrow is piercing through the black granite target.