Meet Craig Brietbach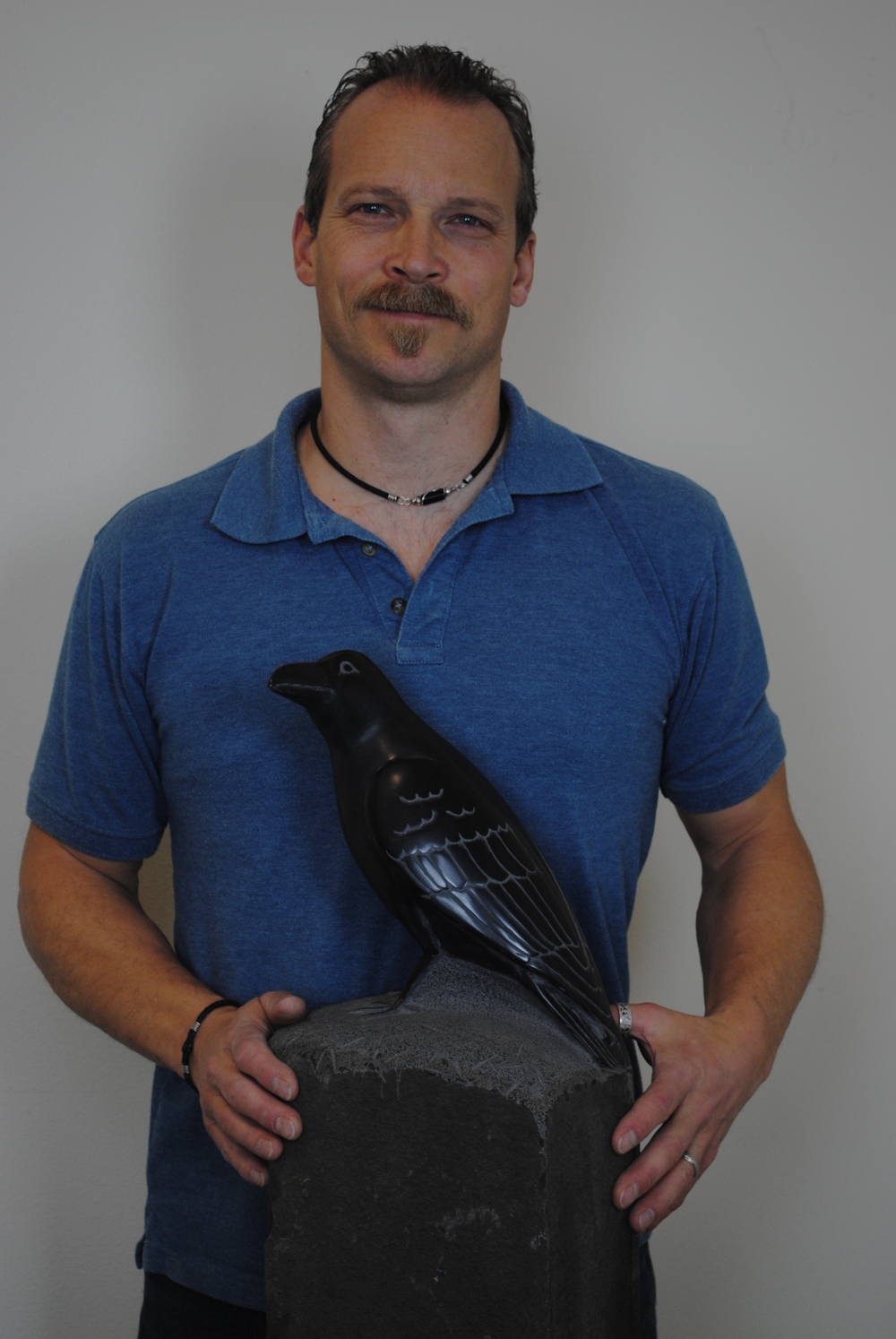 Craig is one of our most recent new members. But, as you will see, he has been carving for a few years and has several public art pieces displayed in the North West. We hope you enjoy this view of his work. You can view more of his work at: craigbreitbach.com.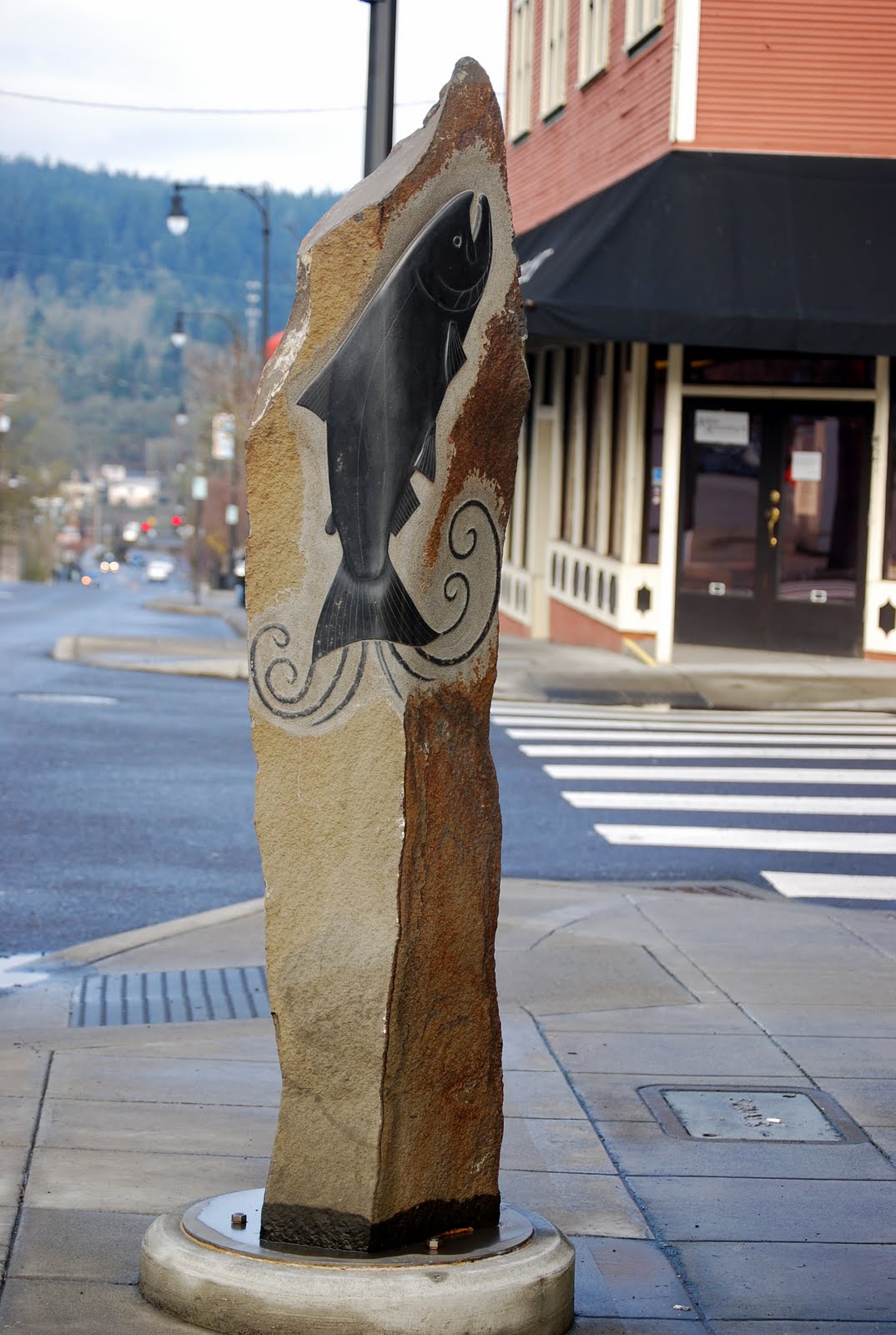 What is your life history as it relates to being an artist?
Born and raised in Port Angeles on the Olympic Peninsula, I grew up with a huge appreciation for the outdoors; my dad took us fishing, hunting, hiking, and camping often. He also taught me to whittle at an early age and both my parents dallied with art, so I took what art classes I could in high school.
I was always good with my hands and mechanical things as well, so my first career was actually in aviation mechanics, first for a small commuter airline out of Port Angeles and then shortly thereafter for Alaska Airlines in Seattle. But I never lost my passion for creating art. When I stumbled across a class at Pratt Fine Art in stone sculpting in 2000, I realized I had a knack for it and was hooked immediately. Our house began acquiring rocks of all shapes and sizes.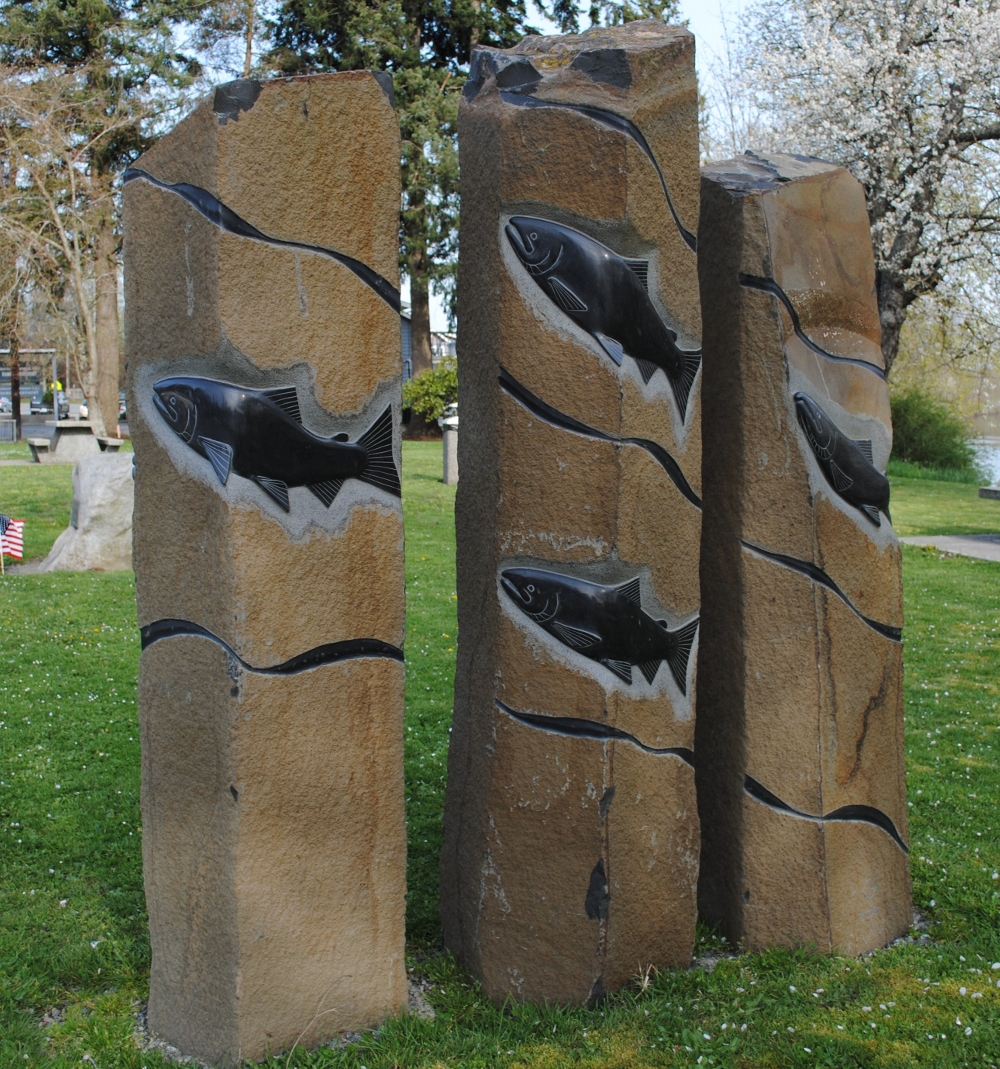 How do you get your ideas?
My art is mostly influenced by nature. I began by focusing on salmon in great, realistic detail, but now I carve many other wildlife forms.
Some of my best pieces evolved from the shape or color of the stone from which they started. Or more often I have an idea and wait until I find the ideal stone for it.
How do you develop them (by direct carving, drawing, modeling, etc.)?
I mostly sketch a carving before I start. Sometimes I make clay models to make sure the design will fit within the chosen stone. I research a lot of pictures of wildlife to try and include realistic details.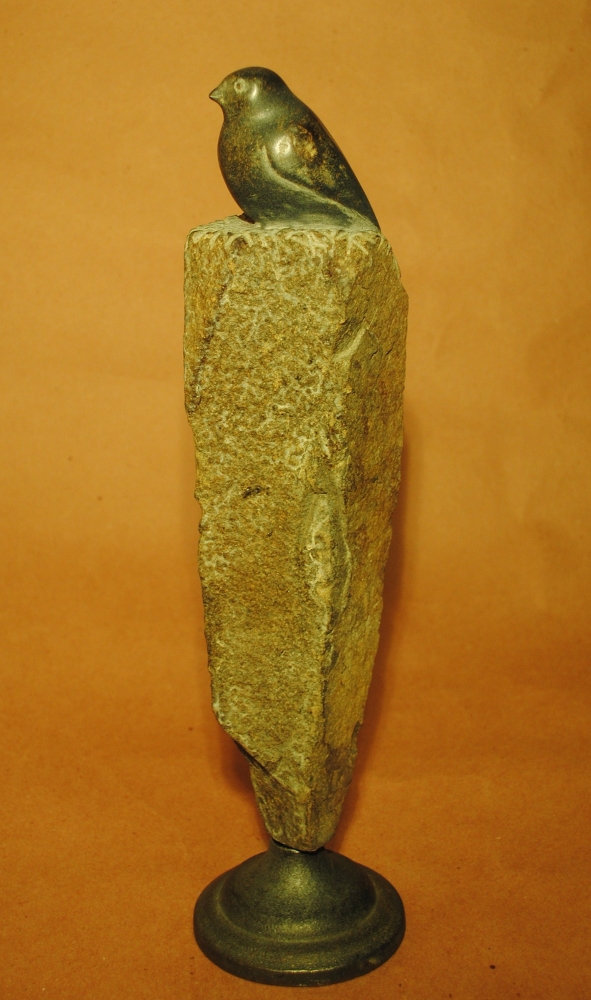 Describe a recent piece or two.
Recently I've been intrigued by birds. I came across some basalt from the Columbia Gorge which has a wonderful bronze color when polished. I finished a hawk in that stone which has become one of my favorite sculptures, and am working on a series of bird sculptures in the same stone.
What do you like about them?
The contrast of the bronze patina of the polished stone to its rough natural surface is wonderful. The accidental cut marks from a diamond blade led to a nest pattern on the base that I really like. I also made a stand for the base out of metal that is shaped like a talon and makes it more unique.
Do you work part or full time as an artist?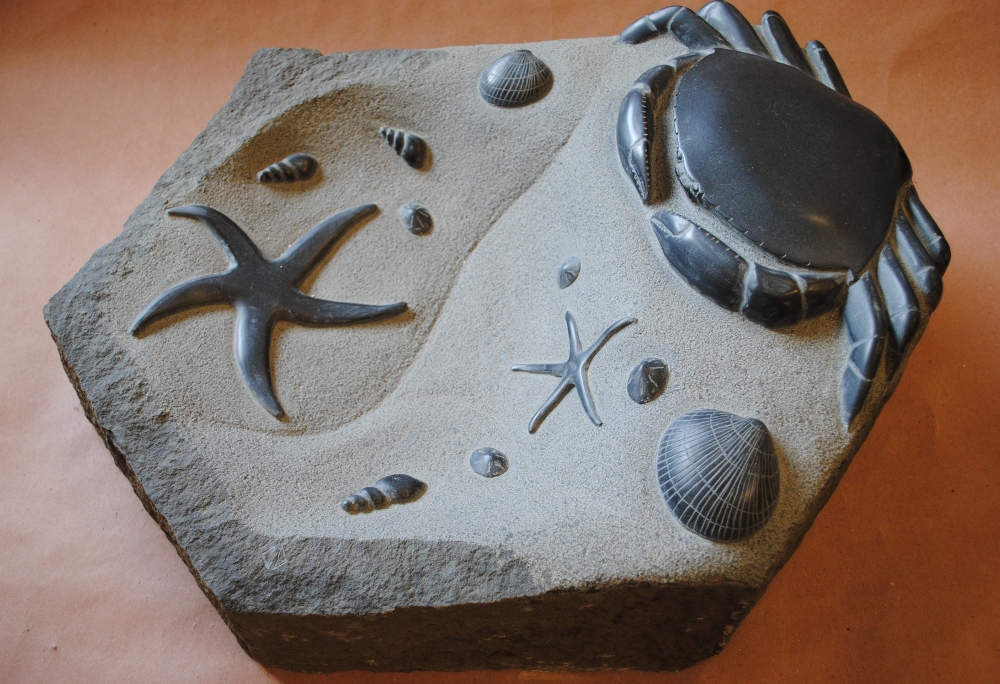 When the airlines were laying people off en masse, I jumped at the chance to take an early retirement and pursue my art full-time. It's hard to believe I've been a full-time artist (and dad) for seven years! I'm thankful that I've had that opportunity.
What stones do you prefer?
I love Washington's columnar basalt. It comes in all sizes and shapes, just ready for a sculpture to be born out of it, and the contrast between natural and polished basalt is striking. I've also worked in brucite, marble, alabaster, granite, and soapstone, but all my larger sculptures are in basalt.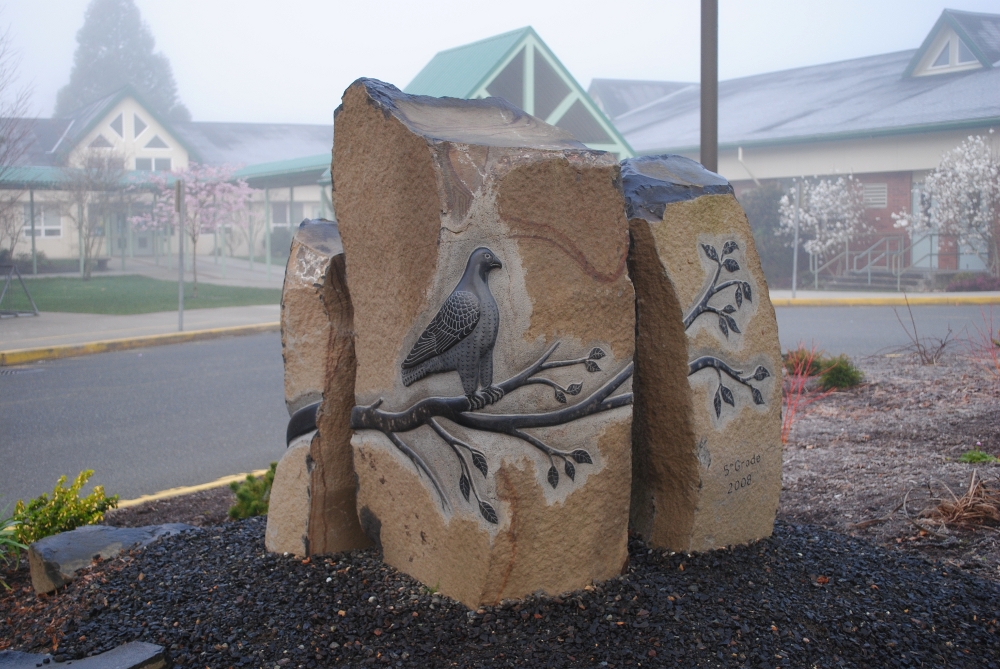 What is your working process – do you do one piece at a time or do you have several in process at once?
I start new pieces all the time. I like to start one while the idea is fresh in my mind, even if I won't get around to finishing it until later. Right now I have at least five pieces in the works.
What tools do you use?
Being a mechanic and an artist, I've always had an addiction for tools (the right tool for the right job). I use all kinds of electric and pneumatic grinders, a core drill, diamond saws, water polishers, as well as more traditional hand tools for the finer details. I look forward to someday buying a hydraulic driven diamond chainsaw and ring saw.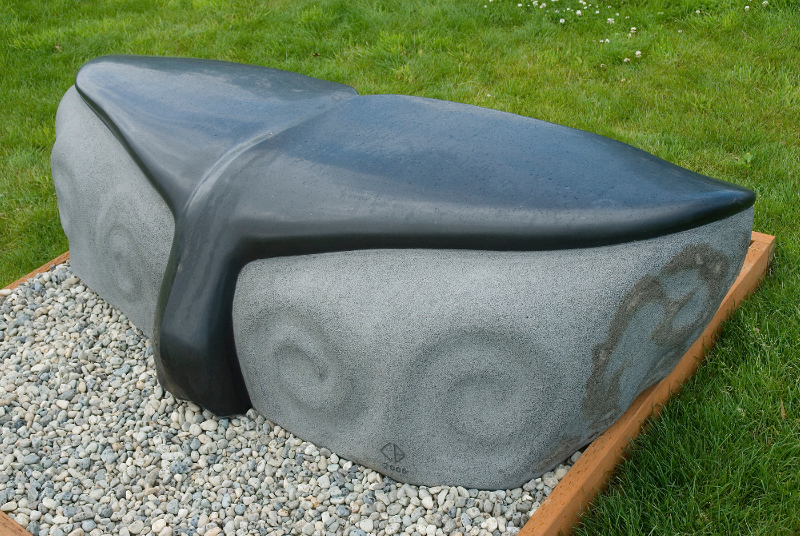 Where can people see your work?
Several Northwest cities have purchased my sculptures for public display, including Oregon City, Puyallup, Issaquah, and Fall City. One of my favorite pieces, Whale of a Bench, is currently on loan to the Westcott Bay Reserve sculpture park on San Juan Island. I often display my smaller pieces at Up Front gallery in Issaquah. You can also visit my studio or website to see my latest work.
Where do you work?
When we built our house in Fall City six years ago, we designed a studio for me, so I have a very short commute! I have different work areas for wood, metal, and stone, including a curtained area for the dirtiest work, although I still have dust everywhere. But I also do a lot of my stone carving outside where I have a warm water faucet (and a gantry crane for the heavy stuff).
What are you looking forward to (goals, commissions, new ideas, flights of fancy)?
I have some big ideas for groupings of large-scale sculptures for which I hope to find the right commission or callout. These groupings can tell more of a story than a single sculpture can.
What have been your satisfactions in your life as an artist?
When I finish a piece that looks as good as or better than the idea I had in my head, I am content. What makes me even happier is having others enjoy it. I am really proud to have a few large pieces in my own town; I drive by them daily and am grateful that they are in a fine location on the Snoqualmie River.