Meet Tracy Powell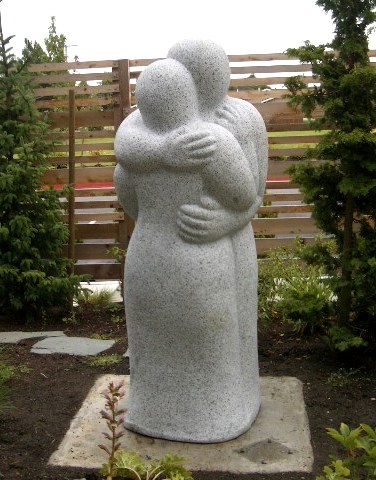 Q: So what have been up to?
A: Carving and looking for answers. Fortunately for me, I belong to this wonderful tribe, NWSSA, who have taught me everything I may know about stone sculpture, and freely given friendship, inspiration, and challenge. On top of that,
my wonderful wife Maralyne has always supported me through good times and bad, and along with our two children and three grandchildren, shown me why life is so worth living.
Q: What kind of stone carving do you like to do?
A: As much as I can in marble, limestone, granite and some softer stones. Big pieces are more fun when I get the chance, but it is all good. I've carved people, animals, plants, flowers, fish, birds, flames and waves, dancers, musicians, dragons, selkies, centaurs, and mermaids and a few objects. I really enjoy carving pieces that tell a story or sing a song.
Q: How did you get started carving?
A: The whittling began in Cub Scouts. I wanted to see what could come out of that great tool, the pocket knife. Beginning with simple objects like forks and spoons, then neckerchief slides, toy boats, cars, and planes, canoe paddles, and signs. I guess I am still whittling, but the knife has sprouted some new blades.
Q: What kind of tools do you use?
A: It depends on the job, the material, design and size. For small things in soft stones, and even large limestone work, hand tools are definitely my choice. It is simpler and more intimate. I also use angle grinders and diamond blades: sintered for granite, brazed for marble and I use air hammers as well, with chisels for marble, and bush tools for granite. I polish as little as possible, with sandpaper on soft stones, diamond discs on the hard rocks when necessary. Each task calls for the appropriate equipment. If you do this stuff long enough, you build up a pretty good toolkit.
Q: What's your workspace like?
A: Most of the time, I carve outside, under a canopy. I prefer to be in the open, and do that when weather allows - for the light. Sunlight and shadow are important for seeing forms, but when it's raining, you gotta have cover. As the seasons roll through, I put on more layers of coveralls and sweatshirts then peel them off.
Q: Shall we let the sculptures say the rest?
A: OK. Here are some pictures and thanks for inviting me to show off. I am grateful to everyone I have met in NWSSA, I have been inspired by and learned from you all, and hope to see you soon in the circle.
Peace and Love