An interview with Woody Morris regarding his Pennsylvania bluestone fountain project for a Capitol Hill condominium complex.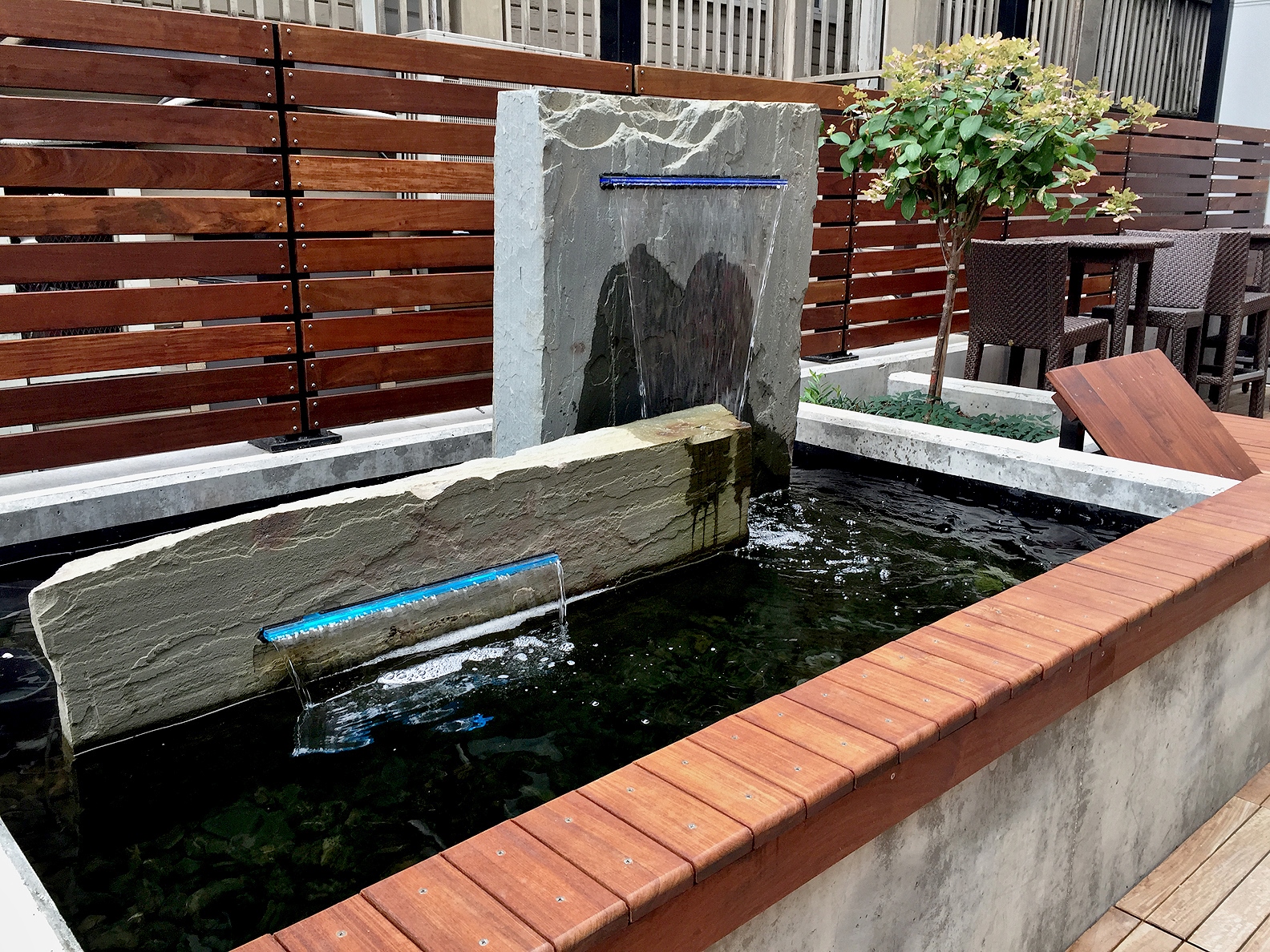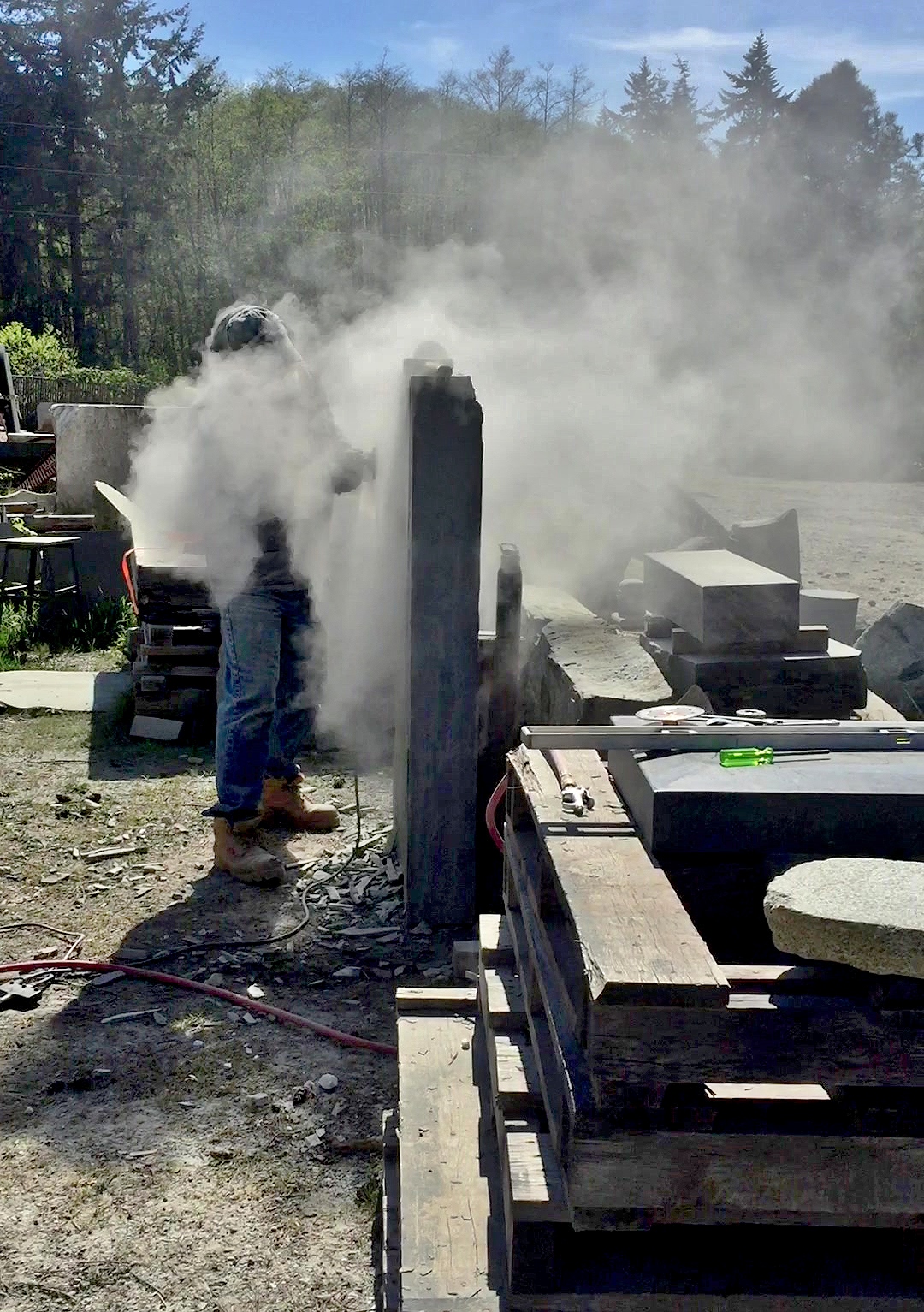 Q. Hi, Woody. We understand you are a stone sculptor as well as CEO of Waterscapes LLC. Which came first?
A. I started building water features in 1995 when I was in charge of Aqua Quips in-ground swimming pool division. We built custom liner swimming pools. A couple of our projects were Street of Dreams (which won a gold award from National Pool and Spa International) and an indoor swimming pool for Dale Chihuly. I formed Waterscapes LLC in 1997.


Q. When did you get into stone sculpture?
A. A good friend of mine, Richard Hestekind, talked me into attending a stone-carving symposium held at Camp Brotherhood in Mt. Vernon, in 2000. I spent 9 days there and was hooked. So when I'm not working with water features, I'm carving.

Q. What does Waterscapes specialize in?
A. We specialize in custom designed and built water features for indoor and outdoor installations. Most of our installations are waterfalls, streams, Koi ponds, indoor and outdoor stone, metal and glass waterwalls.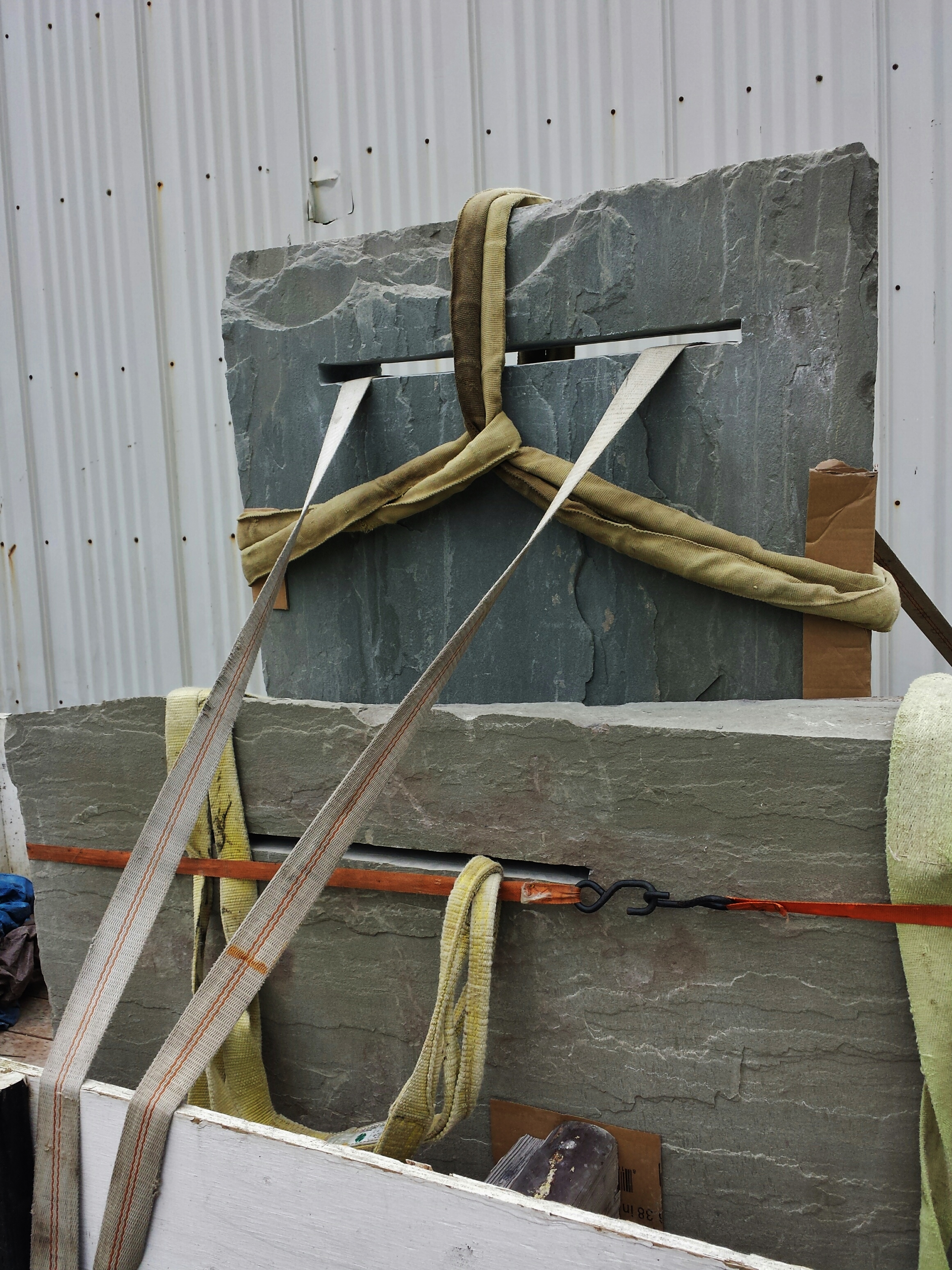 Q. You recently did a large stone water feature for a condominium project in the Capitol Hill neighborhood of Seattle. How did you get that project?
A. I was contacted by Mill Creek Residential Construction Corporation. They had heard of me by word of mouth.

Q. How did you decide what rock to use?
A. Their landscape designer met me at Marenakos Rock Center in Issaquah, Washington. We spent a few hours searching the entire facility for the perfect stones. We chose two Pennsylvania Bluestone slabs. One measured 3' x 12" x 6' and weighed about 1000 pounds. The other stone measured 5' x 12" x 4' and weighed about 1100 pounds.

Q. Where did you fabricate the stones?
A. We took them to our Studio located on Whidbey Island.

Q. How big is your studio?
A. We have a 7000 sq. foot studio shared by12 artists… FreelandArtStudios.com.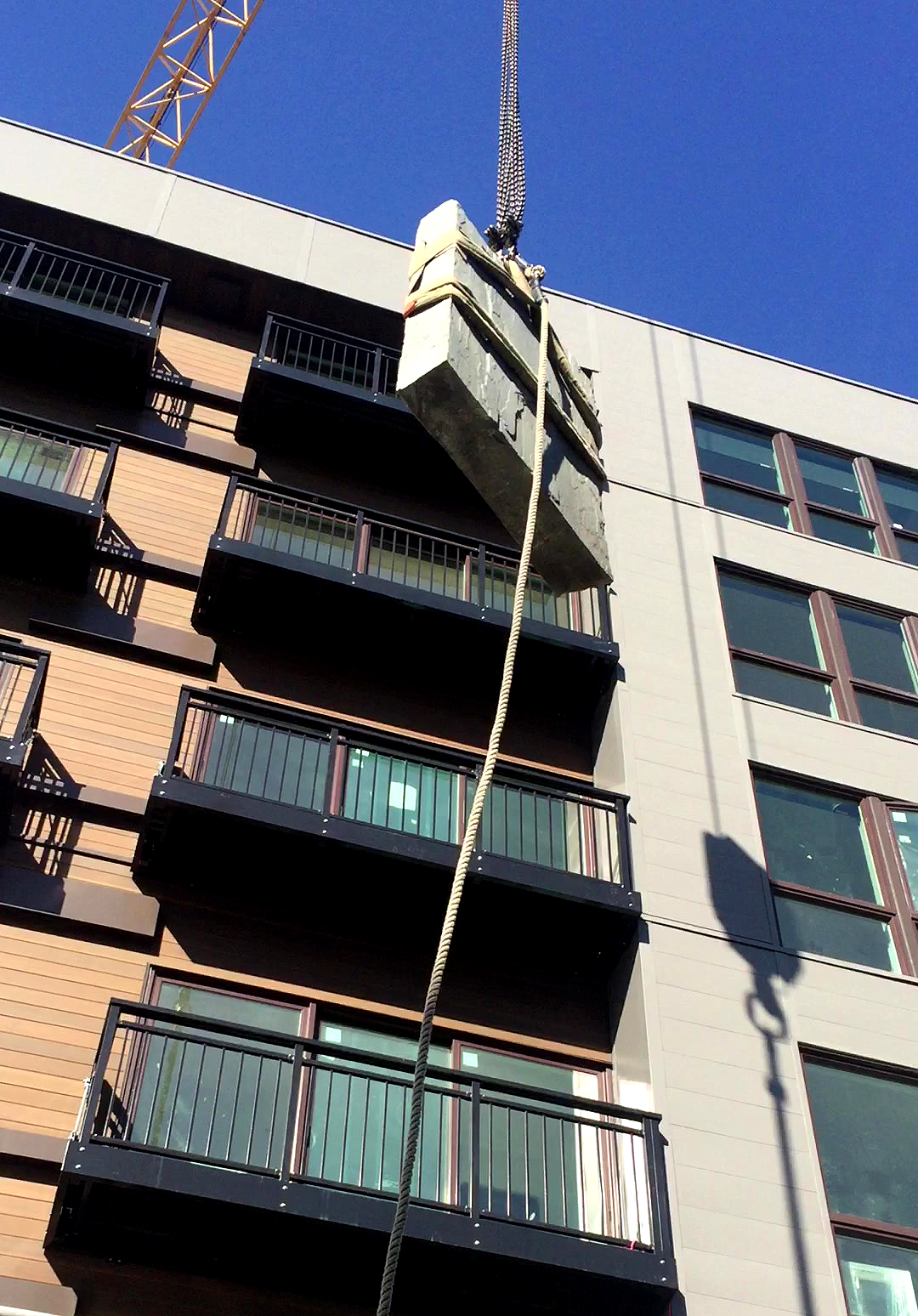 Q. What did you have to do to the stones before you took them back and installed them in Seattle?
A. I set them up as they would be installed and took exact measurements for the two waterfall weirs. After they were measured and marked I used a diamond water-fed gas-powered hand held chain saw to plunge cut the slots through the stones. I ground out the back of each stone to hold the lighted weir mechanisms. Once that was completed I used a torch to flame the surface of the stones to remove marks or flaws. When this process was complete I test-fit the weirs with running water.


Q. How did the install go?
A. We transported the two stones to the project site on the corner of 11th and E. Pike St. about a mile east of the Pike Place Market. There was a very large building crane on site for lifting the stones up and over the nine-story building and lowering them down into the ground floor central courtyard. We arrived on site with the trailer, parked in front of the building and the rigger hooked up the first stone and off it went. It took about 45 seconds in flight and over the building. Then the next. I wish all installs were that easy. Once the stones were over the building they were set in place in a concrete basin.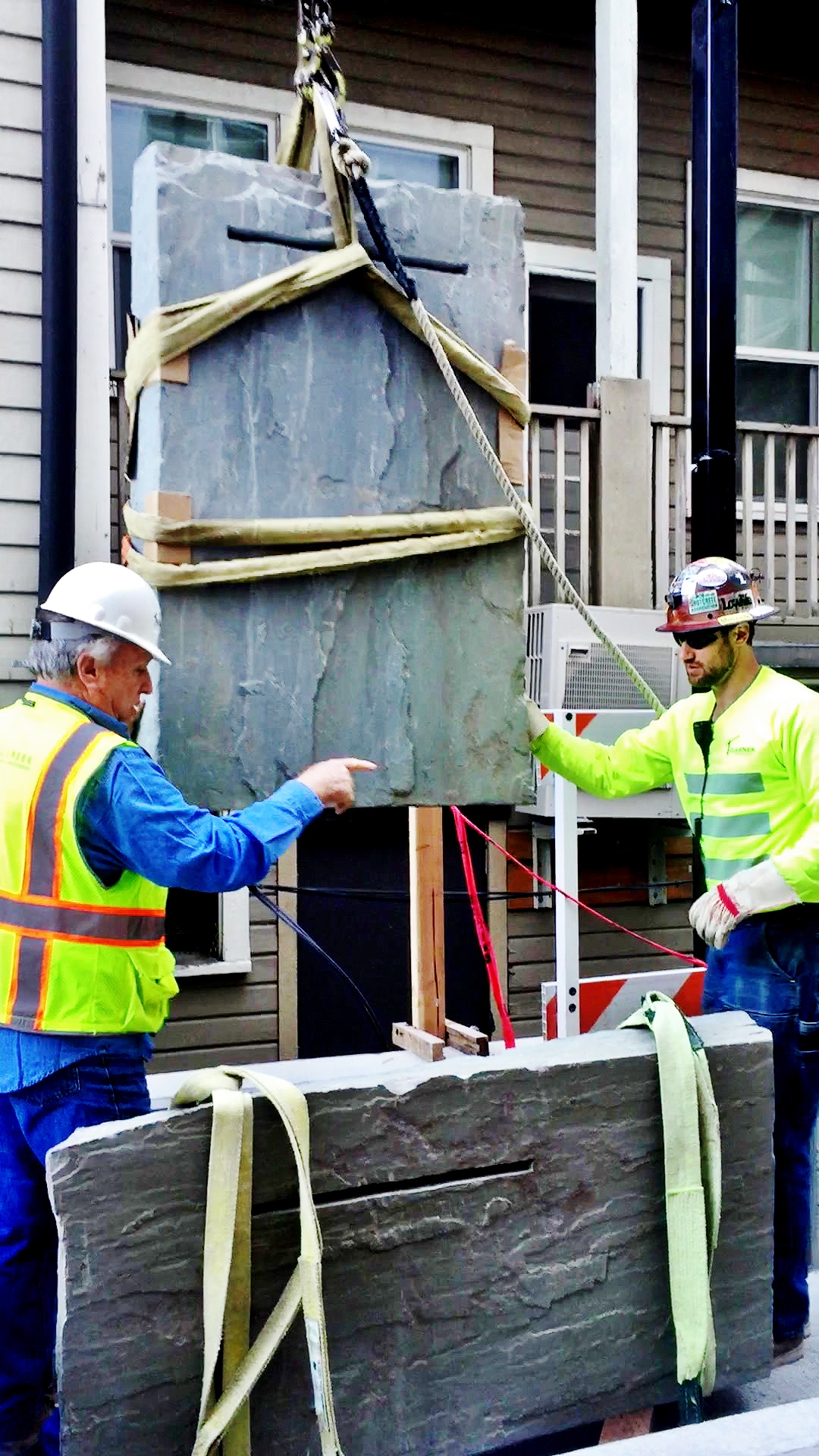 Q. How were they secured?
A. The stones were bolted into the concrete.
Q. How was the plumbing completed?
A. We used a Filtrific storage tank, containing the pump, overflow and automatic fill.
Q. How do the waterfall weirs work?
A. Each 24" wide weir has a 1/8" slot that the water flows through creating the waterfall. In addition, there are colored LED lights that color the water from the inside to create a fantastic light show at night.

Q. How is the water kept clean?
A. We installed a large in-line UV light. We check the UV light occasionally and drain and clean the water feature once a year.

SNW. Congratulations, Woody, on the design, making and installation of this calming and peaceful water feature smack dab in the middle of the Seattle scene. And thanks for sharing it with all of us who love stone.
Woody Morris: You bet. Happy to do it.