From May 15 to June 9, 2001, five NWSSA members, Sudha Achar, Janet Brown, Carmen Chacon, Marge Hunt and Bill Laprade set off on an adventure with no guarantees, except friendships that had been gained at Northwest Stone Sculptors events over the past 10 years.  So, off they went to Italy to find and carve the world's best alabaster in Tuscany and to see the world, in general.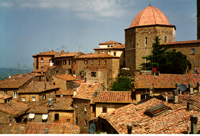 How the Adventure Began
Talking to Pat Sekor last year, she mentioned to me that when she and Jim were in Italy they visited Volterra, a town where alabaster items were everywhere and alabaster laboratorio (studios) were one of the main industries. I love carving alabaster and immediately got on the net searching for a studio similar to ones in Pietrasanta.  I found none.  However, I did find a restored farmhouse close to the town of Volterra that had three flats, and the retired owner had a few machines we could possibly use. I was sure I knew four sculptors who would go along too, so I booked it for three weeks.
It was one of the best experiences I have had. The five of us blended beautifully.  We carved, we toured, we ate great food, we drank good wine. We began as friendly acquaintances and ended as great friends. It was an adventure I recommend to everyone!
An Italian Sculpture Adventure by Bill Laprade
The first two days were spent in Nice, France, to view the art in the many museums there and see the extraordinary scenery.  In the short time, it was possible to see the Museum of Contemporary Art and the Matisse Museum in Nice, the Picasso Museum in neighboring Antibes, and a beautifully landscaped sculpture park centered about the Princess Grace Garden in Monte Carlo.  The obligatory stops at Pietrasanta marble studios and tool shops and the marble mines at Carrara were next.  This got us into the stone mood for things to come.  We then proceeded deeper into Tuscany.
Our destination, Volterra, is an ancient hill town; at one time one of the centers of the Etruscan culture.  It has a commanding position above the hilly Tuscan landscape.  Its museums of Etruscan art and archaeological ruins are renowned, and its production of alabaster art and other objects has flourished for centuries.  The local mines have pretty much been exhausted, but the concentration of artists and artisans is still there.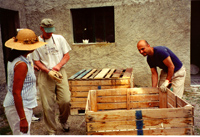 Arriving on a weekend and anxious to find stone and carve, we toured a commercial studio and purchased a small quantity of stone at a relatively high price.  The next day, we found another studio across the street from our farmhouse, where the artisan agreed to sell us a small part of this stockpile for a lower price than the first studio.  These purchases quenched our thirst for carving, but we had still not found the mother lode.
Through the continuing efforts of our host, Francesco Rossi, a geologist by profession, we finally found a stone distributor one kilometer down the road from our abode.  The piles of boulders and stacked sawn blocks in the stoneyard were enough to ignite ear-to-ear grins on five faces and start a feeding frenzy.  The variety was incredible: transparent (transparente), white (bianco), gray (grigio), transparent with white spots (bardiglio) and brown (marone) were just what we had come here for.  It was not long before we had struck a deal for about 25 cents per pound for most of the stone; another nickel or dime for custom cuts or the exotic colors.  We purchased 2400 pounds before we were finished, and had it delivered to the farmhouse.
Now we faced the problem of getting the raw stone and the partially completed sculptures back to Seattle.  The shipping routine is well established between Pietrasanta and Seattle, but not from Volterra.  After three inquiries by Francesco Rossi, he found good prices for shipping through Livorno, on the western Italian coast.  The stoneyard contributed used wooden crates for free, and with a few hours of work, we rendered them seaworthy.  The price of the stone, including the purchase price, shipping, customs, brokerage fees, and delivery came to about 60 to 70 cents per pound.
All five of us brought hand tools with us, and that proved necessary at first, but we were encouraged by the retired artisan who owned the farmhouse, Ricardo Rossi, to make good use of his machines: a heavy-duty band saw, a 3-foot diameter sanding wheel, and a drill press.  When it came to roughing out pieces, these machines were invaluable.  Wow, are we spoiled!
We worked two to four days at a time on our sculpture-related activities: gathering, visiting local studios and museums, and carving.  Other days, we visited cities and sculpture parks within a couple hours of Volterra, such as Firenze (Florence), Pisa, Siena, San Gimignano and Cinque Terra.  The blend of touring, art history, stone carving, eating wonderful food, and drinking great red wine with friends, was a magnificent adventure.
A Sojourn in Tuscany by Sudha Achar
Time's passage since an earlier visit has had a profound effect on my life, reflected in how I was to experience Tuscany in May of 2001. I had a heightened awareness of the pre-Roman, Etruscan culture, a liberal, egalitarian society which offered equal rights to all men and women. Etruscans were highly sophisticated sculptors in stone as well as metal. Their ability to abstract and their aesthetic sense had a substantial influence on me. To live and work in hill town Volterra, the Etruscan stronghold and the center of their sculptural activity and to carve stone from their quarries, created an extraordinary excitement for me. An added attraction was a large Museum of Etruscan Art located inside the fort of Volterra.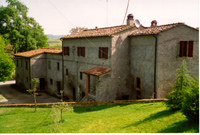 Home in Toricelli for Marge, Janet, Carmen, Bill and me, three miles down a hill from the fort of Volterra, was a fourteenth century farm house in continuous occupancy by the family of our host, Francesco Rossi. It was built adjacent to a water wheel, originally established by the Etruscans to mill grain in second century before Christ. Large ruins of a stone wall, a part of this mill, is incorporated into the landscape design of the present farm house. During the day, on the terrace, we savored such culinary delights as proscuitto and melon and peasant bread drizzled with local olive oil and triple strength goat cheese as we sipped cappuccino. We gazed at fervent green grasses, miles of vineyards, wheat fields and ancient olive tree orchards dotted with stucco farmhouses in many shades of orange. At night, millions of fireflies looking for a mate and a meal, transformed darkness to a magical land, completely oblivious of their extraordinary gift.
On our many sojourns, we wandered in Michelangelo's footsteps in the marble mountains of Carrara and sculpture studios of Pietrasante. We went to wine areas and festivals such as Montepulciano with their incredible food and wine events. We were able to seek out several exceptional contemporary sculpture and installation exhibits with unusual content and execution.  Each trip left us feeling as though we had undergone another unbelievable and inexplicable religious experience.
Our destination on our first visit to Florence was the Museum of Florentine Accademia, the "Place of David". Just as more than a million visitors a year who wait to see David, we waited in line on the Via Ricasoli. Each minute of waiting added an extra degree of excitement. When we finally entered the great room, which is arranged more like a church, there is David, an unforgettable visual and emotional thunderbolt. David stands towering on a plinth. He is bathed in an ethereal light from a skylight and is gazing into infinity in exotic isolation. The titanic "Prisoners" provide the guard of honor in fearful, dignified splendor as though waiting for their ultimate liberation. David is, to me, the most beautiful sculpture in the western world. Contemplating David and the Prisoners blinded me to the rest of the museum for the day. I came away inspired and humbled.
It was the first visit to Italy for Bill and Carmen and my second, but the three of us all suffered from Stendhal syndrome. Marge and Janet seemed to cope with over-stimulation better than we did. It was a pleasure to have been with all of them. They enriched my life and made this trip to molto bella Tuscany, especially memorable.
Post script: To my absolute delight, as I write this article, my stones, including the fabulous "Alabastro Maroone," have just arrived at my home in Hilo, as if on a feather bed, via New York, Seattle and Honolulu!
Michelangelo and Shadow of the Evening by Jan Brown
Friday, June eighth, the end of our trip, found the five of us packing and crating our newly purchased stash of alabaster. Bill and our host, Francesco Rossi, were nailing together the two wooden crates in which we were shipping home our 2400 pounds of stone. For shipping identification, we named one crate "Michelangelo" and the other "Shadow of the Evening" (Ombra della Sera). The latter is the name of a famous Etruscan bronze figurine from the third century B.C., created as a votive offering to one of the gods. This figure is extremely elongated, giving it a magical quality. Having fallen in love with this art piece, we all had to create our own "Shadows" in alabaster, as well as purchase small bronze reproductions. The packing up process that Bill and Francesco were finishing was an exciting process, but a sad one, as it meant an end to our three-week adventure in Tuscany.
When we arrived, the five of us set up our carving stations on the lawn just outside the old alabaster workshop that was on the ground floor of the stone building that also housed our flats in the two floors above. These modern flats had comfortable beds with Mama Rossi's hand-ironed best linen, a good bathroom with shower, and a well-equipped kitchen. Our alternate place to eat was a lovely little inn a half block away, Locanda Prato d'Era.
Bill could be found each morning sitting at the inn's outdoor patio in the brilliant Italian sunshine with his cappuccino and pastry, writing in his journal. Often we would all end up there basking in the morning warmth and enjoying Erika's breakfast treats. She called me "the lady who doesn't eat wheat" and voluntarily served me eggs on polenta! Delicious! (Traveling in Italy and trying to avoid wheat (pasta) was a challenge, but polenta and risotto were excellent substitutes!)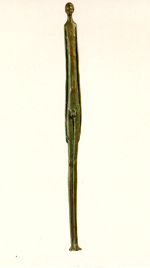 Bill joined right in with the Italians driving the rented Volvo wagon on narrow winding roads as though he were training for the "Mille Miglia". Carmen was also fearless. The rest of us concentrated on navigating — often a challenge.
We had delicious dinners at "home" when we weren't dining out at some marvelous local eatery, also great lunches under the sun umbrella with wine, good bread, gorgeous tomatoes and fresh mozzarella cheese, olives and artichoke hearts! Sudha is an accomplished cook and produced exotic and delicious dishes for our gatherings.
Our young host, Francesco, became a good friend and a tremendous help. He located stone sources for us as well as recommended local points of interest, and he helped us with the Italian operators and phone calls home. He was greatly amused by our American ways and very interested in adding to his knowledge of the English language. He declared that when we left he would be losing his entertainment.
Now 'Michaelangelo' and 'Shadow of the Evening' were packed and closed and ready to go. 'Arrivederci