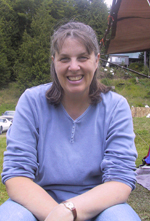 Hiking up the backbone of Wallace Island in the Gulf Canadian Islands. Wearing my vacation/boating grubs. Feeling a million miles away from hearth and home on a warm and sunny August afternoon. Another hiker comes along and catches me up by asking, "So, you're a stone sculptor? Where do you show your work?" I caught my breath, gaped at her, wondering how she knew this about me. Did it show?  I glanced at Peter with a questioning look and he pointed to my hat. Of course! I was wearing my NWSSA hat! "Yes, I am," I stuttered, and then mentioned the one and only gallery that has any of my work in it. "Wow." she said, "good for you." And after a bit more chatting she and her group went their way, and we went ours. It left me rattled, this unexpected questioning of who I was and what I did. Especially the part about showing my work.  I don't really show my work or push it for the sales aspect, but I noticed how much I wanted to be able to give a credible answer.  Somehow I couldn't make myself say, "It's only a hobby," or, "I don't show my work," or "I just do it for self-expression"…..all of which have elements of truth in them.
When people come over and see my stone work, I have to admit that no one asks me "WHY do you do this?" They ask, "HOW do you do this?"  They seem fascinated with "How do you turn a hard rock into something that looks and feels soft and curvy?"  Isn't that interesting? I then show them hammers and chisels and rasps and the Foredom and grinder as explanation. These tools seem to make little or no impression on them as a means of going from rough stone to polished sculpture. So I give them my standard answer for things I have a difficult time understanding, "It is just simply….....Magic".  This seems to satisfy them more than the tools, dust and hard work answer, and we both smile wisely.
After I picked up my pieces from the Kirsten Gallery show, I stopped to have lunch with a friend in the U District. Because I hadn't seen her in quite a long time, I brought along my portfolio so I could show her what I had been doing.  I was introduced to her boss, who asked to look at my book and offered to show me his portfolio. We sat at opposite ends of an executive desk. I opened his to photos of woodworking projects: chairs, desks, end tables and wood based couches. They were very stylized pieces in exotic woods and professionally photographed to show them off to best advantage. He leaned way over the table to see what I was looking at and commented at length on each project, lovingly describing the wood, the tools used, the stains and processes involved. It was clear that these pieces meant a great deal to him. So much so that he didn't ask one question or make one comment as he rapidly flipped the pages in my book before telling me more about his projects.  It was odd. My friend and I went to lunch. She told me that those projects were done in 1976 to 1978, when he had been a student at Boston University. Apparently, after he left school, he set up shop and was doing woodworking. Then a fire consumed his tools and the eight dining room chairs he had just completed and was waiting to deliver. He never picked up a tool again, and forced himself into a new line of work that did not provide any outlet for his creative abilities. Poor man. There was a big lesson in this for me. Keep working even if it is only a small piece. Don't let it go and forever after yearn for it, as this man was doing. I wanted to put a chunk of wood and a whittling knife in his hands and say, "Just do it! Burn the pictures and do something NOW."
Update on the BIG ONE! Peter started saying, "I think we better put that marble under a tarp for the winter." I told him that was ridiculous, it would be fine outdoors. "No, I'm concerned about it" he would say, a worry line crinkling his brow. A few days later, it was covered in a brown tarp. I sighed and shook my head. "Oh well, let him have it," I thought.  On my half-century birthday we were out and about with Peter's 86 year old dad and ended up going by the group studio.  "Oh look," I said, "There are people there. Let's go see what's going on." Scott, Ruth, and Michael were sitting in chairs, looking expectant. When we pulled in, Scott bounded up and threw open the dust room door……...and there was my big piece of marble. Peter had moved it down there so I could work all winter indoors and make all the dust and noise I wanted without endangering the house or neighborhood. Such a birthday present. And what was under the tarp? A log round and a brick.  And at home? A surprise party with a cake created to duplicate one of my stones and emblazoned with the words, "SCULPT PROUD" with a set of hammers and chisels and a rasp made from white chocolate. I put the tools in the freezer to bring to Camp B for the auction next summer. You will be tempted to try to use them, they are so realistic. Now I have no excuses for not making progress on that big chunk of luscious white carrara marble, so let me at it!