Ron Geitgey has been a professional geologist for 35 years. Currently, he lives in Portland and works as an industrial minerals geologist for the Oregon Department of Geology and Mineral Industries. Ron has carved stone for about 12 years and held a NWSSA membership  since 1993. Ron's credits include authoring  NWSSA's "A Sculptor's Glossary of Geologic Terms", and visiting lecturer at Camp Brotherhood, Silver Falls, Whidbey Island, University of Oregon, Western Oregon University.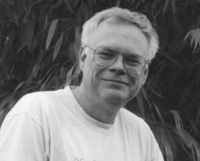 When asked by beginning carvers for advice on what type of stone to start with I often go beyond the usual discussion of carving characteristics and suggest a stone big enough that it won't move when attacked by hammer and point. When working smaller pieces all of us have experienced the frustration of a stone's skittering across the work surface.  Sand bags are a great aid but there are times when what is needed is a good grip.
I recently modified a six inch drill press vise by replacing its steel faceplates with plywood faceplates.  The jaws no longer open to a full six inches but the 3/4 inch plywood provides a firm, soft grip on both smooth and rough stone surfaces.  The faceplates are expendable so I made several sets to change as needed.  The cast iron body of the vise is heavy enough to minimize movement but if necessary it can readily be bolted to the work surface.  The vise is also very useful for wet work. A small amount of rust seems a minimal price for a firm grip.