Background
When I was ten years old, my father built himself a darkroom in the basement of our home. There he taught me how to develop film and print black and white photographs. This initial interest in photography continued throughout my life and I was fortunate to teach darkroom techniques and camera operation classes at community colleges in the Seattle area for about twenty-five years. I later supplied photos to Getty Images, one of the largest stock photo agencies in the world.
I enjoyed taking and making photographs but I wanted to explore 3D art forms. My cousin made a living carving realistic fish using cedar and other woods. He helped me select wood carving tools and I began carving many different kinds of fish, at first imitating his carving style but later developing my own interpretative method. I carved about sixty wooden fish, some fanciful and some realistic.
While I was carving wood in the late 80s, I read about the Northwest Stone Sculptors Association. The idea of carving
stone as well as wood
greatly appealed to me, even though I knew nothing about stone sculpting. I joined the NWSSA in early 1991 and attended my first stone-sculpting symposium at Camp Brotherhood in August of that year. It was here that I first met Richard Hestekind, an individual who conveyed his passion for carving stone to all of us attending that symposium and many others. Richard
and I eventually shared a carving studio at the Marenakos Rock Center near Preston, WA.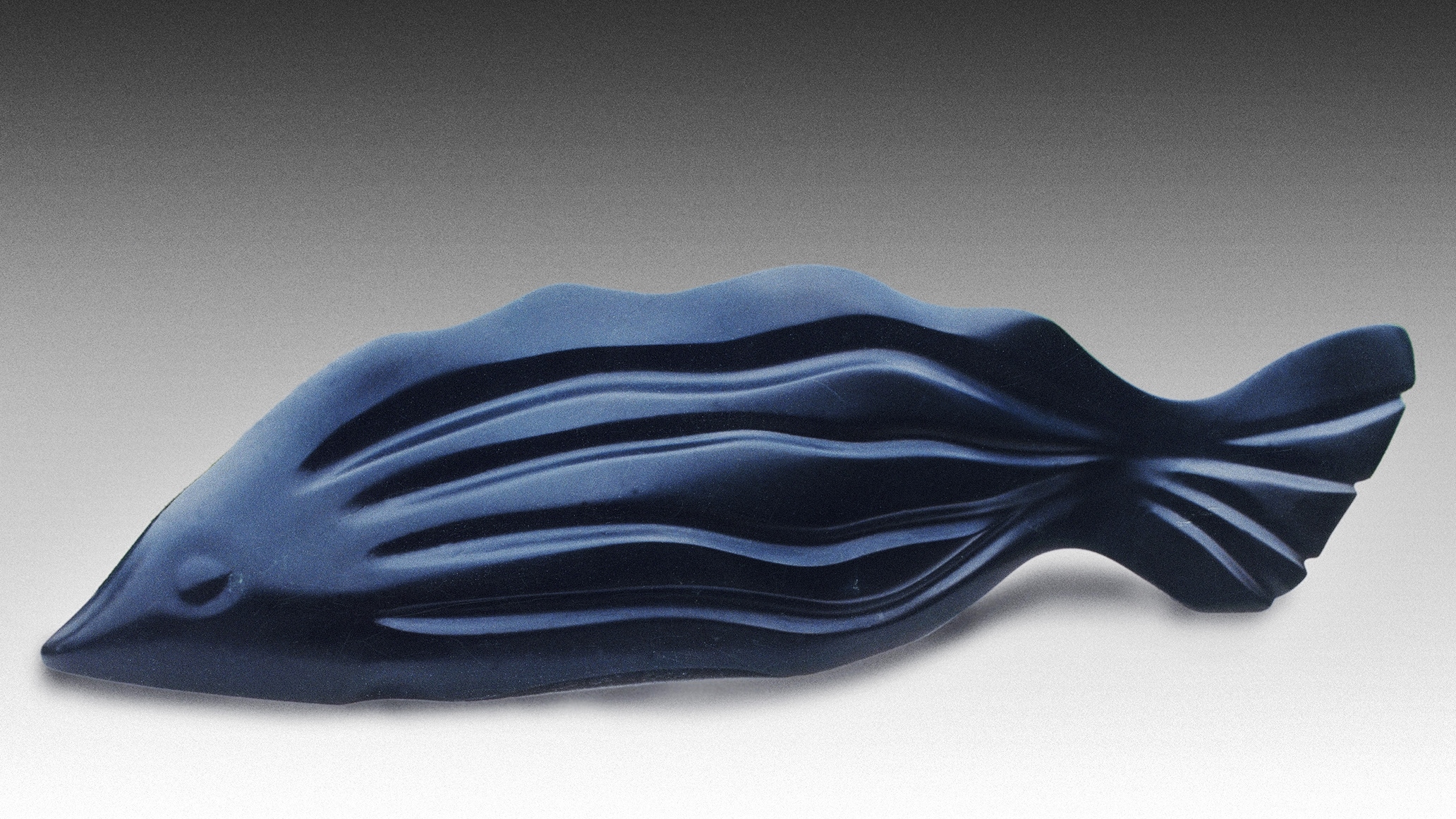 I began carving different kinds of stone like soapstone, alabaster, marble and harder material, like granite and basalt. My first carvings, not surprisingly, were of fish. I transferred some of my designs carved in wood to fish carved in stone. One of my first successful stone sculptures was
of
a long, narrow fish, carved from chlorite – Black Fish Swimming -- that was accepted for display at the Seattle Design Center during the months of May and June of 1992.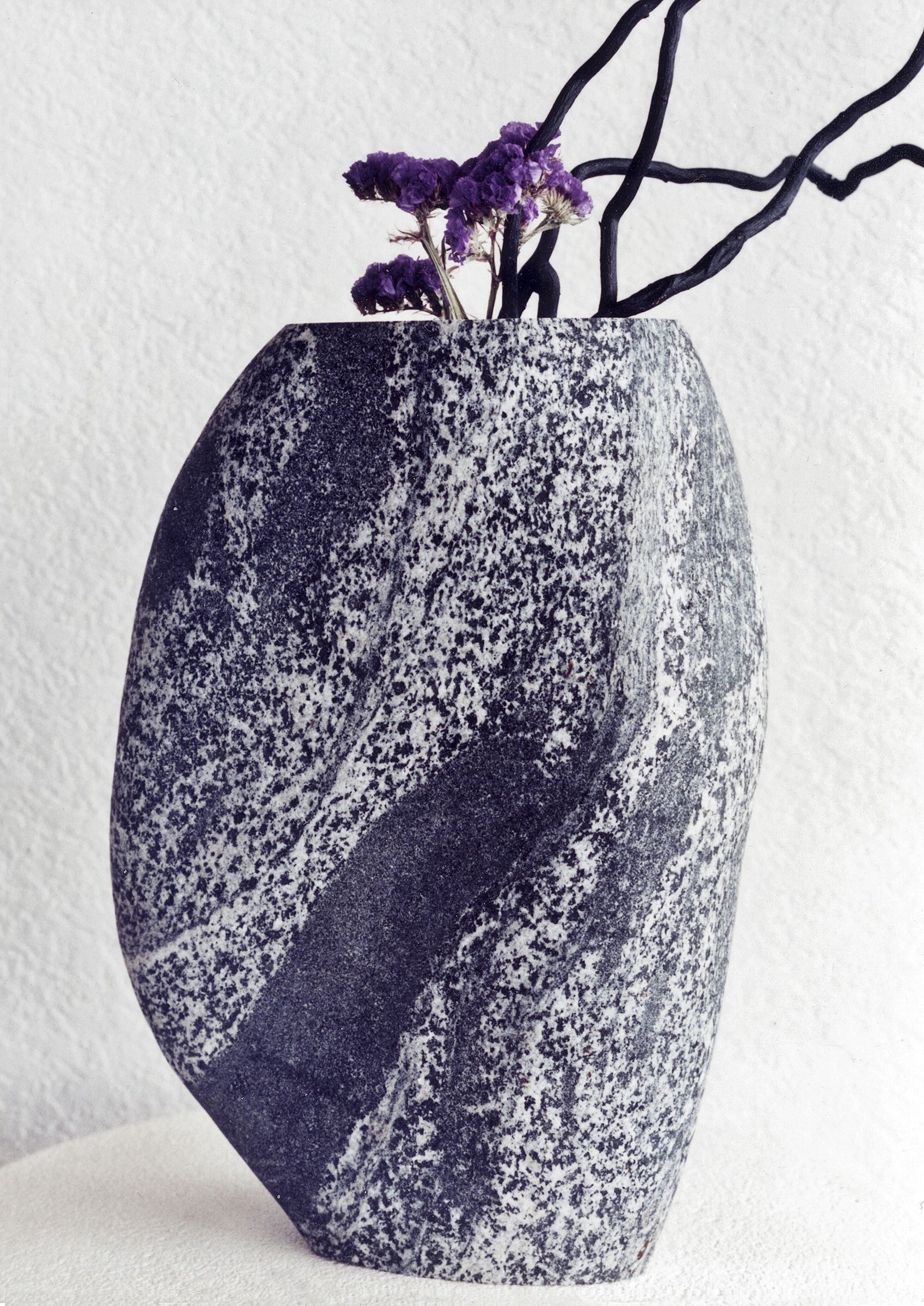 Around this time I began taking lessons in Japanese flower arranging from a local teacher
who trained in Japan and was teaching the design elements of the Sogetsu School of Ikebana. My instructor and other students asked if I could make vases from stone that they could use in their Ikebana practice. I created a number of vases from granite, onyx, sandstone, basalt and soapstone and sold them to Ikebana teachers and their students. Some were displayed at the Anderson Center gallery in Edmonds, WA in 1992.
Collaboration
While carving vases at the Marenakos studio, I collaborated with Richard who was receiving private and public commissions to make and install water features. Together we often spent many days grinding, shaping, texturing and polishing stones specifically designed for each location. We created one outdoor fountain for J.A. Jance, the mystery writer. We were amused when a character in one of her novels raced by the water feature we had made for her.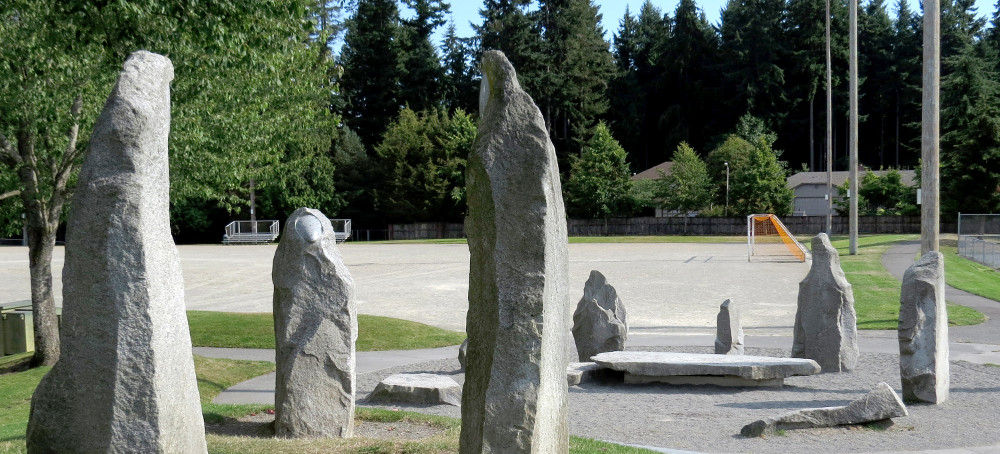 In 1992, the cities of Edmonds and Lynnwood announced a joint commission, an art installation to be located at the Meadowdale Playfields. After a public competition and jurying process, Richard and I were selected to create five groupings of stone monoliths for this location. We completed the artwork in the spring of 1993.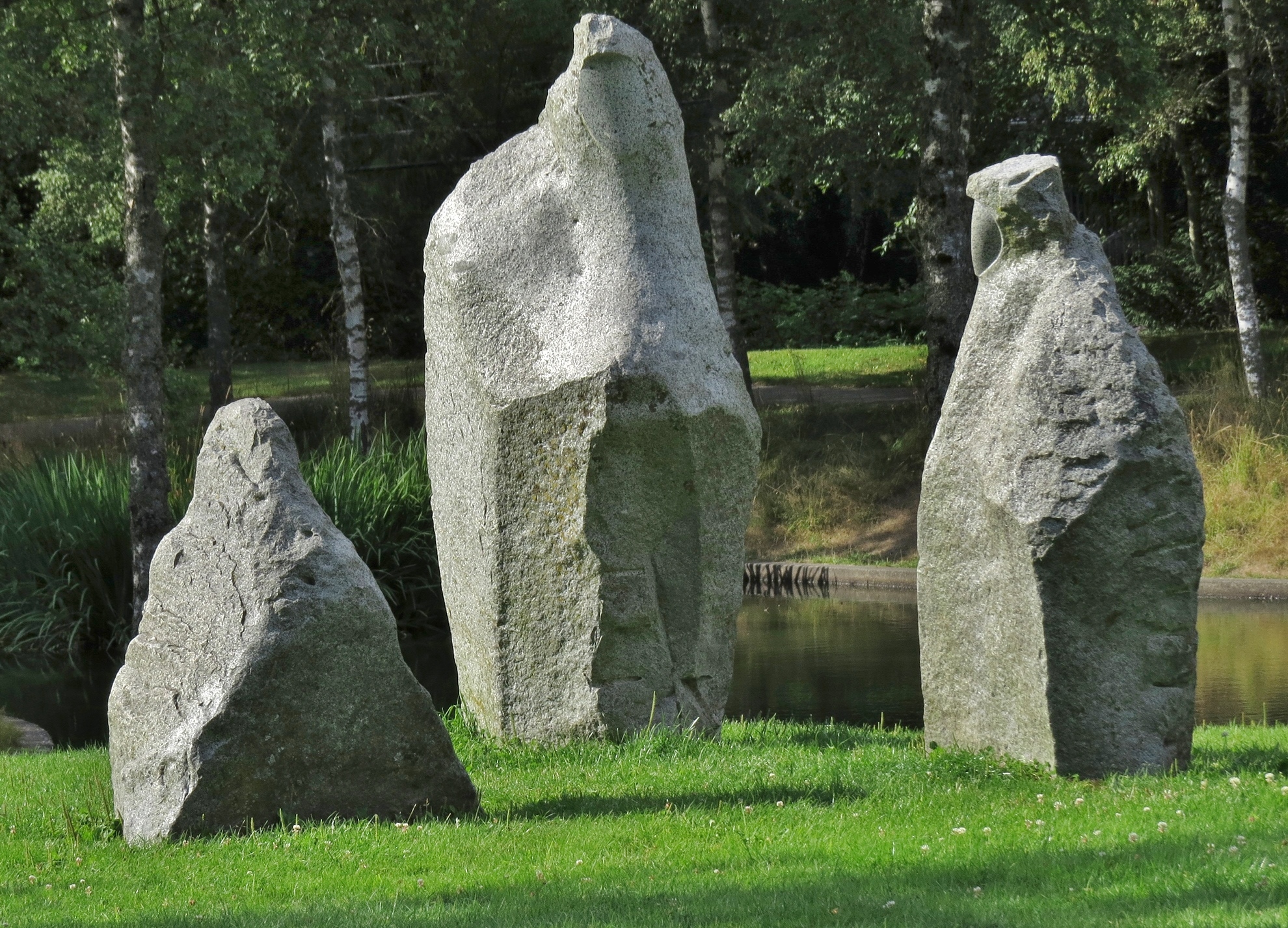 The installation – titled Community -- consisted of Cascade granite whose shapes suggested people. The bodies were intentionally abstract with highly polished oval faces. We wanted to suggest individuals through non-representational forms: these were symbolically the people who visited and used the playfields. We also created a
thirteen-foot long
granite stage that has been used for awards ceremonies and other public events. Around the stage, we installed granite benches.
Influences
I have always been impressed with the geometric patterns and shapes that the late sculptor Barbara Hepworth utilized. In addition to her work, I was familiar with many of the elegant designs of Constantin Brancusi as well as Isamu Noguchi. These artists helped shape my design aesthetic; I wanted to show geometric, organic and abstract forms rather than representational styles of art. Often a non-representational design more easily invites the viewer to make his or her own interpretation of the artwork.
George Pratt, Myrna Orsini, M.J. Anderson and Richard Hestekind are a few of the sculptors who early on provided sound carving advice and finishing techniques that I continue to use.
The Threshold Sculptures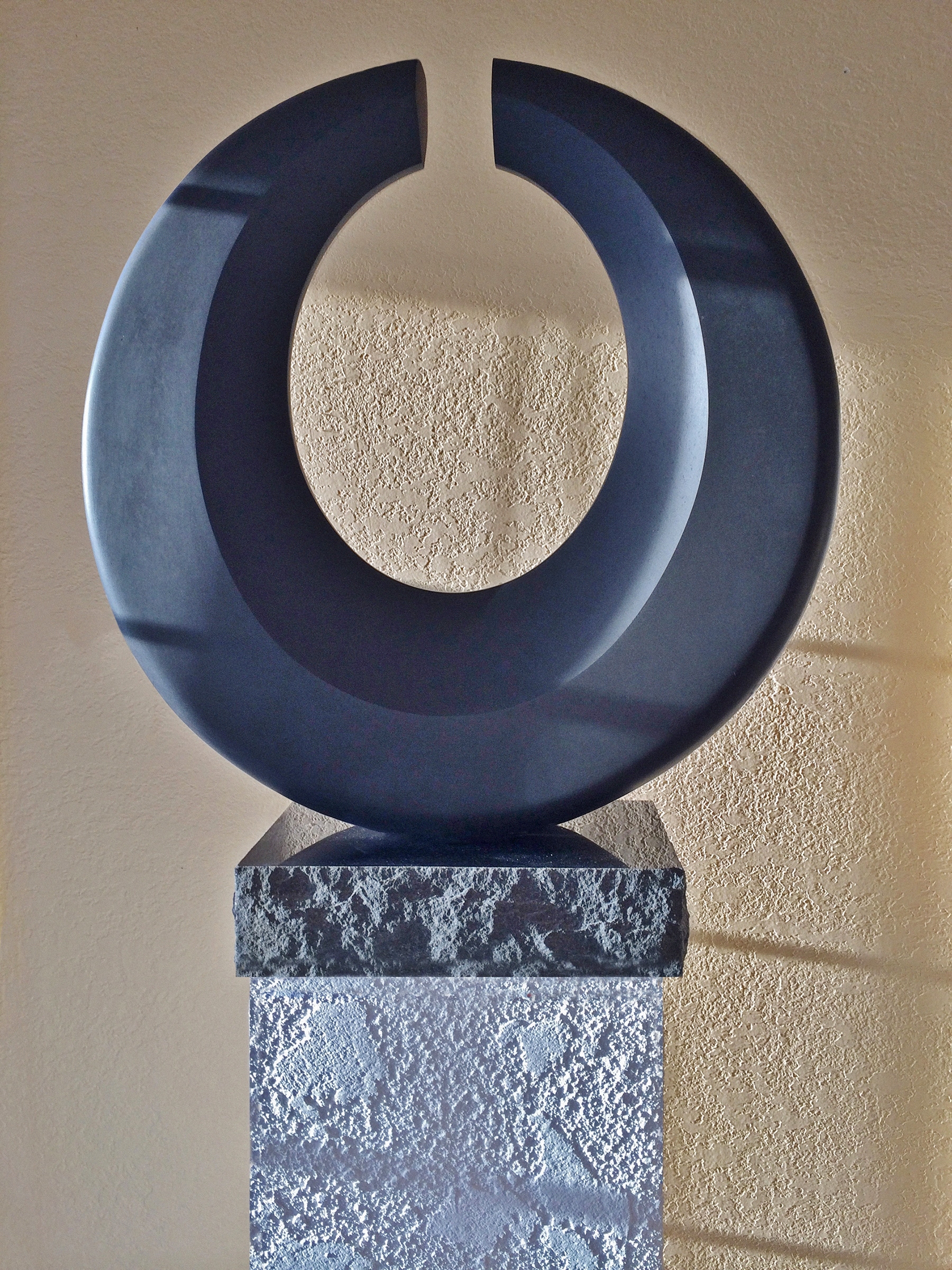 In 2001, I purchased from Marenakos Rock Center a black granite slab from California that measured
four-feet
long,
two-feet
wide and six inches thick. Being familiar with 2D software programs including Photoshop as well as 3D software like easy-to-use Bryce or more complex Cinema 4D, I created potential sculptures with each of these software products. By using 3D software, I could virtually see the sculpture from all points of view. This helped me immensely as I worked out the design for a sculpture that would eventually become Threshold. Using Photoshop, I created and printed out templates that I laid directly over the granite slab. In this way, I was able to get a precise pattern that I used while carving the sculpture. I used an angle grinder with a coarse
cup
diamond head to create the rough shape and then used flexible diamond pads for the final shaping and finishing steps. It's now in the permanent collection of Lakewold Gardens in Lakewood, Washington.
I later sculpted a second Threshold, a smaller version, carving it from an end piece of a basalt column. This sculpture was also first rendered as a 3D virtual piece in Bryce software and then re-created in Photoshop to produce the templates. This piece was
displayed at an exhibit I curated titled "Please Touch" at the Edmonds Community College Library Gallery in 2015 where visitors were encouraged to touch all of the bronze, stone and paper embossment art in this exhibit.
For this exhibit, I brought together a number of adults – and one child – who were visually impaired to work side by side with some of the Edmonds Community College students. A collaborative wooden relief of a meandering river was jointly created and became a central part of the "Please Touch" exhibit.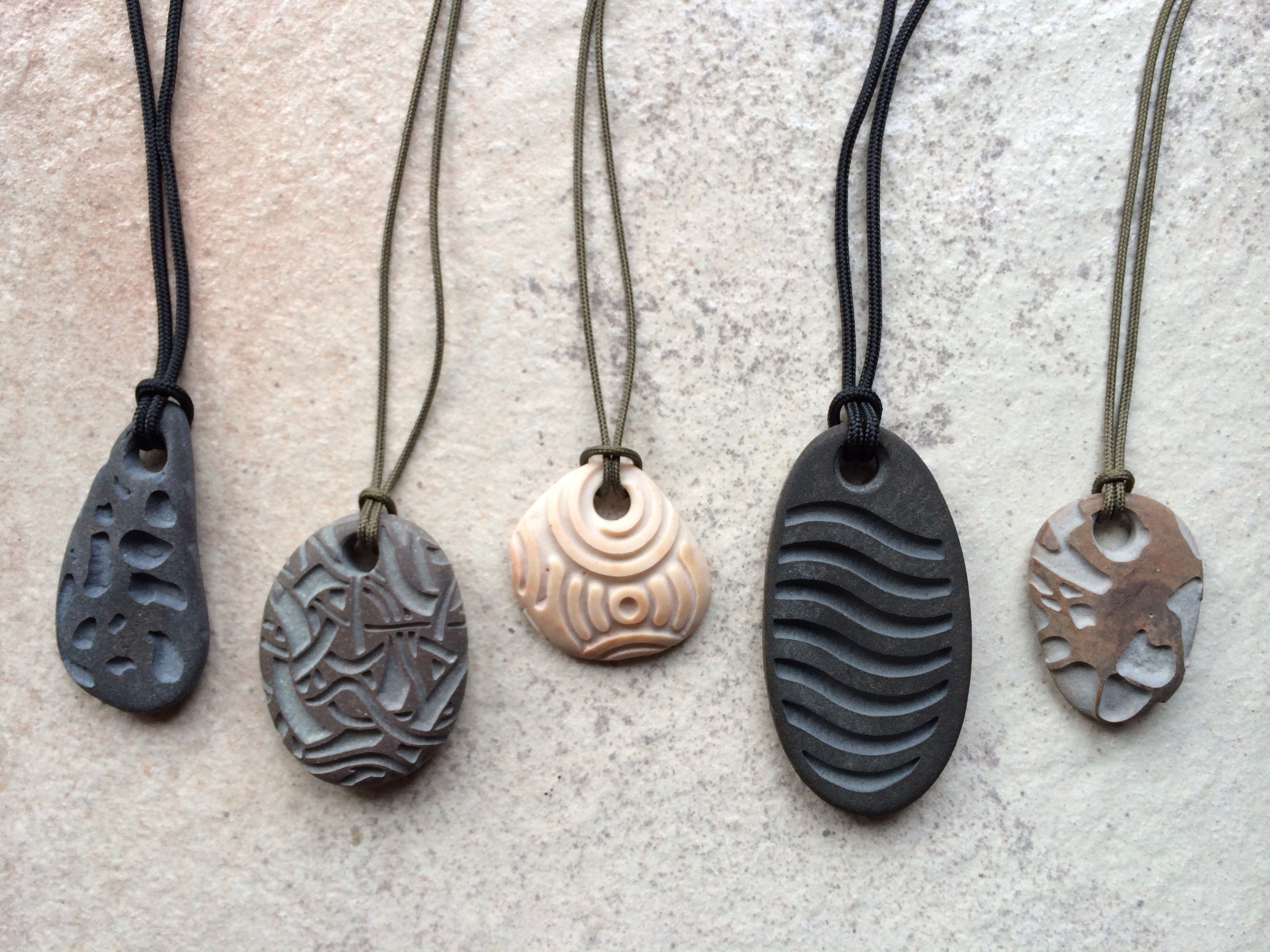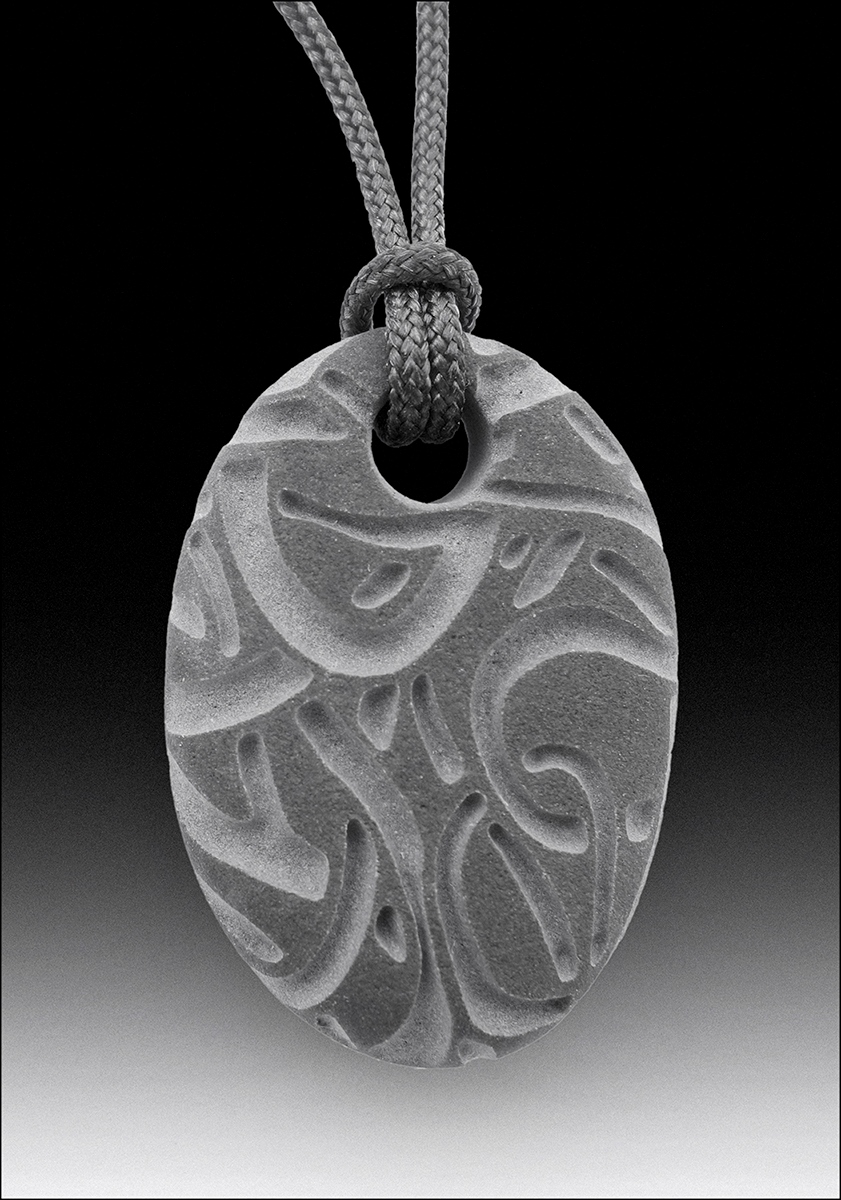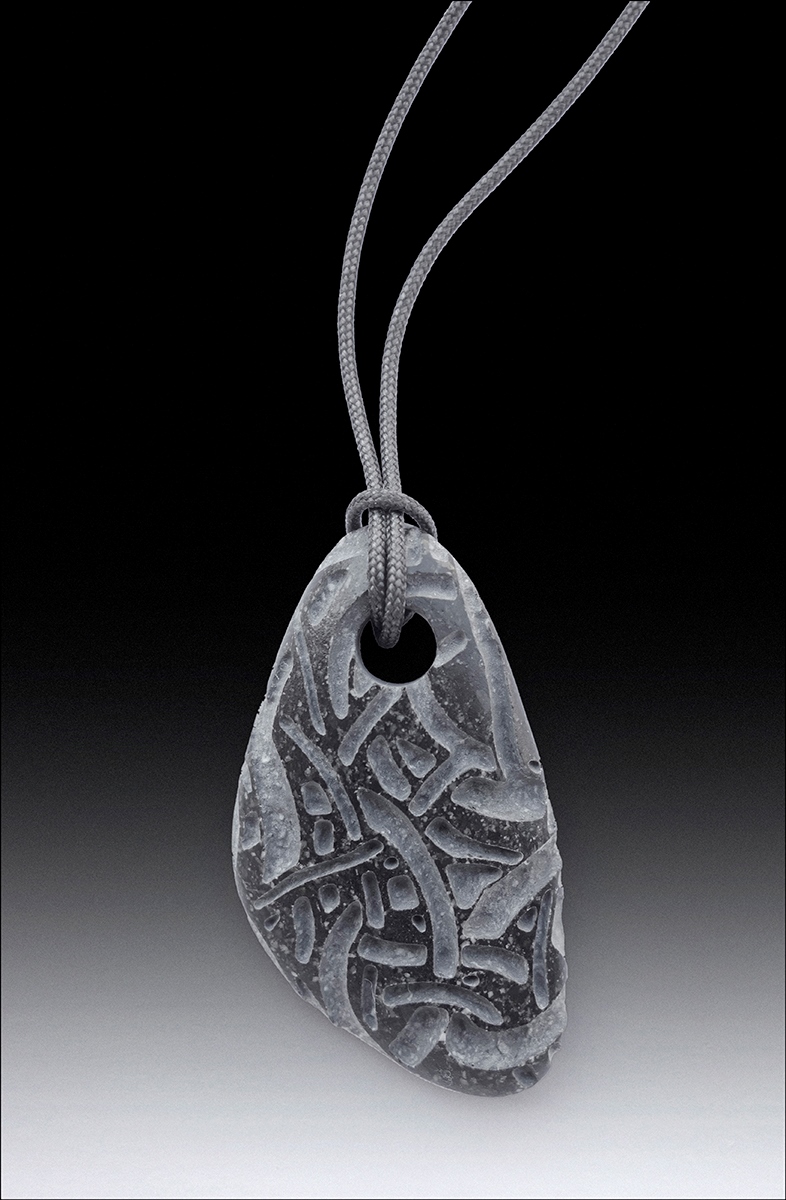 Change of Scale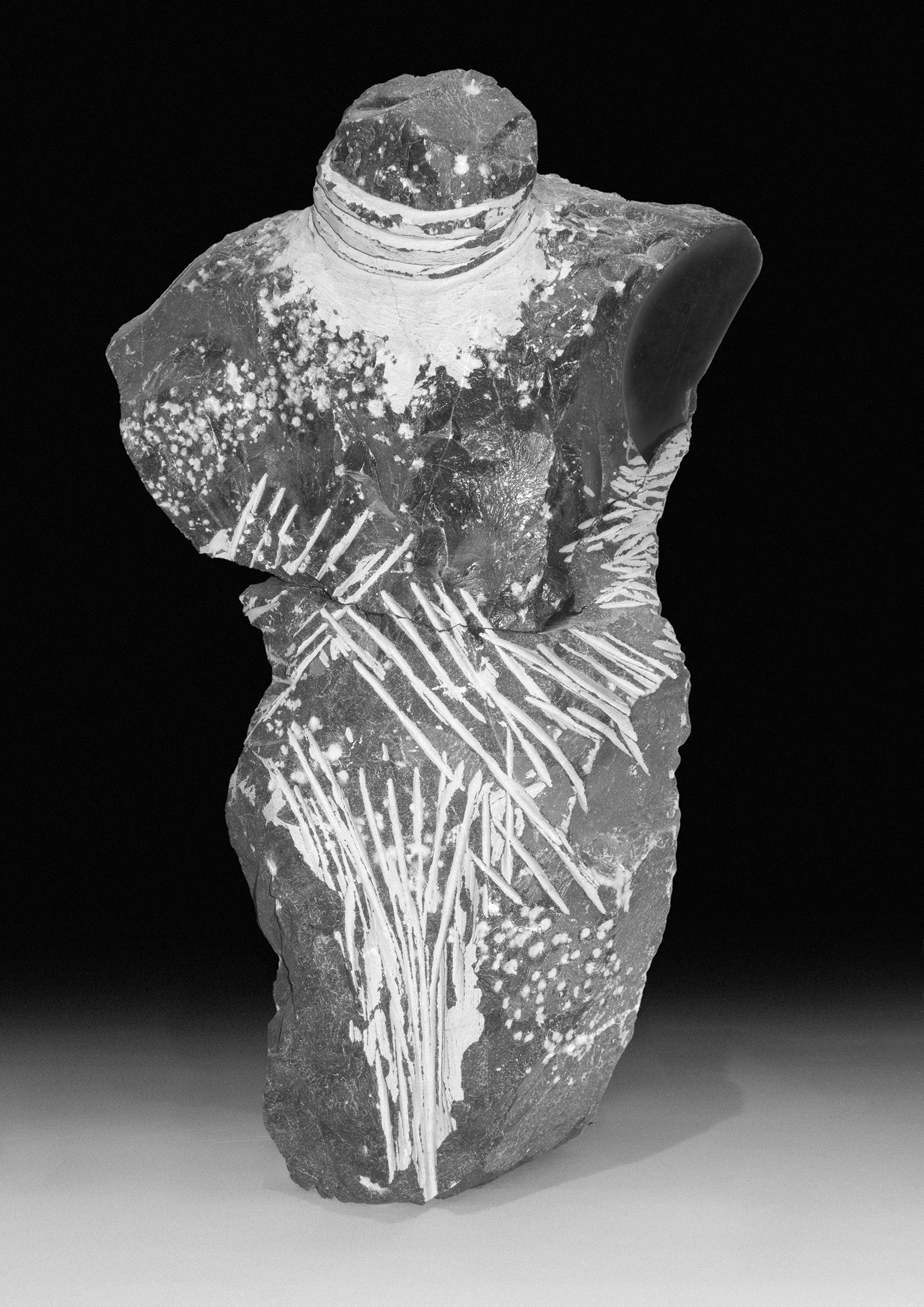 I stopped working at the Marenakos studio in 2005 because of lower back problems. I still wanted to work with stone, so I purchased a professional sandblasting unit that I set up in my basement. This allowed me to continue to carve, but at a much smaller scale. Our commission of Community required carving sixty tons of granite; now I am working with cobbles and beach pebbles, but I am still enjoying finding new ways of sandblasting geometric shapes and other designs into stones that I find on our local beach.