Details

Created: Saturday, 01 November 2003 23:36
In a moving ceremony, a sculpture designated for peace in the Middle East was officially dedicated on October 23rd in the Peace Garden at Seattle Center. Sabah Al-Dhaher worked with Iraqi, Jewish, and Arab children to produce the beautiful marble and basalt sculpture. Peter Steinbrueck represented the Mayor and the city of Seattle at the dedication ceremony, and the mayor proclaimed October 23rd as "Children's Peace Day." Representative Jim McDermott reminded the audience that, since the adults have been so unsuccessful in achieving peace in the Middle East, we hope that children such as these may prove to be the catalyst for peace in the region.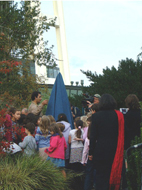 The project to produce the sculpture was initiated by Amineh Ayyad. After her visit to war-torn Palestine, she returned to Seattle in a sorrowful and hopeless state. She contacted Sabah and discussed the idea of doing some sort of activity, such as an art workshop, which would involve children of various cultures. Children from the Arab Center of Washington, Kadima, the Iraqi Community Center, and the Middle East Peace Camp joined Sabah, and they had a hand in roughing out, sanding and filing a marble piece of Sabah's design. In addition, they wrote poetry, sang songs, and held discussions on the topic of peace. After finding out that the Seattle Center was interested in having the sculpture in their Peace Garden,
Sabah selected a basalt column to serve as a base, and he cut, polished, and engraved the names of the children and the three versions of the word "Peace" in the base. The entire project's budget  was carried out for less than $900.
Sabah found that dealing with so many adults and several different organizations was quite challenging. In the end, he felt that the project was well worth it because of the hope it generated that these children will have a much better understanding and be more accepting of each other's differences, and, as adults, they may be in a position to make a real difference. He was quite relieved and happy to see the sculpture in such a beautiful place, and the children were very pleased and excited to see the completed piece holding their engraved names.