Details

Created: Tuesday, 01 July 2003 20:28
The sculpture workshop in Wedding (a section of Berlin) was established with government funds in 1995 by bbk Berlin (a Berlin based organization for creative artists) in the former Arnheim safe factory, which is under protection as a historical monument. It is visited each year by about 150 artists, from university graduates to nationally and internationally known artists.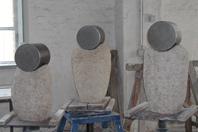 With 3,600 sq. meters of useable space and a hall with an overall height of 12 meters, artists have ideal and varied opportunities for creating works in metal, stone, wood, ceramic, as well as plaster and molds.
Each of the individual workshops is looked after by a workshop leader. The workshop leaders give advice (in English also) in the technical implementation of projects, provide information on the quality and properties of materials, and competent help with the elaboration of unconventional solutions to complex projects.
Metal Workshop
The metal workshop offers eight individual work spaces. With larger projects, several work spaces can be merged so that works with dimensions of 4-by-4 meters can be realized. In addition to the possibility for welding, the workshop offers numerous metal-processing machines, such as saws or bending presses for pipes, sections and plates.
Wood Workshop
The wood workshop is equipped for the processing of wood, plastics, and the production of structures and furniture sculptures. Furthermore, it provides the opportunity to create frames, platforms and superstructures for exhibition purposes.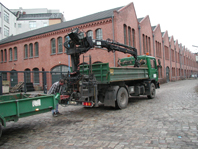 Stone Workshop
The stone workshop is housed in the largest hall of the sculpture workshop and, in addition to eight work spaces on the ground level, offers additional work spaces in the 300 sq. meter gallery. Because of its size, the hall is suitable not only for stone work but can also be used for mounting very high and very large wood or metal works.
Plaster and Mold Workshop
The plaster and mold workshop is available to artists for the creation of molds and casts. Vinamold, the new reusable casting material, is an obvious choice for many projects and can be provided by the workshop to artists at an economical price. In addition to working with polystyrene, rubber and many other synthetic materials in the workshop, molds prepared for casting can be produced.
Ceramic Workshop
The ceramic workshop has large drying and storage spaces, especially for the use of art-in-buildings projects. For the firing of ceramic works, the Berlin workshop provides the largest kiln available to artists. A second, smaller kiln holds 300 liters. Both kilns have fine control up to 1,280o C and can also be used for heat treating glass, metal, stone, and certain synthetics materials. Work spaces and the technical requirements for work with ceramic materials are available.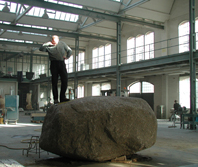 Web Information
This email address is being protected from spambots. You need JavaScript enabled to view it.
www.bbk-kulturwerk.de/eindex.htm