Through her work as a board member and registrar at past Camp Brotherhood symposia, Arliss has become recognized as part of the catalytic glue that holds NWSSA together.  Perhaps less well known and recognized is her considerable talent as an artist.  This interview provides an opportunity to display that side of this multi-talented woman.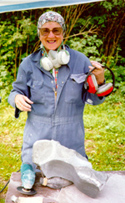 LE:  What is your life history as it relates to being an artist?
AN: As a child I wanted to draw great pictures, but my vision or view of an object was never in the flat plane.  I always saw things in my mind's eye in the round.  When I was 7 or 8 years old my Father gave me my first pocketknife.  He was what people now would call a folk artist. He was a teacher, but as a hobby he whittled chains, pliers and hinged boxes out of one piece of wood and, because they moved, it was like magic.  So I became a bit of a whittler too and also a champion (for my age) Mumblety Peg player with my knife.  My 3rd grade teacher took it away and said, "Ladies don't play with knives."  I did get it back, but then, I had never aspired to being a LADY anyway.  I was interested in all kinds of art but never stuck to any one thing, possibly for lack of guidance, instruction or opportunity.