Who are you?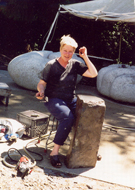 VS: Born and raised in Germany, I came to the northwest 32 years ago, living in Seattle for 19 years before moving to live and work in Arlington in 1995.
What is your life history as it relates to being an artist?
VS: I cannot remember not being (what later was defined as…) an artist. From the beginning I had the need to make things with my hands, to draw, paint, shape things out of clay.